Class of 2014 Participates in Matriculation Tradition
---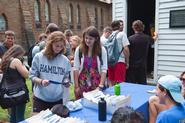 Today members of the class of 2014 gathered at the historic Kirkland Cottage to sign the College Register symbolizing their matriculation at Hamilton. This tradition, established in 1975, represents the beginning of their college career and their membership in the Hamilton community.
Students lined up outside the cottage to meet President Joan Hinde Stewart, Interim Dean of the Faculty Patrick Reynolds, and Vice President and Dean of Admission and Financial Aid Monica Inzer, who individually welcomed each student into the Hamilton family. After signing the College Register, students were presented with a personalized keepsake Matriculation booklet.

The matriculation event is one in a series of orientation activities on College Hill. Fall semester classes begin on Thursday, August 26.