Classicist to Discuss Race in Ancient World in Lecture
---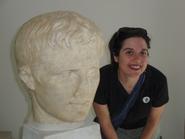 Denise Eileen McCoskey, associate professor of classics and an affiliate in black world studies at Miami University of Ohio, will deliver a lecture titled "Race Matters: Re-Casting Identity Among the Greeks and Romans," on Thursday, March 14, at 4 p.m., in the Kennedy Auditorium of the Taylor Science Center. Her lecture is sponsored by Hamilton's Classics department and is free and open to the public.
In recent decades, the vast majority of classical historians have concluded that race is not a concept that can be meaningfully applied to the ancient world. This talk will challenge that consensus by arguing that race is essential to our understanding of the Greco-Roman world, even as we must distinguish the forms and meaning of race in antiquity from those of our own era.
McCoskey received her bachelor's degree in classics and archaeology from Cornell and a Ph.D. in classical studies from Duke University. She is the author of numerous articles, the co-editor of "Bound by the City: Greek Tragedy, Sexual Difference, and the Formation of the Polis," (2010) and the author of "Race: Antiquity and Its Legacy" (2012). "Latin Love Poetry," a work co-authored with Zara Torlone, will be published in fall 2013.