Classics Students Present at 8th Annual Parilia Conference
---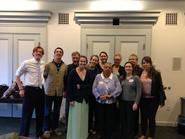 Students and faculty in the Classics Department participated in the 8th annual Parilia conference, held this year at Colgate University. Each year the Classics Departments from Hamilton, Colgate, Skidmore and Union Colleges come together in late April (close to the date of Rome's birthday, said to be April 21) for an undergraduate research conference. Three students from each of the four schools give papers at this day-long conference; after each paper there is lively conversation.
Hamilton's presenters were senior classics majors Dylan Thayer, whose paper was titled "The Hesiodic and the Lucretian: Certainty and Uncertainty in Human Existence"; Kiernan Acquisto, who presented "Ancient Gestures? The History and Authenticity of the Hamilton College Tanagras"; and Anna Zahm, who gave the paper, "The Holy Spirit is Your Trainer: The Athletic Rhetoric of Early Christian Martyrdom."
The Parilia conference was originally organized under a joint Mellon grant. Following the conference is a banquet and discussion of the following year's event. Next year's event will be held at Union College.