Men's track standout honored at recent Clinton High School event
---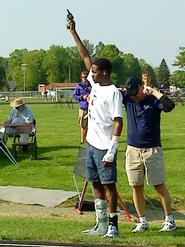 The Clinton High School boys' track and field team recently dedicated their 18th annual Junkyard Relays Invitational to Hamilton College men's cross country and track and field NCAA champion Peter Kosgei '11.

Kosgei captured nine national titles and 11 All-America honors through the 2010 cross country season. He surely would have increased both career totals, but his indoor track season was cut short by a leg injury. He never competed in outdoor after he suffered two broken legs and a broken arm from a brutal attack in Kenya while he was visiting family in mid-March.

Members of the Clinton boys' and girls' track and field teams sold T-shirts, and donated $797.10 to help cover the cost of Kosgei's medical expenses. Kosgei served as the honorary starter for the 1,600-meter relay, and was introduced to athletes from the 20 participating schools.

"It was great for the kids to be able to have a local legend attend their meet and serve as an honorary starter," Clinton track and field coach Norman Deep Jr. said. "To have such a quality young man as a role model from our neighboring college meant a lot to our kids here at Clinton. It further emphasizes the partnership between our athletes and theirs, our school and theirs, our community and theirs."