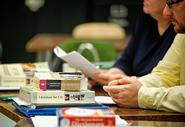 A College in Prison program at the Mohawk Correctional Facility in Rome, N.Y., initiated by Hamilton College Professor of English and Creative Writing Doran Larson, and sponsored by Mohawk Valley Community College (MVCC), has been honored with the James C. Hall Exemplary Credit Program Award by the Continuing Education Association of New York (CEANY).
Larson calls the award-winning Mohawk Consortium College in Prison Program (MCC) "a consortial, local, community project, centered at MVCC." The home institution is MVCC and Colgate University and Hamilton College also participate. The three-year pilot program began this year.
CEANY bestows annual awards in recognition of outstanding contributions made by continuing education professionals.
The award notification letter said, "The College in Prison Program is innovative and successful, bringing multiple public and private colleges together to impact the lives of students and society at large. With its collaboration and inventive funding structure this program epitomizes the spirit of Continuing Education and has been formally recognized by your colleagues across New York State."
The College in Prison Program offers credit-bearing courses to 33 inmates and is paid by a grant. It seeks to reduce events of domestic violence and recidivisim by offering education to qualified inmates. According to Larson, "Post-secondary education has been shown to be the most effective way to reduce recidivism."
He wrote in the program proposal, "Recidivism rates for inmates who earn two-year, Associates degrees run as low as 13.7%. Community colleges—due to their wide distribution and low costs—are the logical, local sources of logistical support for any comprehensive effort to reduce the size of the prison population through reduction of rates of re-offense."
Larson designed, found funding for, and started the conversations that led to the creation of the program.
He noted that since the program's organization, the labor, day-to-day logistics and planning, and budget management have been provided by Karen Scott, coordinator, corporate training, The Center for Corporate and Community Education at MVCC and MVCC President Randy VanWagoner. Larson said that at the Mohawk Correctional Facility, Ted Fauss, head of academic education, has led the work of screening and managing men, and tasks of classrooms and scheduling.
Larson continued, "The real credit for this award goes to Karen, Ted and the faculty who have chosen to work there: these include Hamilton College Professor of Mathematics Emeritus Larry Knop, Colgate Associate Professor of Biology and Neuroscience Jason Meyers, and Linda Tettamant, an MVCC instructor who has taught several classes at Mohawk Corrections."
Larson teaches a creative writing class to prisoners at Attica Correctional Facility, and at Hamilton teaches a seminar titled "Written on the Wall: 20th -Century American Prison Writing." He also is editor of Fourth City: Essays from the Prison in America (Michigan State University Press). The book, published this year, contains 71 essays written by prisoners from across the U.S.
The College in Prison Program award was presented at this year's CEANY conference on Nov. 6 in Syracuse, N.Y.