College's 2010 Riffle Award winners announced
---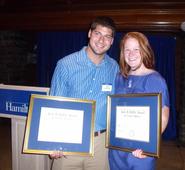 Hamilton College football player John Lawrence '10 (Baldwinsville, N.Y./Baldwinsville HS) and women's lacrosse All-American Liz Rave '10 (Huntington, N.Y./Huntington HS) received the 2010 Jack B. Riffle Awards at the College's senior varsity athlete awards dinner on May 19.
The Riffle Award has been presented annually since 1987 to the most outstanding Hamilton male and female senior athlete. Riffle graduated from Hamilton in 1950 and passed away on Dec. 13, 1986. A group of Riffle's friends and associates established a memorial fund in his name because of his deep interest in Hamilton athletics.
Lawrence is the fifth football player to be honored and the first since 1998. He is a two-time New England Small College Athletic Conference all-conference pick at linebacker, including the first team in 2009. He was the NESCAC rookie of the year in 2006. He finished his career with 201 tackles, 10.5 sacks and 11 interceptions. In 2008 as a junior, he led the conference with seven picks and ranked third in NCAA Division III in interceptions per game.
Rave is the latest in a line of four straight athletes from the women's lacrosse program to win this award, and is the 10th overall. She is fifth on the team's career list with 136 goals and was selected a third team All-American in 2009. She has been on the all-region team twice and the Liberty League all-league team all four years, including the first team in 2010. She was the MVP of the 2009 and 2010 league championships.
The women's lacrosse team has a 73-7 overall record, and went 38-0 at home during Rave's career. The team won the NCAA Division III championship in 2008, reached the championship semifinals in 2009 and has returned to the semis in 2010. Hamilton is 20-0 and plays Franklin & Marshall College at Gettysburg College's Clark Field in one semifinal on Saturday, May 22, at 11 a.m.
The featured guest speaker was Sheila Taormina, who is the only woman that has competed in three different sports in different Olympiads. Taormina, who hails from Livonia, Michigan, first made the U.S. Olympic team when she was 27 years old.
Taormina won Olympic gold at the 1996 Games in Atlanta as a member of the swim team for the 800-meter freestyle relay. She competed in the triathlon at the 2000 and 2004 Summer Games, and switched to the modern pentathlon for the 2008 Games in Beijing. She was a four-time All-American and nine-time honorable mention All-American in swimming at the University of Georgia.