College's 2012 Riffle Award winners announced
---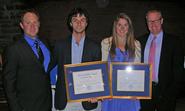 Hamilton College men's lacrosse NESCAC conference player of the year Jon Leanos '12 (Long Valley, N.J./Delbarton School) and All-America women's swimmer Megan Gibbons '12 (Clarks Summit, Pa./Abington Heights HS) received the 2012 Jack B. Riffle Awards at the College's senior varsity athlete awards dinner on May 16.

The Riffle Award has been presented annually since 1987 to the most outstanding Hamilton male and female senior athlete. Riffle graduated from Hamilton in 1950 and passed away on Dec. 13, 1986. A group of Riffle's friends and associates established a memorial fund in his name because of his deep interest in Hamilton athletics.

Leanos finished his career on a high note, as he was named the 2012 NESCAC Player of the Year. The attackman was a unanimous all-conference first team selection.

Leanos was a three-time Liberty League all-league selection, including first team honors in 2011. He was named the Liberty League Rookie of the Year in 2009. The Continentals competed in the Liberty League for lacrosse from 1996 to 2011. Leanos finished his career ranked fourth on Hamilton's all-time list with 179 points, and tied for fourth with 92 assists. He also scored 87 goals.

A 2011 and 2012 team captain, Leanos led Hamilton to the 2012 NESCAC Championship quarterfinals in the Continentals' first year in the conference. It was Hamilton's first postseason appearance since 2006. He is the third Riffle winner from the men's lacrosse team.

Gibbons capped a record-setting career with her first All-America award after she finished seventh in the 100-yard freestyle at the 2012 NCAA Division III Championships in her final collegiate race. She previously earned five honorable mention All-America awards for the 50, 100 and 200 free, as well as the 400 medley relay.

Gibbons was a three-time NESCAC all-conference performer for the 50 and 100 free, and finished first in the 100 free at the 2012 NESCAC championships.

Gibbons' name covers the Hamilton record books. The 2011-12 team captain holds individual school records in the 50, 100, 200 and 500 free, and was part of relay teams that set records in the 200 and 400 medley relay and the 400 and 800 free relay. Gibbons is the fourth Riffle winner from the women's swimming & diving team.

Women's lacrosse All-American Lauren Sokol '12 (Colts Neck, N.J./Peddie School) and football captain and Phi Beta Kapppa member Jacob Sheetz-Willard '12 (Bryn Mawr, Pa./Haverford Township Senior HS) received the Milton H. Jannone Awards.

The Jannone Award is awarded annually to a student-athlete who is recognized by his/her peers and coaches for his/her outstanding athleticism, leadership and academic accomplisment. Sokol was named a first team All-American on defense in 2010 after she helped lead the Continentals to the NCAA title game. Sheetz-Willard was a two-time member of the NESCAC fall all-academic team.

Field hockey All-American Erin McNally '12 (Scotia, N.Y./Burnt Hills-Ballston Lake HS) and men's ice hockey team captain Bryan Kelly '12 (Plymouth, Mass./Pomfret School [Conn.]) received the Jean-Marius Gelas Memorial Awards.

The Gelas Award is awarded annually to a student-athlete who has displayed outstanding development in sportsmanship, leadership, character and athletic ability during his/her college years.

McNally, a four-time all-region honoree and a 2010 third team All-American, led Hamilton to its first NCAA championship appearance in 2009. As a junior and assistant team captain, Kelly helped lead men's ice hockey to a first place finish in the NESCAC during the regular season, and the No. 1 seed for the NESCAC championship for the first time in program history.

The featured guest speaker was Marjorie and Robert W. McEwen Professor of Philosophy Bob Simon. One of the most-recognized names in sports and philosophy in the country, Simon joined the Hamilton College philosophy department in 1968, and has been a coach in the athletic department for over 25 years. He has served as Hamilton's faculty athletic representative since 1989, and in 2007, he was named to the list of the 100 Most Influential Sports Educators by the Institute for International Sport.