Hamilton Community Oratorio Society Performs Mendelssohn's Elijah
---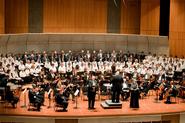 G. Roberts Kolb, conductor, and the Hamilton College and Community Oratorio Society and Orchestra celebrated the 200th anniversary of Felix Mendelssohn's birth with a performance of his celebrated oratorio, Elijah, on Dec. 1 in Wellin Hall.

Elijah is a dramatic account of the significant events in the life of the Hebrew profit, Elijah. The work draws largely from the Old Testament Biblical account of Elijah in the book of Kings. The oratorio includes his contest with the priests of Baal and his encounter with Ahab and Jezebel. It ends as Elijah rises to heaven in a fiery chariot.

Performing as soloists with the Oratorio Society were Timothy LeFebvre, baritone, in the role of Eiljah; Lauralyn Kolb, soprano; Leonardo Priore, mezzo-soprano; and Jon Frederic West, tenor.