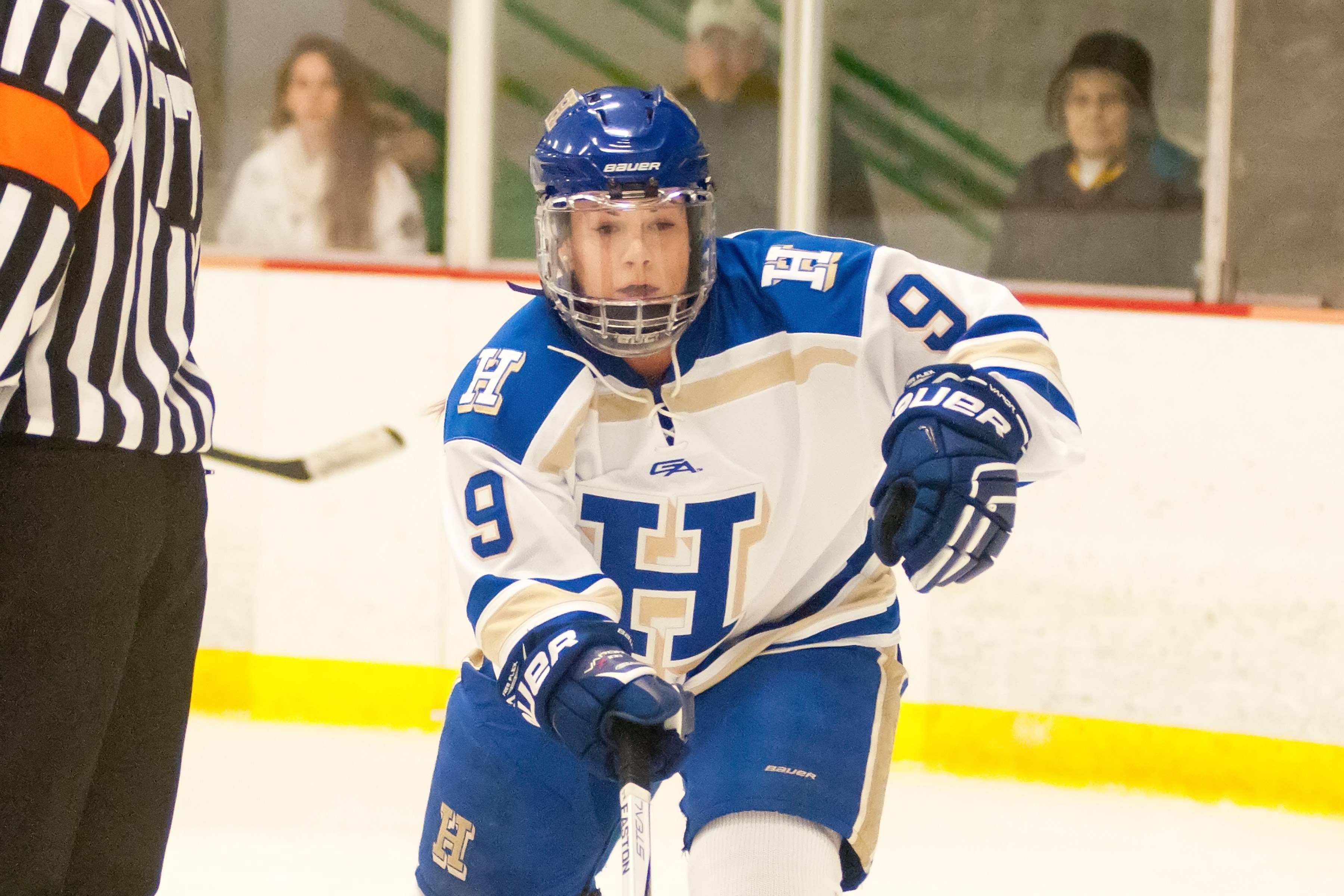 The Hamilton College women's hockey team climbed out of a 3-0 hole to pull to within a goal but couldn't complete the comeback in losing 3-2 to visiting Trinity Friday at Russell Sage Rink. The loss, in the opener of a two-game weekend NESCAC series, snapped a three-game Continental winning streak.

Box score

The visiting Bantams opened up a three-goal lead while outshooting Hamilton (7-4-1, 2-2-1 NESCAC) 34-25.

Megan Ahern '17 scored with 75 seconds left in the third period to close the gap to one but the Continentals were whistled for too many players on the ice seven seconds later and were unable to get a shot at the tying goal while killing the penalty.

Ahern also assisted on Hamilton's first goal late in the second period. She took a pass from linemate Olivia Hawes '19 and fired a shot that Trinity goaltender Sydney Belinskas saved. The rebound wound up at the stick of Hannah Bartlett '16 on the left side and – shooting at a tight angle – put her shot into the open top right corner of the net.

Bartlett's goal was her 11th this winter. She ranks eighth nationally with 11 goals in 12 games.

Trinity (6-7-0, 1-6) finally broke open the scoreless tie with 3:09 left in the opening period. Eleven seconds after the Continentals were called for their second penalty, Cheeky Herr finished a 2-on-1 break with her fourth goal of the season. Emma Tani took a pass from Delaney Harrop at the high slot, but her shot was saved by Hamilton's Sam Walther '18. Herr gathered the rebound at the right side as she was going to the ice and pushed the puck between Walther and the near post.

The Bantams scored on their first shot of the second period when Shelby Labe snapped a shot from the left circle into the Hamilton net. Later in the period, Lindsay Miller netted the game-winning goal off assists from Shannon Farrell and Hannah Oganeku.

Walther made 31 saves and Belinskas stopped 23 shots.

The two teams conclude their weekend series with a 3 p.m. game Saturday.