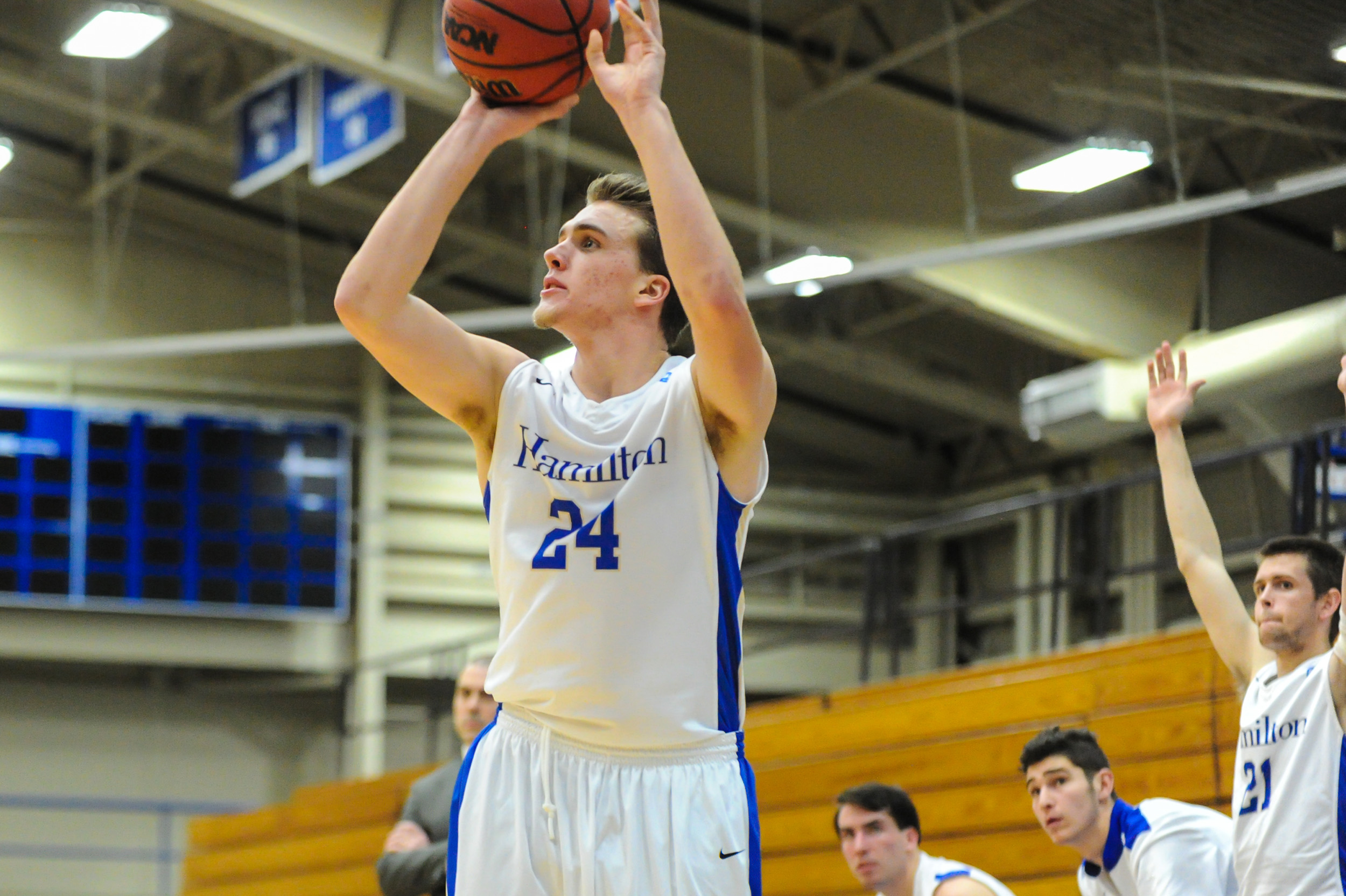 Wesleyan University placed four players in double figures in points and the Cardinals posted an 82-76 overtime win against the Hamilton College Continentals in NESCAC action at Wesleyan's Silloway Gym on Saturday afternoon.

Box Score

Hamilton (7-6, 0-2 NESCAC) went to overtime for the first time this season and the Cardinals went to an extra period for the second time in five days. Wesleyan (12-2, 1-1) is 2-0 in overtime games this season.

Jack Dwyer '18 paced the Continentals with 16 points and seven assists in 43 minutes. Dwyer finished the weekend with 21 assists in two games and is second in the NESCAC with 5.2 assists per contest.

Michael Grassey '19 dropped in a season-high 16 points off the bench for Hamilton. Peter Hoffmann '19 chipped in 12 points and eight rebounds before he fouled out late in the extra period. Five Continentals fouled out and 34 Hamilton fouls led to 41 free throws for the Cardinals.

Wes Wilbur '17 added eight rebounds and three steals, and Ajani Santos '16 blocked three shots for the Continentals. Hamilton enjoyed a 51-40 advantage on the glass and finished with 17 offensive boards.

BJ Davis scored nine of his game-high 19 points in overtime for Wesleyan. Jack Mackey tossed in 13 points, Joseph Kuo had 11 and Joe Edmonds contributed 10 off the bench. Kuo also grabbed a game-high nine rebounds.

In overtime, Kuo gave the Cardinals an early 68-66 lead with a layup. Hoffmann tied the score on two free throws with 3:16 left but Davis made a layup and was fouled on Wesleyan's next possession. The Cardinals led the rest of the way.

Kuo made it a four-point game on a pair of free throws with 2:41 remaining but Wilbur's jumper pulled the Continentals within 72-70 with 2:22 to go. Edmonds followed with two more points from the charity stripe before Hamilton's Joe Pucci '18 cut the Continentals' deficit to 74-71 with a free throw.

Davis doubled Wesleyan's lead with a 3-pointer and, after a missed shot by Hamilton, Harry Rafferty made it 78-71 on a free throw with 1:03 left. The Continentals didn't get closer than five points in the final minute.

The contest was close throughout as there were nine ties, 10 lead changes and neither team led by more than nine points at any time.

The Cardinals jumped out to a 6-0 lead but Hamilton responded with a 12-2 run for a 12-8 advantage. Dwyer capped the spurt with five straight points. The Continentals eventually opened up a 23-16 cushion after a basket by Pucci midway through the first half.

Hamilton still led by six at 29-23 with 5:54 remaining when Wesleyan roared back with 15 straight points for a 38-29 lead with 57 seconds to go. Mackey scored eight points during the run. Pucci nailed a jumper with 31 seconds left and the Continentals trailed 38-31 at the break.

The Cardinals led for the first 13-plus minutes of the second half until Grassey put Hamilton in front 56-54 on two free throws with 6:20 remaining. Wesleyan went back in front with five straight points but Grassey put the Continentals in the lead again at 60-59 on two more free throws with 3:20 to go. Davis countered with four straight points for a 63-60 advantage for the Cardinals.

The lead continued to see-saw as Andrew Groll '19 put Hamilton up 64-63 on a pair of free throws with 1:59 left, Kuo made two shots from the charity stripe 11 seconds later and Grassey drained a jumper that made it 66-65 in favor of the Continentals with 1:37 remaining. Kuo tied the score after he made the first of two free throws with 1:05 to go.

Both teams had chances to break the tie in the final minute of the second half. Kuo was off on his second free throw, Hamilton missed two shots and Wesleyan couldn't convert a shot from close range. The Cardinals shot 32 percent from the floor in the second half.

The Continentals host Bates College for another NESCAC game on Friday, Jan. 15, at 7 p.m.