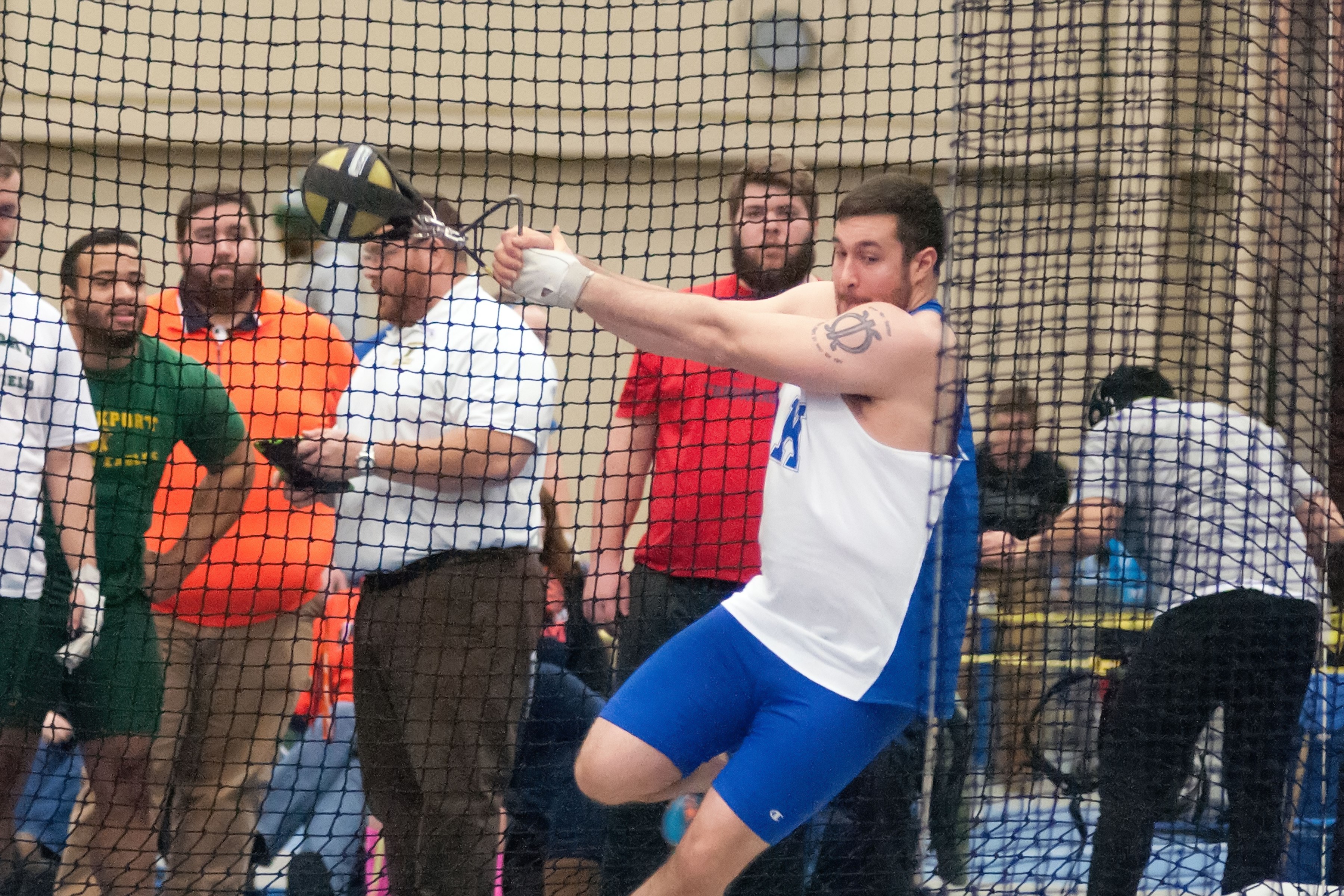 The Hamilton College men's track & field team competed at the Middlebury Winter Classic Saturday. The Continentals placed third in the team standings.

Complete results
Hamilton scored 133 points, just 16 points short of second place in the four-team field.

Two Continentals were individual winners: Leonard Kilekwang '16 cleared 12.74 meters to win the triple jump and Dylan Berardelli '16 took first in the 35-pound weight throw with a school-record mark of 15.71 meters. Berardelli broke his own team record of 15.69 meters set at Utica College on Dec. 12, 2015. He also posted a third-place finish in the shot put (13.26 meters)

Eli Saucier '18 was runner-up in both the 200-meter dash (23.26) and the 400-meter dash (51.18).

Henry Whipple '18 finished second in the 3,000-meter run with a time of 9:01.48 and Andrew Mandelbaum '16 placed second in the 1,000-meter run in 2:41.3.

Grant Whitney '17 and Andrew Wink '19 followed Mandelbaum in the 1,000-meter run, finishing third (2:42.7) and fourth (2:47.5), respectively. Nate Somes '16 was third in the 400-meter dash (54.07).

Three other Continentals scored points in the 3,000-meter run: Adam Pfander '16 (fourth in 9:07.28), Jack Pierce '17 (fifth in 9:09.55) and Jack Moses '16 (seventh in 9:11.53).

Rico Gonzalez '16 cleared 3.65 meters to take fourth in the pole vault.

Patrick Malin '18 scored in both the weight throw (fifth, 11.46 meters) and shot put (seventh, 10.92 meters).

In the 60-meter dash, Max Newman '16 placed sixth in 7.49 and Gonzalez was seventh in 7.50.

Justin Dillane '18 finished sixth in the 500-meter dash (1:12.44) and two Hamilton runners earned points in the mile run: David Freeman '16 (sixth in 4:39.44) and Andrew Sinclair '18 (eighth in 5:05.04).

The 1,600-meter relay foursome of Somes, Saucier, Whitney and Matthew McCarron '17 posted a third-place time of 3:41.91.

The Continentals return to action Saturday, hosting the annual Hamilton Invitational at Margaret Bundy Scott Field House.