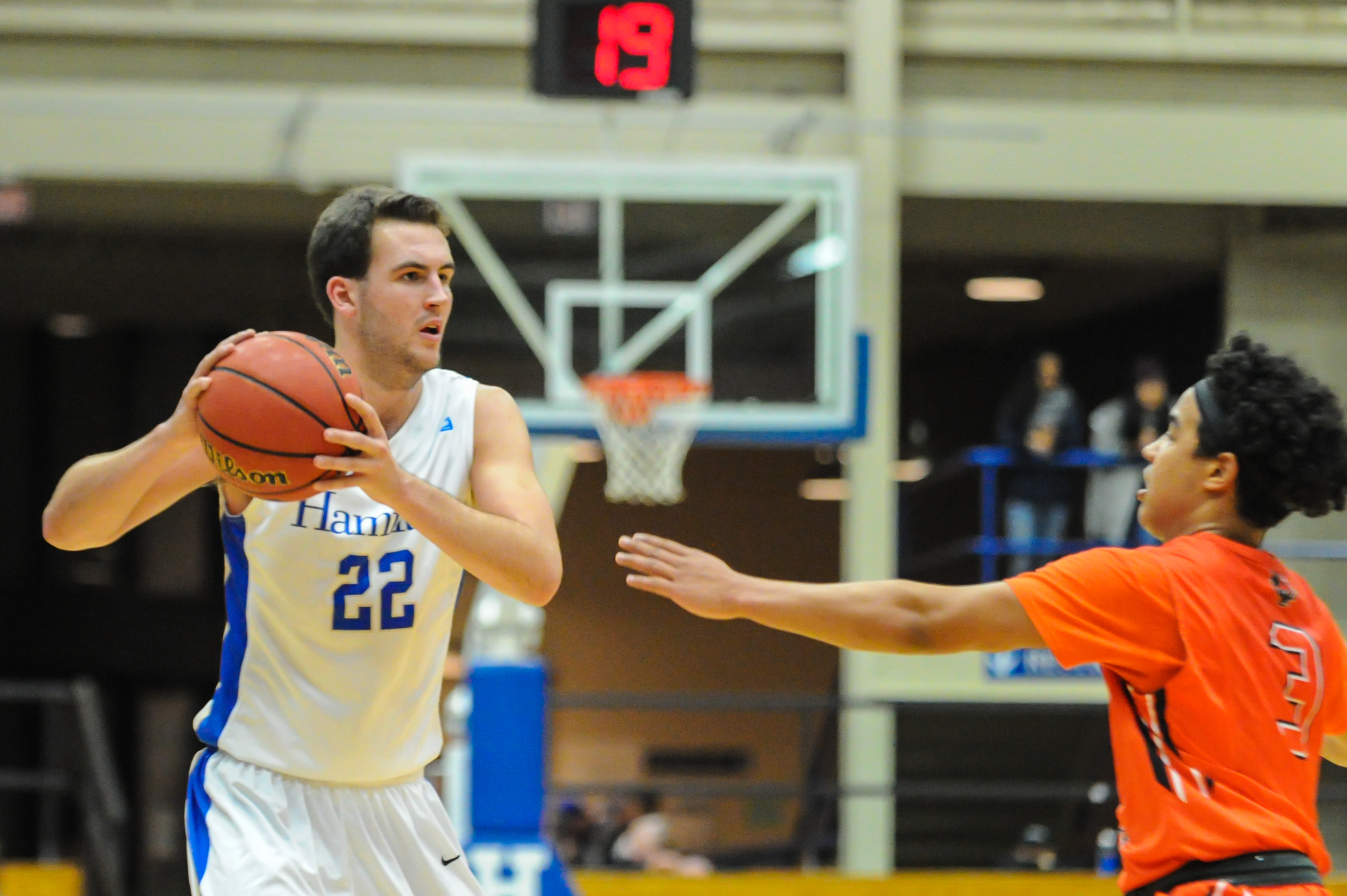 The Hamilton College men's basketball team evened its overall record at 9-9 with an 83-75 win over host Keystone College in non-league action from La Plume, Pa., Monday.

Box Score

Four Continentals scored in double figures and Hamilton made 11 of 12 second-half free throws to seal the win.

Peter Hoffmann '19 notched team-best totals of 19 points and nine rebounds and Joe Pucci '18 came off the bench to score 16 points in just 20 minutes.

The Continentals climbed out of an early hole, turning a 14-6 deficit into an 18-15 lead in just over three minutes. Hamilton forced four missed shots and a pair of turnovers by the host Giants (3-13 overall) and took the lead on a fast-break layup by Matt Moros '18 with 13:13 left in the half.

The lead changed hands three more times with Keystone going ahead for the last time midway through the second half on a dunk by Deion Monroe.

After Michael Grassey '19 put Hamilton up for good with a three-point basket, the Giants pulled to within 64-63 with 8:34 to go but the Continental defense clamped down again – Keystone missed six shots and turned the ball over once in the next 4:52 – and the visitors pushed their lead to 72-65. Wes Wilbur '17 had half the Hamilton points in that stretch.

Jack Dwyer '18 finished with 12 points and a game-best eight assists. Wilbur collected 10 points, eight rebounds and four steals. Andrew Groll '19 pulled down six rebounds as the Continentals held a 44-35 advantage on the boards.

ShaShawn Dayton scored a game-best 20 points for Keystone, who lost for the third straight game. James Cooper and Tyreek Peeples added 13 and 12 points, respectively.

Hamilton returns to NESCAC action Saturday, hosting Middlebury at 3 p.m. at Margaret Bundy Scott Field House.