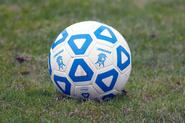 The Hamilton College women's soccer team ended its season on Tuesday afternoon with a 3-0 loss to nationally ranked No. 9 Williams College in NESCAC action at Love Field. The Ephs (14-1-0, 9-1 NESCAC), who finished first in the conference standings, scored all three of their goals in the second half.

Box score

Audrey Thomas '17 -- Williams' leading scorer -- scored twice in a 1:50 span early in the second half, and the Eph defense held the Continentals without a shot on goal.

Thomas converted two breakaways in the first five minutes of the second half, raising her season total to a team-leading 12 goals. In the 48th minute she received a long pass and took it to the top of the box, dribbled around Hamilton goalkeeper Rachel Cooley '18 – who had come out of the box – and scored into the vacated net at the 47:23 mark. Thomas scored again 110 seconds later, taking a pass from midfield from Crystal Lewin '16 and shooting from about 18 yards out.

Allison Magruder '15 closed out the scoring with 5:53 left in regulation. Mai Mitsuyama '16 chipped a pass over the defense from a tight angle on the right side that Cooley got a hand on but couldn't secure. The ball landed at Magruder's feet and she turned it into her second goal of the season.

Hamilton had five shots in a span of about six minutes midway through the second period with two opportunities for Hannah Withiam '16. Following a Williams foul on Hamilton's Katie Kreider '18 that was called just outside the box, Becca Rees '16 sent a free kick to Withiam's feet at the far post, but Withiam's shot was high. Four minutes later, Withiam received another free kick but headed a shot outside the right post.

Kreider and Katja Dunlap '18 both had chances as well before the Continentals were unable to capitalize on their best opportunity as Kreider sent a close shot past Williams goalkeeper Hannah Van Wetter '15 that hit the left post. The rebound caromed out to the middle of the box but was taken away from Hamilton by the Williams defense.

The Ephs' back line of Louisa Costa '15, Lilly Wellenbach '15 and Zoe Trutner '16 helped Van Wetter earn a shutout – her seventh of the season – without making a save.

Cooley made three saves for Hamilton (8-7-0, 3-7), which finished with a winning record for the 16th time in the past 19 years.