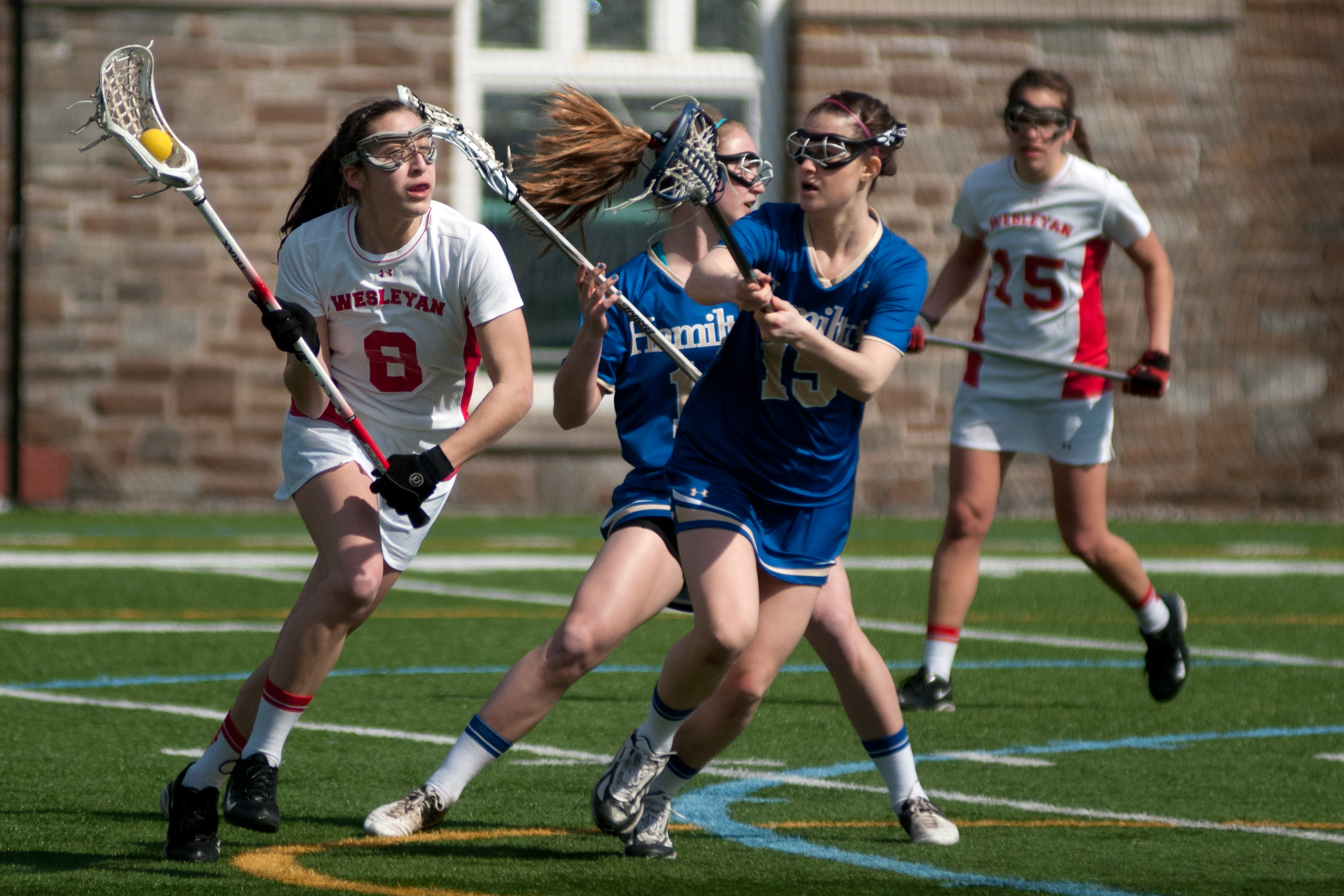 The nationally ranked No. 20 Hamilton College Continentals evened their record at 3-3 with a 15-7 non-conference win against the Skidmore College Thoroughbreds at Skidmore's Wachenheim Field on Tuesday.

Box score

The Continentals scored 10 of the last 12 goals after the Thoroughbreds (1-5 overall) tied the score early in the second half. Kathryn Maiorano '14 helped lead Hamilton with a career-best four goals, including three in the second-half explosion, and Katie D'Antonio '14 finished with seven points on three goals and four assists.

After the Continentals recorded the first two goals, they held the lead until Skidmore tied the score at 5-5 on a goal by Tyler Phillips '17 just 40 seconds into the second half. Goals by Maiorano, D'Antonio and Margaret Gabriel '16 in a span of 1:39 broke the deadlock.

Gabriel netted four goals and Emily Brodsky '14 collected three points on one goal and two assists. Brodsky and D'Antonio lead the team with 15 points apiece.

Taylor Ryan '17 put Hamilton on the board 47 seconds in and added the first two assists of her collegiate career. Morgan Fletcher '17 and Hannah Withiam '16 also picked up their first collegiate assists.

Phillips led Skidmore with four goals and an assist. Spencer Morgan '15 scored a pair of goals and picked up five ground balls. Megan Kolopsky '17 stopped four shots in each half.

Ryan and Annie Pooley '16 paced the Continentals with career-best totals of five ground balls apiece and Gabriel added four. Alice Grant '14 caused a team-leading four turnovers and Ryan finished with three as both posted personal-high totals. Kari Koga '15 recorded six saves and won her second straight decision.

D'Antonio's three goals raised her season total to 10 and matched Brodsky for the team lead. D'Antonio has scored 96 goals at Hamilton.

The Continentals play their first home game in 19 days on Thursday, March 27, against SUNY Oneonta at 4 p.m. in non-conference action. Skidmore opens Liberty League play on Friday with a 4 p.m. game at Vassar College.