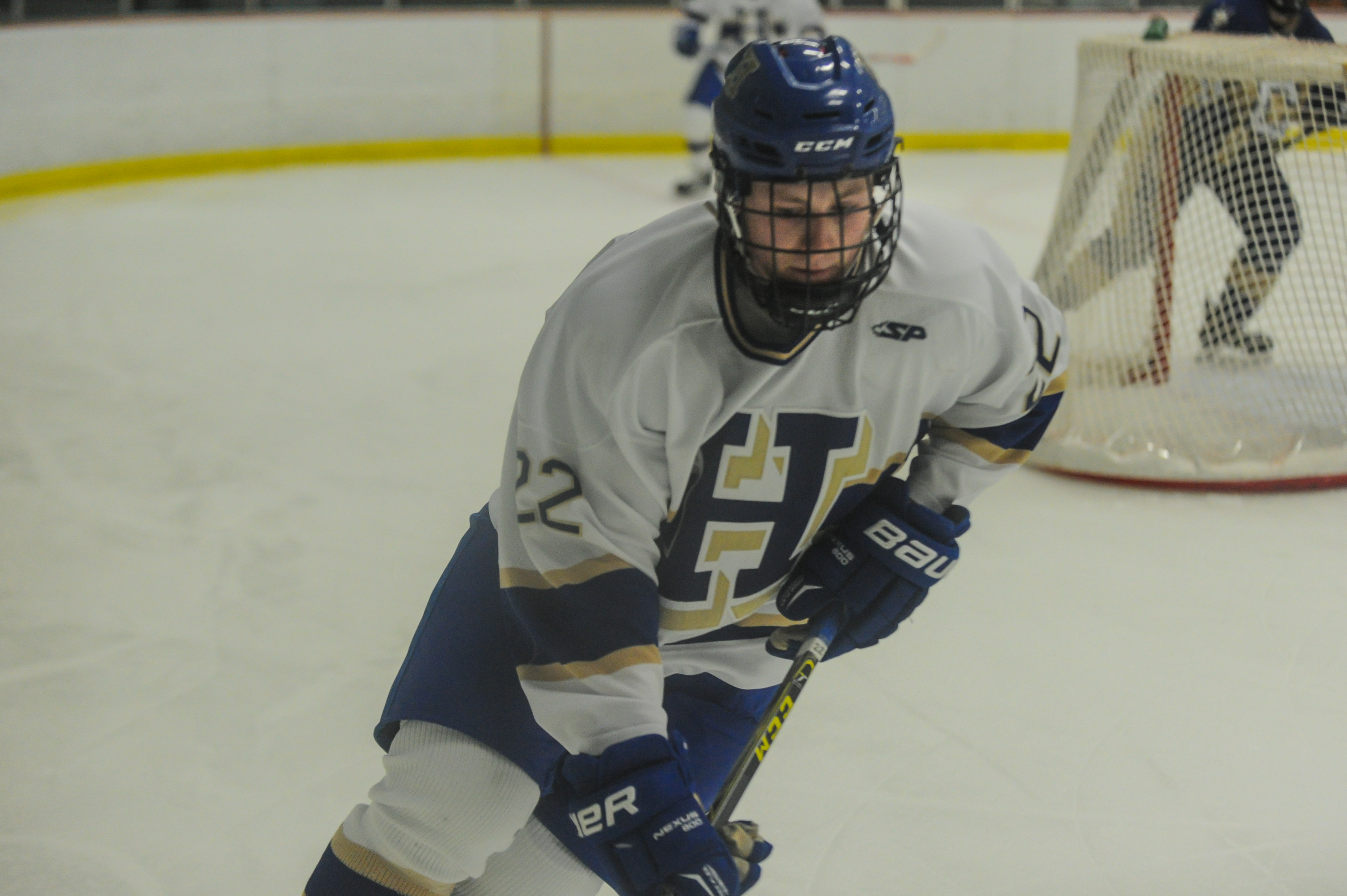 The Hamilton College men's hockey team skated to a 3-3 tie with visiting Middlebury Friday in a NESCAC game at Russell Sage Rink. The Continentals rallied from a 2-0 deficit to take a 3-2 lead before the Panthers (2-2-3, 2-0-3 NESCAC) tied the score midway through the third.

Box score

Hamilton (3-3-1, 1-2-1) scored three times in a seven-minute span of the second period to turn a 2-0 deficit into a one-goal lead. Tyler Bruneteau '18 had a hand in the second two scores, knotting the score at 2-2 with 4:23 left in the period before assisting on the go-ahead goal by Kenny Matheson '16 2:44 later.

Middlebury, winners of just one game since the season opener, picked up the only goal of the final 26 minutes when Travis Stephens scored a quick goal off a faceoff win in Hamilton territory. The tie keeps the Panthers unbeaten in conference play.

Liam Moorfield-Yee kept the Panthers in the game, stopping 49 shots –including 36 saves over the first two periods when the Continentals held a 39-21 advantage in shots.

Hamilton trailed 2-0 after the first despite outshooting the visitors 15-6 over the first 18 minutes. Ronald Fishman scored a short-handed goal with 5:32 left in the period, picking off a pass in the Continental zone and snapping a high shot past goaltender Evan Buitenhuis '18. Three minutes later Max Greenwald doubled the Panthers' lead with his second goal of the game.

Brandon Willett '18 put Hamilton on the board with his third goal of the season midway through the second. Just seven minutes later the Continentals held a one-goal lead thanks to their highest scoring period of the season.

Stephens' tying goal –which was assisted by Greenwald and Zach Haggerty – came after a faceoff following Hamilton's timeout. The Panthers had a rare chance at a power-play goal four minutes later (Middlebury has had just five power-play opportunities through seven games) but Hamilton, who now owns Division III's top penalty-killing unit, held them to just one shot on goal.

In the overtime session, both teams took just two shots apiece until the final minute when a pass from behind the Continental net found Middlebury's Mike Najjar wide open at the left post but his point-blank shot was stopped by Buitenhuis for the 35th of his 36 saves.

The Continentals conclude the 2015 portion of their schedule Saturday, hosting Williams in a 3 p.m. NESCAC game. The Ephs are ranked 14th nationally.