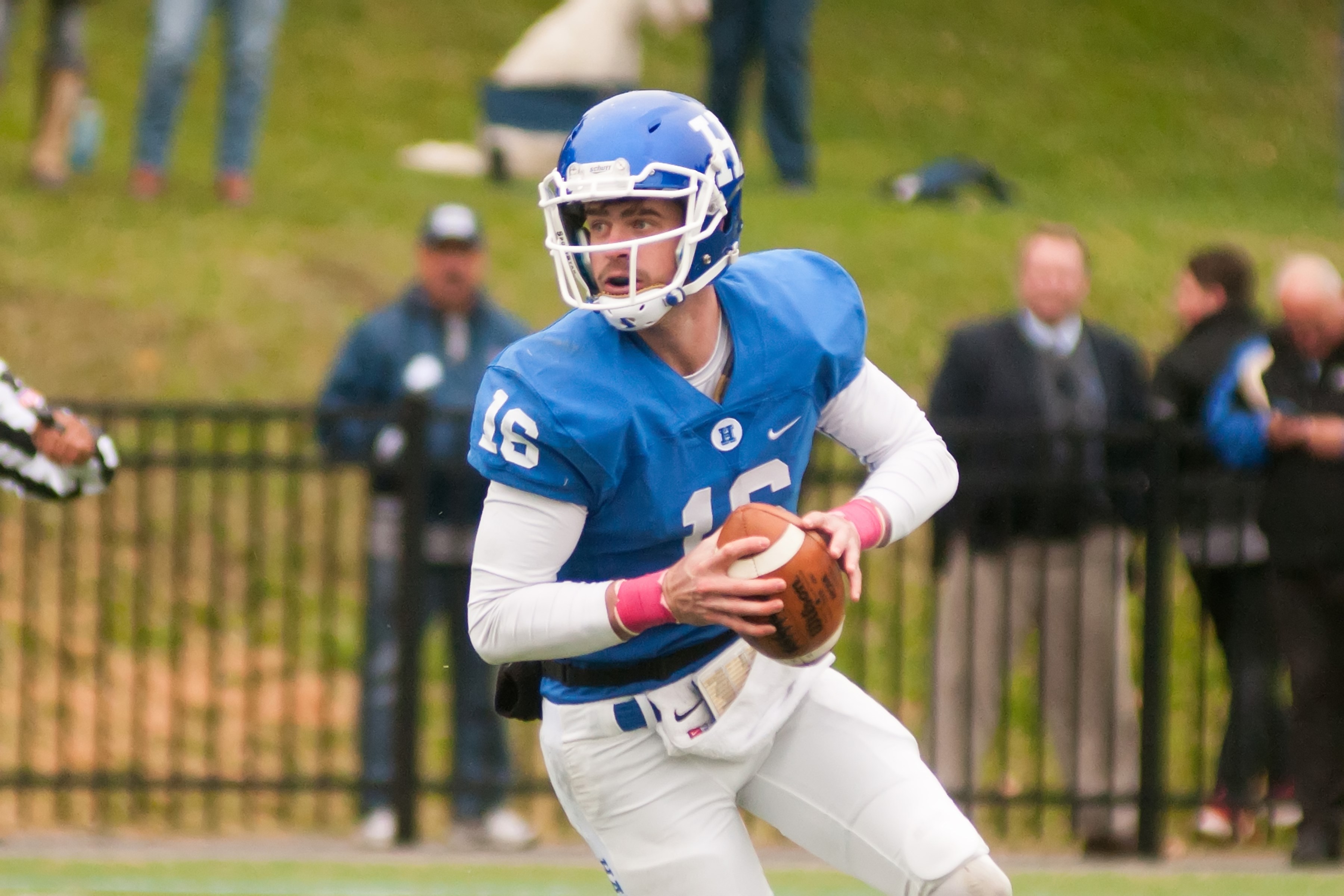 The Hamilton College football team held an eight-point lead late in the second quarter before the host Middlebury Panthers rallied on their way to a 21-16 win Saturday in Middlebury, Vt.

Box score

Middlebury scored twice in a span of 3:34 over the second and third quarters to take the lead for good. The Continentals (1-6 NESCAC) gained just 47 yards on their final seven drives, with the Panthers intercepting three Hamilton passes.

Second-quarter touchdowns by Jason Nastovski '18 and Charles Ensley '17 on consecutive possessions gave Hamilton a 14-6 lead before Middlebury staged its comeback. The Continentals closed to within 21-16 by blocking a Panther punt for a fourth-quarter safety.

Matthew Minno scored all three touchdowns for Middlebury (5-2), catching scoring passes of 70, 10 and 20 yards from Matt Milano.

After Minno's first TD reception -- a 70-yard catch just 40 seconds into play -- the Continentals used two long drives to go up by eight points.

First they used a season-long 16-play possession that ate up the last 5:39 of the first quarter and the first 3:15 of the second. LaShawn Ware '18 gained 47 of the yards on seven carries before Nastovski bulled his way into the end zone for his team-best fourth rushing touchdown of the season. Zach Altneu '18 converted the first of two extra points to give Hamilton the lead. A fourth-down pass from Cole Freeman '18 to Patrick Donahoe '16 kept the drive alive and moved Hamilton to the Panther 11-yard line.

The Continental defense forced a three-and-out from Middlebury and four plays later Freeman connected with Ensley for a 78-yard touchdown as Hamilton went up 14-6. Ensley's touchdown catch was his sixth of the season; he ranks second in the conference in both TD receptions and receiving yards (91.7 per game).

Hamilton's defense held the Middlebury passing attack -- which entered the game averaging a NESCAC-best 333 yards per game -- nearly 50 yards below its average.

Nick Sobczyk '17 led Hamilton with eight solo tackles, including one of the Continentals' three sacks. Colby Jones '19 and Conor Powers '17 both broke up a pair of passes.

Middlebury's rally started after a shanked punt set up the Panthers at the Hamilton 26 with less than a minute left in the half. Milano, who completed 14 of 29 passes for 273 yards, used three passes to get the hosts into the end zone. Jared Lebowitz tied the score with a two-point conversion run.

The Panthers held the Continentals to three plays on the opening drive of the third quarter, then moved 53 yards in seven plays to go ahead. Three catches by Minno covered all but eight of the last 39 yards. He finished with 171 yards on six receptions.

Hamilton's Sean Tolton '19 blocked a punt by Middlebury's Charlie Gordon at the Panther 10-yard line with 6:19 left.

Matthew Daniel came up with Middlebury's fourth interception of the game after the safety had pulled the Continentals to within five points.

Nate Leedy and Kevin Hopsicker intercepted third-quarter passes. Leedy also thwarted a first-half drive by picking off a Hamilton pass.

Hopsicker made a game-high 10 tackles. Tim Patricia, Wesley Becton and Dan Pierce each were in on eight stops. Pierce had three tackles for loss.

Ware led all rushers with 77 yards on 21 carries. Freeman threw for 196 yards, completing 13 of 31 attempts.

Jones and cornerback Jimmy Giattino '17 intercepted passes for Hamilton.

The Continentals close out the season on Saturday, Nov. 14, hosting Bates in a noon game at Steuben Field.