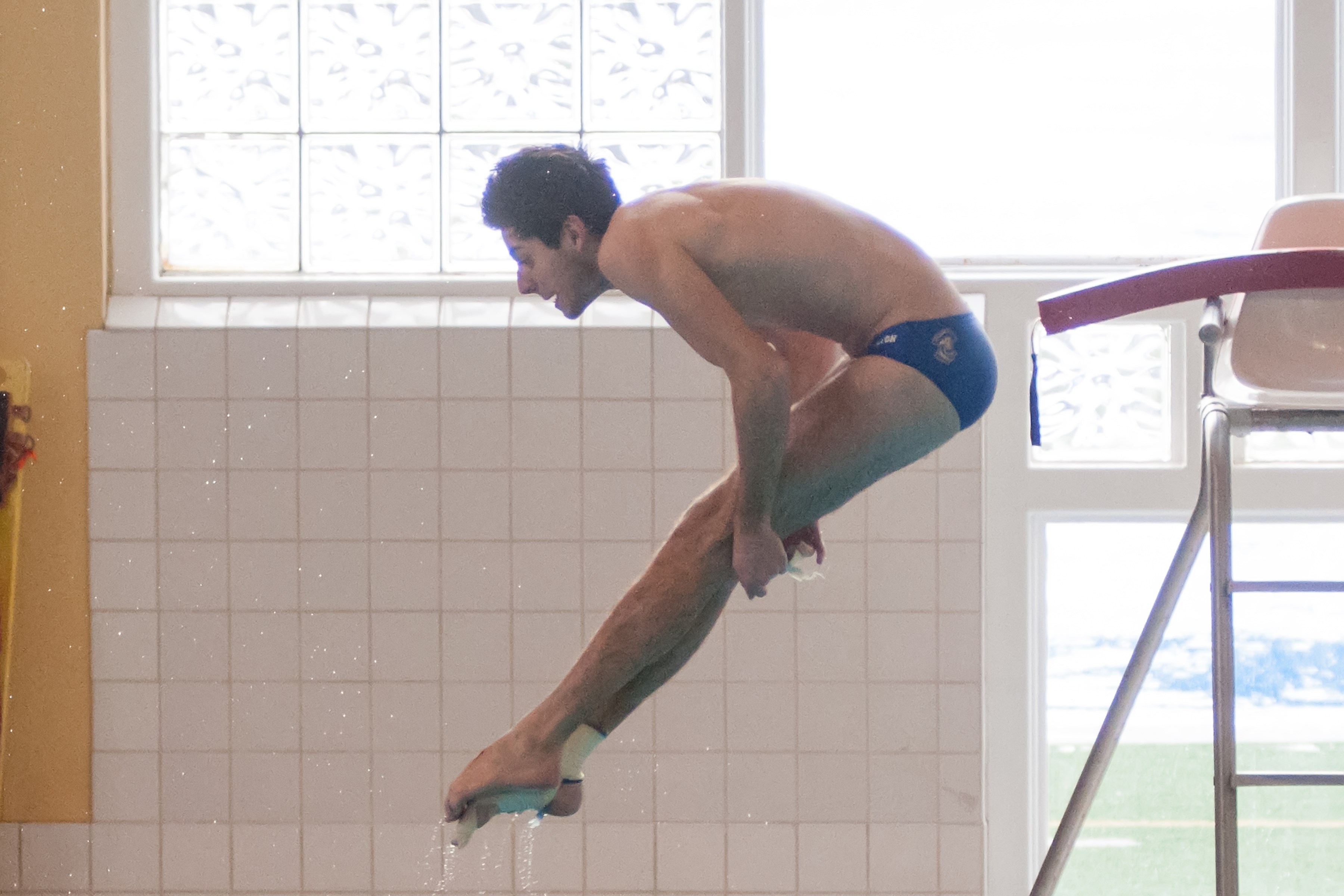 Hamilton College men's swimmers and divers finished first in all 13 events and the Continentals breezed to a 161-68 dual meet victory against Skidmore College at Hamilton's Bristol Pool on Wednesday.

Results

The Continentals remained undefeated in dual meets this season as they improved to 5-0. The men started the meet with a win in the 200-yard medley relay. John McBratney '16, Jesse Bennett '19, Alex Jones '16 and Case Tatro '18 posted a time of 1:41.04.

McBratney was an easy winner in the 100 butterfly (55.14 seconds) and was part of the fastest 200 freestyle relay. Jones, Tatro and Scott Becker '17 rounded out the quartet, which recorded a time of 1:29.58.

Becker touched the wall first in the 100 free (49.78 seconds) and was runner-up in a fantastic race in the 200 free (1:51.22). Tripp Miller '18 won that race in 1:50.54 and Trevor Pearson '18 was third (1:51.40).

Tatro was second to Becker in the 100 free (50.48 seconds). Pearson grabbed first place in the 100 backstroke (57.44 seconds) and Jones was runner-up (58.20).

Jake Lowy '19 captured the top spot in the 1,000 free (10:40.85) and the 500 free (5:08.89). Ryan Cassidy '17 was a double winner as well with victories in the 200 individual medley (2:02.81) and the 100 breaststroke (1:02.18). Cassidy edged a Skidmore swimmer by .08 seconds in the 100 breast.

In the 50 free, Jordan Allen '19 finished first with a time of 23.40 seconds, Michael Burchesky '17 ended up second (23.73) and Ben Cornaglia '19 placed third (23.85).

Julian Ziaggi '17 swept the diving events. Ziaggi posted a score of 268.95 points in the 3-meter springboard and racked up 265.72 points in the 1-meter board.

Hamilton travels to Union College for another dual meet on Saturday, Jan. 23, at 2 p.m.