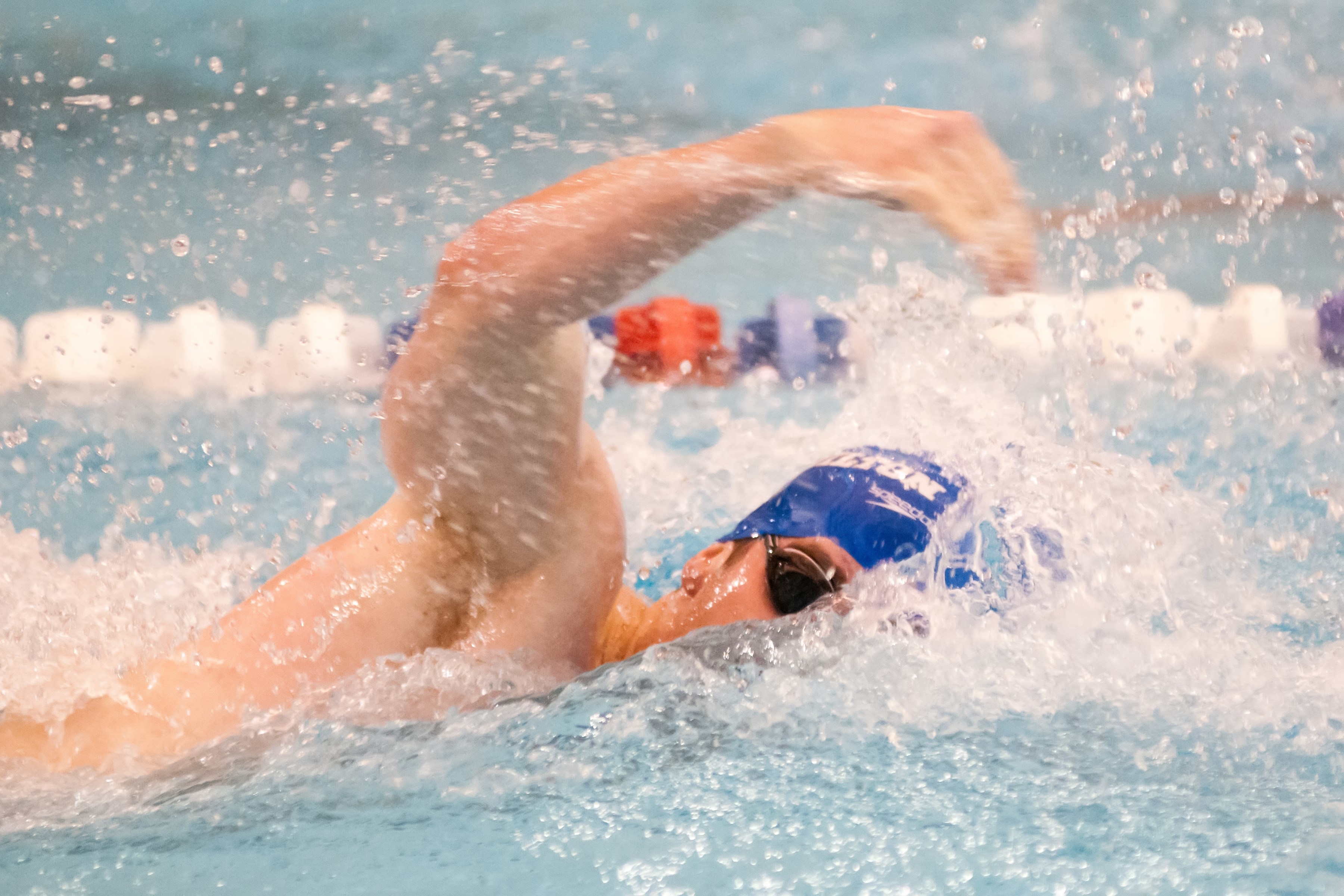 The Hamilton College men's swimming and diving team defeated Rochester Institute of Technology and Vassar College in a dual meet at Hamilton's Bristol Pool on Saturday afternoon.

Results

The Continentals (4-0 overall) posted a 164-133 victory against RIT and breezed to a 202-92 win against Vassar. Hamilton swimmers finished first in seven events, including both relays.

John McBratney '16 was involved in four of those seven wins. McBratney bested the field by more than two seconds in the 200-yard freestyle (1:47.13) and captured the top spot in the 200 individual medley (2:02.36).

McBratney was joined on the winning 200 medley relay by Alex Jones '16, Jesse Bennett '19 and Scott Becker '17 as they recorded a time of 1:40.29. McBratney anchored the 400 free relay that had the meet's fastest time of 3:18.14. Luke Jeton '17, Case Tatro '18 and Becker were also on the free relay.

Ryan Cassidy '17 touched the wall first in the 500 free (4:54.79) and the 1,000 free (10:07.12). Tatro was runner-up to Cassidy in the 500 (4:58.46) as well as the 1,000 (10:26.66), and was right behind McBratney in the 200 free (1:49.19).

Tripp Miller '18 triumphed in the 100 breaststroke, which turned out to be race of the afternoon, with a time of 1:02.30. Miller just touched out a Vassar swimmer by .01 seconds and teammate Bennett was third in 1:02.39. Miller was second in the 200 breast (2:18.38) and the 200 IM (2:03.40).

Ben Cooper '18 landed in second place in the 100 backstroke (56.98 seconds) and the 200 back (2:02.43). Jones was runner-up in the 100 butterfly (54.20 seconds) and the 200 fly (2:05.00).

Becker was second in the 100 free (49.86 seconds) and third in the 50 free (22.74 seconds) -- just .03 seconds behind the event winner.

Julian Ziaggi '17 posted a pair of runner-up finishes in diving. Ziaggi racked up 222.75 points in the 3-meter springboard and his 254.45 points in the 1-meter board was just 1.10 points behind the winner.

Hamilton is back at Bristol Pool on Wednesday, Jan. 20, for a dual meet with Skidmore College at 5 p.m.