Men's lacrosse rolls to win at Skidmore
---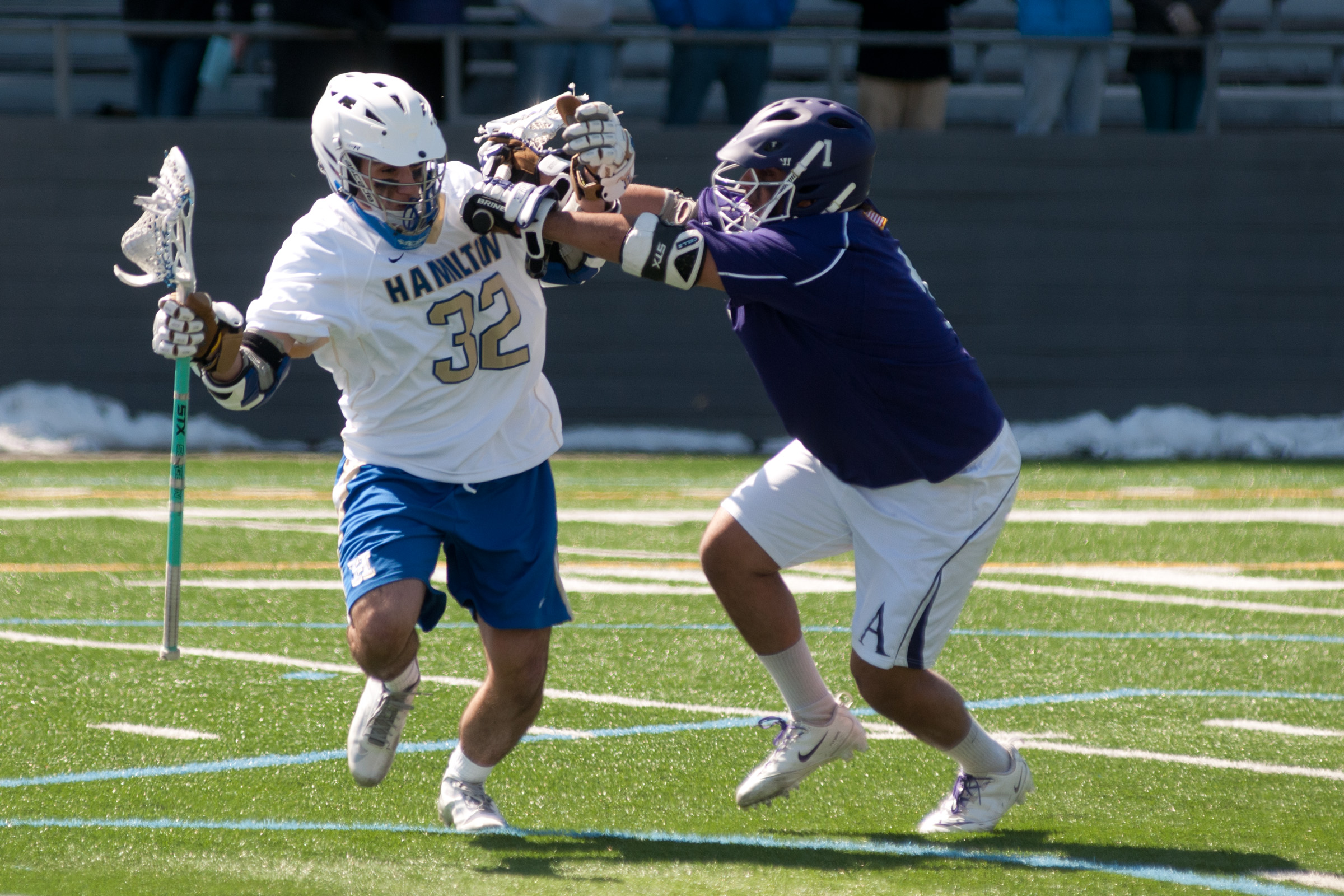 The Hamilton College Continentals posted their biggest win in three years with a 16-3 non-conference rout against the Skidmore College Thoroughbreds at Skidmore's Wachenheim Field on Tuesday evening.

Box score

The Continentals (2-4 overall) recorded their highest scoring output since a 16-6 win at Greensboro on March 16, 2011, and their largest margin of victory since topping Morrisville State College 15-2 on April 23, 2011.

Four Continentals scored their first career goal. Hamilton scored the first eight goals and later used a 7-0 run to go up 15-1 before the Thoroughbreds (1-5) scored a pair of goals in the fourth quarter.

Sam Sweet '16 led the visitors with three goals and three assists, matching a career best with six points. Bryan Hopper '14 added two goals and John Zimmerman '15 collected a goal and two assists, giving him a team-leading 21 points this spring. Zimmerman is ranked 22nd in Division III in assists per game. Seven other Continentals scored goals and a total of 12 Hamilton players picked up a point.

Sweet collected two goals and two assists in Hamilton's six-goal first quarter. After Pat Donahoe '16 opened the scoring with his third goal, Sweet assisted on Zimmerman's seventh goal then scored on consecutive Hamilton possessions. Goals by Hopper and Kurt Minges '15 closed out the first quarter (Minges' score was the first of his career).

Quinn Hawkins '14 broke Skidmore's drought, scoring with 1:45 left in the half. Hawkins assisted on the Thoroughbreds' second goal, scored by Seth Berger '14 midway through the fourth. Berger picked up the assist on Skidmore's final goal, scored by Jack Metzler '17 with 4:25 to go.

The Continentals took a 9-1 lead into intermission thanks to Matt Hrvatin '15, who scored his first goal of the year with three seconds left in the second quarter.

Connor Morgan '15 scored his team-leading 13th goal to open the second-half scoring. Alan Baldwin '16 scored his first collegiate goal with 37 seconds left in the third, capping a 4-0 quarter for the Continentals. Sweet added a goal and an assist in the period, raising his season total to 17 points.

Hrvatin collected a goal and an assist in the fourth quarter and Jack O'Brien '15 closed out the scoring with 67 seconds remaining. Ray Schulmeyer '17 assisted on O'Brien's goal with both picking up their first career point on the play.

Will Driscoll '15 stopped six of seven shots in the first half to earn the win. Barrett Meister '14 held Skidmore scoreless over a 24-minute span in the second half with Will Robbins '15 and John Schisler '17, who made his first career appearance, splitting time late in the fourth quarter.

Trip Connors '17 led Hamilton with eight ground balls and Sellers Garrett '16 picked up four. Chad Berger '14 finished with three ground balls and a pair of caused turnovers.

Taylor Best '14 won 12 of 22 face-offs for Skidmore and led the team with eight ground balls. Clark Demos '15 and Brock Blakewell '15 caused two turnovers apiece.

The Continentals travel to Florida for two games, opening their spring trip on Friday, March 21, against NESCAC rival Amherst College at 1 p.m. in Davenport. The Thoroughbreds play a Liberty League game at nationally ranked No. 20 St. Lawrence University on Saturday at 1 p.m.