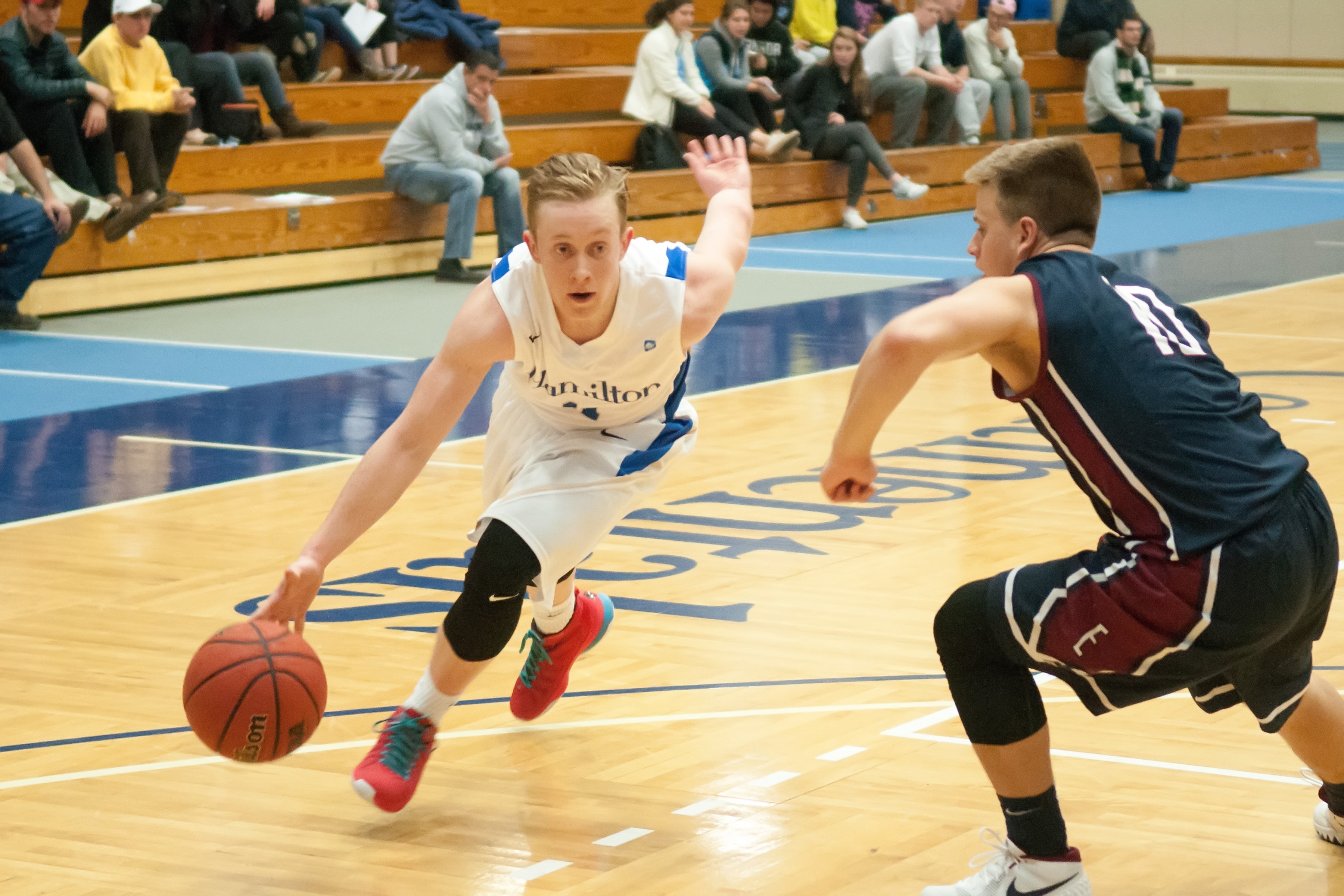 The Hamilton College Continentals shot 50 percent from the floor in the second half but the University of Wisconsin-Stevens Point Pointers posted a 61-43 win in the 2015 Arizona Shootout at the Phoenix Convention Center on Wednesday night.

Box Score

Jack Dwyer '18 led all players with 21 points for Hamilton (7-4 overall). Dwyer made 10 of 15 shots from the field and drained his lone free-throw attempt. He was the lone Continental in double figures in points.

Hamilton's Andrew Groll '19 grabbed a game-high seven rebounds, including five on the offensive glass. The Continentals finished with 22 offensive boards and held a 40-29 rebounding advantage.

Sean McGann dropped in 19 points and handed out five assists for nationally ranked No. 19 UW-Stevens Point, which won its third straight. The Pointers (7-4) captured the 2015 NCAA Division III Championship.

Ethan Bublitz nailed five 3-pointers and ended up with 19 points for the winners. Long-range shooting was a key to the result as UW-Stevens Point made 7 of 16 shots from beyond the arc and Hamilton was just 1 of 17.

The Pointers jumped out to an 11-4 lead less than five minutes in and never trailed. Two McGann free throws made it 16-6 with 13:24 left in the first half and UW-Stevens Point led by double digits the rest of the way.

The Pointers enjoyed a 33-13 cushion at the break after a torrid shooting display in the first 20 minutes. UW-Stevens Point shot 54.5 percent from the field, including 5 of 9 from 3-point range, and went 4-for-4 at the line. Meanwhile, the Continentals shot 19.4 percent in the first half and missed all nine of their 3-point attempts.

McGann's jumper with 4:30 left in the second half gave the Pointers their largest lead of the night at 25 points, 59-34. Hamilton's Dwyer scored 15 points in the second half and pulled the Continentals within 12 at one point in the final 20 minutes.

Hamilton is off until its NESCAC opener at Connecticut College on Friday, Jan. 8, at 7 p.m.