Conversation with Alex Singh '11
---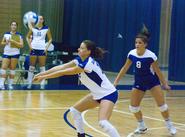 This is the fifth installment in a series of interviews with Hamilton College student-athletes. Alex Singh '11 is a co-captain on the women's volleyball team, which just finished its 25th season. Singh was third on the team in kills and tied for third in blocks. She is a three-year letter winner and one of two juniors on a team with no seniors. Singh has spent considerable time in London, England, and Tokyo, Japan. In 2010, she will aim to lead the Continentals to the NESCAC tournament for the first time.
Q: Your hometown is listed as London, England. How much time did you spend there and have you lived anywhere else?
A: I've spent a total of 10 years of my life living in London where I attended the American School in London. I went to elementary school in London for four years, and then moved to Tokyo, Japan, for five years where I attended middle school at a small international school. I then moved back to London for another six years to finish out grade school. I really appreciate having lived abroad my whole life. It has opened my eyes to lots of new experiences and new cultures.
Q: Did you play any other sports before you came to Hamilton?
A: In high school I played four years of varsity volleyball, basketball and softball. Having played three seasons of sports all throughout my high school career was one of my motivating factors for wanting to continue to play sports at a high level in college.
Q: How did you get interested in volleyball?
A: My mom played volleyball for American University when she was a student, so it was natural for me to start playing once school teams started to offer it as an option. I've always enjoyed playing volleyball, so when I came to Hamilton I contacted the coach, and decided to come to an open tryout. Since then I have come to really love the sport and have learned a lot in the last three years.
Q: Is there any one athlete you have tried to emulate?
A: I haven't really tried to emulate one specific athlete. I would like to think that I try to pull certain aspects from a lot of the great athletes. I try to be the strongest I can mentally, while being the hardest worker on the court.

Q: How did you end up at Hamilton?
A: Most of the students who went to my high school in London apply to American universities or colleges. I was looking to try and play basketball at smaller liberal arts schools such as Hamilton, and when I visited here, the campus really sold itself to me. I applied regular decision, but as soon as I received my acceptance, I knew this was the place that I wanted to spend the next four years.
Q: Coach Reding joined the program before your sophomore year. What adjustments did you have to make between one coach and the other?
A: While the first year was a lot of fun, Coach Reding really added to the program. She has brought a lot of enthusiasm, and has been working hard to get recruits to build the program up. The last two years we have been working much harder from practice to practice, as well as trying to better ourselves individually and as a team. The team has grown a lot these past three years.
Q: You are one of two team captains this season. How has your role within the team evolved from your first year to now?
A: As a first year I didn't have much responsibility, other than being a teammate. This year however, I am the oldest player on the team as well as a team captain. Rachel Irizarry, the other captain, and I meet consistently with both coaches to discuss how the season has gone so far and how we can progress in the future. I try to motivate each member of the team for every practice and before and during matches so that we are able to play to our potential as much as we can.
Q: What's it like competing in the NESCAC?
A: NESCAC provides Hamilton volleyball with a great opportunity, as the level of play is very high. Playing in the NESCAC means that as student-athletes we really have to organize our time well, as we travel as far as Maine to play some of the other NESCAC schools. There is a large difference between the volleyball we compete against in NESCAC compared to some of our non-conference teams. This difference allows us to strive to be the best we possibly can, and play to our full potential.
Q: Volleyball players can play as many as four matches in one weekend. How do you stay focused for that many different teams in such a short period of time?
A: We make sure that we work hard in practice so that we are physically in shape enough to play four matches in one weekend. The hardest part about playing four matches in a weekend can often be the quick turnaround from one match to another. We try to keep the team as focused as possible on the task ahead, and not to think of an entire weekend at one time. Volleyball can be a trying sport mentally, as momentum can switch from one team to another very quickly, so staying strong mentally between matches is extremely important.
Q: What is your favorite class and/or instructor at Hamilton, and why?
A: I don't really have a favorite instructor or class that I've had so far at Hamilton, but I have enjoyed taking classes in both the French and government departments. Both offer a wide array of classes that are always interesting. I'm currently enjoying my class taught by Amb. Walker titled Negotiating Peace in the Middle East. The class provides some historical context on the Israeli-Palestinian conflict, but also focuses on current events, as the situation in the region is constantly in flux.
Q: What will Alex Singh be doing five years from now?
A: I'm not exactly sure what sort of career I'm headed towards at this point, but I hope to be doing something that I love. Eventually, I hope to live abroad again in the international community, so hopefully something that takes me to some new foreign country.