Conversation with Amy Allen '10
---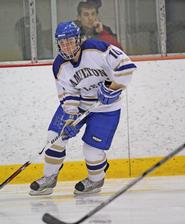 This is the 12th installment in a series of interviews with Hamilton College student-athletes. Amy Allen '10 is the captain and a three-year letter winner on the women's ice hockey team. Amy has scored 37 goals and has recorded 28 assists in her 93-game career. This season, she leads the team with nine goals, leads the NESCAC with seven power-play goals and is tied for the conference lead with three game-winning goals. She was also a captain on the field hockey team, which made its first NCAA tournament appearance in program history in November 2009. The women's ice hockey team hosts Williams College on Friday, Feb. 5, and Middlebury College on Saturday, Feb. 6. Amy and four other seniors will be honored prior to Saturday's game.

Q: Tell us a little bit about where you grew up.
A: Sarnia, not to be mistaken for the fictional land of Narnia, is a pretty average town. It's not too big, and not too small. In typical Canadian fashion, Sarnia had a pretty strong minor hockey association. It hosted the annual Silver Stick tournament, which is one of the largest hockey tournaments in North America. I started playing organized hockey as soon as they'd let me. We'd play ball hockey out on the streets, moving the net yelling, "Car!" And then, "Game on!", every time a neighbor decided they had something more important to do. Hockey is a way of life in Sarnia, or at least it was when I was growing up. The small part of Sarnia that I come from called Bright's Grove was pretty nice. It was originally cottage country as it had the nicest beaches Lake Huron could provide. The closeness of the houses gave BG a really tight-knit feel. You could always count on your neighbor to watch your dog when you went away or buy your tickets for those annoying team raffles. I think when I'm out on my own I'd like to live in a community just like Bright's Grove.

Q: Did you participate in any other sports before you came to Hamilton?
A: I played pretty much every sport known to man except for lacrosse. Before high school, I played softball and soccer, went on a golf tour for an entire summer when I was 12, and participated in competitive swimming for six years. When I got to high school, we had to play a different sport every semester. Next to field hockey in the fall and ice hockey in the winter, I picked up water polo for the spring. That decision was made purely on the fact that most people expected me to play lacrosse. In my senior year, my water polo team and I won the entire New England league championship.
Q:How did you get interested in ice hockey?
A: Hockey is a way of life in Canada. If you don't play hockey or know how to skate, the mounties will hunt you down and take away your citizenship. But seriously, every man in my family has played hockey. My papa used to play for a farm team that would scrimmage against the pros all the time. He has a personal hate for Ted Lindsay because of a tiff in one of the games they played against the Red Wings. My dad was probably my biggest influence though. I don't think there was a time during my childhood when my dad wasn't coaching a hockey team. I grew up with hockey boys always in my house. My dad is now one of the lead coaching instructors for the Canadian Hockey Association.

Q: What were the factors in your decision to attend Hamilton?
A: Frankly, I didn't really have to decide to come to Hamilton. As cliche as it may sound, Hamilton chose me. After a terrible senior year of hockey full of politics, etc., I was done playing hockey. I was not interested in playing in college and was headed back home to the Canadian universities. My high school coach thought it would be a waste, though, and said he'd spoken to the coach at Hamilton. I decided to appease my coach and took a visit to Hamilton. After that it was easy. Hamilton seemed to have a great athletic and academic environment that I could thrive in. I applied ED2, got in and I haven't looked back since.

Q: As a senior and the team captain, are there responsibilities you have taken on this season that you didn't have to before?
A: Being a senior comes with a lot of responsibility, but being a captain requires even more. You have to be able to control your own emotions as well as the team's. You have to be able to keep yourself accountable for your actions, but also make sure the rest of the team takes responsibility for their's. It's tough. A team has so many different personalities and it's difficult to make everyone happy. There have been times when I've been put in situations I would have otherwise shied away from. It's not always rainbows and sunshine. There are some things I wish I didn't have to do, but when put in a leadership role you have to suck it up and do what's best for the team. If someone is not performing to the best of their ability, sometimes the only way to get them to realize it is to call them out on it. I don't like making people upset. It makes me upset. But if that one conversation will make that person work harder the next day, whether or not she hates me, I'll take it. It's best for the team.

Q: Out of your team-leading seven goals, five are on the power play and three are game-winners. Have you been in the right place at the right time, or is there more to it than that?
A: Being placed in front of the net on the power play generally helps with being in the right place at the right time when it comes to goals, but I've been in that same spot for the past four years. Screening for shots, tipping and finishing garbage in front of the net isn't as easy as many people think. I get my butt kicked in front of that net. You should see the bruise on my back from a crosscheck I received in the Utica game. Being in that spot requires a lot of strength. I may not be the fastest skater, or have the softest hands, but I own the front of the net. Being in the right place definitely helps, but I'd like to think being able to finish with a mountainous defender on your back requires at least a little skill.

Q: You were also captain of the field hockey team in the fall. What are some of the differences and/or similarities between the two teams?
A: Both teams embodied the Hamilton spirit of an undying willingness to succeed. Hamilton field hockey was known for it's ability to come back from multiple-goal deficits, and take games from nationally ranked teams. I don't think those girls were capable of giving up. This same trait seems to be finding its way into the soul of Hamilton women's ice hockey. Just look at our weekend at nationally ranked No. 1 Amherst. We lost to Amherst the first night 5-0, and then rallied the next night to tie them, 3-3. If that's not determination, I'm not too sure what is.

Q: You played a significant role on the field hockey team's first NCAA tournament appearance in program history. What was that experience like?
A: Exciting. Intense. Fulfilling. This team was purely a pleasure to work with. Like every season, ours had its ups and downs but I never doubted a minute that I was out on the turf. I knew we could and would always pull through with a "W". It really was a privilege playing with such high class girls and talented athletes. The entire atmosphere was filled with the smell of victory. The fans and the parents were phenomenal. I can honestly say that being a part of Hamilton field hockey was an honor.

Q: Do you have a favorite Hamilton ice hockey memory (or memories) from the first three-plus seasons?
A: Our most recent tie with Amherst will forever stick out in my mind as a milestone for Hamilton hockey. We came back from being demolished the day before and rallied to tie the No. 1 team in the country. I have never been so proud of my teammates. Everyone worked hard that game. Every shift, every face-off and every backcheck. It felt for the first time in my career that we were one, a single entity working towards the same goal. The fact that we tied and didn't pull out the win is minor. The strides that our team made in that game will be difficult to top, at least until we win NESCACs in February.

Q: Who is going to win gold, and why, in women's ice hockey at the Olympics in Vancouver?
A: Ooooo. Difficult question. Canada has been the powerhouse for the past few years, but the U.S. has been rebuilding. The American youngsters may just give the Canadians a run for their money. Obviously I'm going to side with Canada, but the Americans might give us Canucks a bit of a challenge. However, the home ice advantage for Canada might be the deciding factor by the end of the Games. Penalty trouble could also play a major role, as Olympic play is frequently called much tighter than international play, so the rough play of the Canadians could turn on them and cause them more trouble than they are used to.

Q: What adjustments have you made going from Canada to here?
A: Sarnia is a border town, so I've been close to the U.S. my entire life. I also went to prep school in Connecticut for high school, so I've become pretty comfortable in the presence of Americans. One adjustment that I am still somewhat conscious of is my accent. I feel I do a pretty good job disguising it, but every once in a while a "sorry" or "about" will come out that initiates some pretty intense teasing. It's nothing I can't handle.

Q: What is your favorite class and/or instructor at Hamilton and why?
A: I love my major. I can honestly say that I have loved every single geology class I have taken at Hamilton. Todd Rayne, Dave Bailey and Barb Tewksbury make geology fun and easy to learn.

Q: What will Amy Allen be doing five years from now?
A: At the Little Pub celebrating my five-year reunion. Just kidding. But in all seriousness, I'm just finishing up my applications for grad schools. So hopefully in five years I'll have graduated with my master's degree in geology, and have been hired by some environmental consulting firm where I can save the world one oil spill at a time. Appearing in an edition of National Geographic or consulting the Discovery Channel would also be a pretty cool achievement, but I'm going to focus on graduating with my master's first.