Conversation with Chris Lorenc '10
---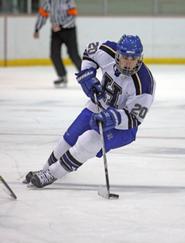 This is the ninth installment in a series of interviews with Hamilton College student-athletes. Chris Lorenc '10 is an assistant captain and three-year letter winner on the Hamilton College men's ice hockey team. He has 64 points in 82 career games, and leads this year's team with eight goals. In 2008-09, he ranked second in the NESCAC with 17 goals and fifth with 30 points, and he earned a spot on the conference's winter all-academic team. Lorenc leads the Continentals into a big NESCAC weekend as Hamilton hosts Tufts University on Friday, Jan. 15, and Connecticut College on Saturday, Jan. 16. Saturday also marks the Hockey Day on the Hill event to support the Clinton Youth Hockey Association. As many as five games that involve Clinton youth teams will be played.

Q: Please tell us a little bit about where you grew up.
A: I grew up in the town of Clifton, New Jersey, and I have lived there my whole life. Playing hockey for a local travel club team eventually led to the opportunity of playing further competitive hockey at the prep school level at Wyoming Seminary Preparatory School in Kingston, Pennsylvania.

Q: Did you participate in any other sports before you came to Hamilton?
A: I enjoy playing other sports, but none compare to the love and passion that I have for hockey. I played tennis and golf at prep school, but only at an intramural level. However, I did play varsity lacrosse in my senior year because the defensive coach was the assistant hockey coach, and he was one of the best coaches I ever had.

Q: How did you get interested in hockey?
A: My father always watched NHL games on the television. Being in northern New Jersey, a Devils, Rangers or Islanders game would always be on. Also, I have a brother that is 5 years older, and as a little kid growing up I always followed him and wanted to be around him. We would always have intense knee hockey games in the basement or battles with street hockey. So when my brother took up ice hockey, I immediately wanted to follow him and get out on the ice.

Q: What were the reasons behind your decision that Hamilton was the right college for you?
A: When I visited Hamilton during my senior year, I fell in love with the campus and liked the fact that the ice hockey rink was on campus. At that time, they were finishing up the Science Center and working on the fitness center -- state-of-the art buildings that I would be spending a lot of time in as a prospective science major and athlete.

Q: How has your role changed within the team since you were appointed an assistant captain?
A: Being a captain carries a number of responsibilities, such as being a leader and role model for whom the members of the team can look to for support or guidance. Since being appointed an assistant captain I have become more aware of my actions and decisions and try to lead by example. I try to give 100 percent every day. Whether it is working out, practicing and/or playing a game, they should all be equally as important.

Q: You had 24 points after your first two seasons with the team before scoring 17 goals and assisting on 13 others as a junior. What led to your breakout season in 2008-09?
A: I really do not know what caused the breakout season. I prepared for 2008-09 the same as I did with all previous seasons -- working hard in the off-season workouts. That year was the first year for Norm Bazin as head coach for the team and he implemented different systems. I had great chemistry with linemates Joe Buicko and Tom Chiappetta, whom contributed greatly. Most importantly, that year the team had some success by making the NESCAC championship tournament for the 1st time since I had been here. With that team success, I was fortunate enough to have some individual success.

Q: Is there any one hockey player you use as a model for your style of play?
A: Joe Sakic, future Hall of Famer of the Colorado Avalanche. He just retired last season, but the way he saw the ice was amazing. He was always involved in the play and always in the right places. He had an unbelievably quick release when he shot the puck, and scored numerous goals moving to the left and shooting to the right. That has become my favorite shot to shoot.

Q: The third NHL Winter Classic was held two weeks ago. Do you enjoy the event, and which teams would you like to see in the 2011 Classic?
A: Of course, it is such a great event for the sport as many fans, even non-hockey fans, watch and attend the annual event. I would love to see my favorite team -- the Colorado Avalanche -- take part in the event, but they do not have a long history as a NHL team. So, I'll settle for the New York Rangers and New Jersey Devils because it is a great rivalry and who knows, maybe I can get a ticket to the game.

Q: You made the NESCAC winter all-academic team last season. How do you balance academics and the long hockey season?
A: I try to manage my time wisely and use it as efficiently as possible. On occasion, small sacrifices of the social life are necessary, such as for extra studying for midterms. This may entail some long nights and early mornings in the library.
Q: What is your favorite class and/or instructor at Hamilton, and why?
A: I have not had a chemistry course that I have not liked. All the chemistry professors are great, but I would say that Tim Elgren is my favorite, because I have never seen someone as humble as he is when he wins a golf match.
Q: Could you explain what the Hockey Day on the Hill event is all about and what it's like to have these Clinton Youth Hockey Association players look up to you and your teammates?
A: Hockey Day on the Hill is a great event for Hamilton's hockey team, the College and the town of Clinton. It is about building a stronger relationship with the town and supporting the Clinton Youth Hockey Association. It is a great honor to have the young hockey players look up to us and it has been a great experience so far. A number of our players have enjoyed it so much that they traveled down to the arena, even at 6 in the morning, to skate and practice with some of the Clinton youth teams.
Q: What will Chris Lorenc be doing five years from now?
A: Currently, I have sent in a few applications to graduate schools and if all goes well, at least one of those will result in an acceptance. So in five years, hopefully I will be just graduating with a Ph.D. in chemistry with a job in the pharmaceutical industry.