Conversation with Devon Lynch '11
---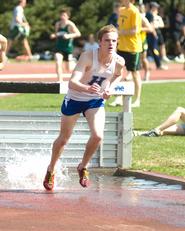 This is the 24th installment in a series of interviews with Hamilton College student-athletes. Devon Lynch '11 is a member of the men's cross country and indoor and outdoor track and field teams. Devon has been specializing in the 3,000-meter steeplechase this spring, and finished seventh in the event at the 2010 NESCAC championships on April 24. He is ranked 14th on the cross country team's record books of fastest Hamilton men's runners on the College's home course. Devon is a two-time member of the Liberty League all-academic men's indoor track and field team. He will help lead the outdoor team into the 2010 New York State Collegiate Track Conference championships at Rensselaer on Friday and Saturday, April 30 and May 1.

Q: Tell us a little bit about where you grew up.
A: I grew up in New Canaan, Connecticut. I attended New Canaan High School, where I was fortunate to benefit from a public school that takes academics very seriously. That competitive environment helped me to grow a lot as a young man.
Q: Did you participate in any other sports before you came to Hamilton?
A: I enjoy most sports, but the only varsity teams I have ever been a part of have been cross country and track. I started XC as a freshman in high school and have not taken a season off from running since.
Q: How did you get interested in competitive running?
A: I joined the NCHS cross country team on a whim when I decided to stop playing soccer. I like to joke that most distance runners are failed high school soccer players -- kids with admirable speed, but questionable coordination.
Q: What were the factors in your decision to attend Hamilton?
A: When searching for colleges I learned that Hamilton was a small school that had a scholarly reputation with an emphasis on writing. That alone was enough for me to send an application, but when I visited campus, I was delighted with the picturesque setting and decided it was the place for me.
Q: You finished seventh in the steeplechase at the NESCAC championships on Saturday. With the water, the high hurdles and the distance, is the steeplechase the toughest event you have competed in?
A: The steeplechase is certainly the most entertaining event I have ever raced, and most of the time the obstacles distract me enough from the pain to make it enjoyable. Sometimes, however, this is not the case. I remember one chilly morning in particular last spring when I woke up feeling slightly under the weather and ran in a 40-degree drizzle. Due to the cold water, the foot with which I enter the water (my left) went numb after the first landing, which appears only one-sixth of the way through the race.
Q: You are a member of the cross country and indoor and outdoor track and field teams. How do you stay focused as you compete through all three seasons?
A: It is very common, actually, for a distance runner to compete in cross country, indoor and outdoor track consecutively. Good performance in running depends on consistent training, and on a personal level, taking a season off would be my ruination. The regularity of the three-season program keeps me focused. Taking time off and coming back is generally more of a challenge.
Q: You are ranked 14th of the fastest times by a Hamilton runner on our cross-country course. What is your favorite course? Track and field venue?
A: The Hamilton College course is my favorite, because the team trains on it often and subsequently we are able to anticipate its every nuance and incline during a race. I prefer courses that feature steep hills. I think of all cross country courses as unique, whereas tracks are very standardized in comparison. That being said, in a perfect season every meet would be held at the Pritchard Track.
Q: As a two-time member of the Liberty League all-academic men's track and field team, how do you balance academics and athletics?
A: Knowing that I have practice at 4 p.m. every day helps me organize my schedule. While track is a time commitment, it has never been detrimental to my responsibilities as a student.
Q: You major in art history. How did you settle on that concentration?
A: After taking a couple of classes in art history as an underclassman, I began to embrace my attraction to the visual arts. I find analyzing imagery and interpreting art through writing to be very stimulating on an intellectual level.
Q: Do you have a favorite class and/or instructor at Hamilton?
A: My academic advisor is Professor Rand Carter, whose classes I have been taking for a couple of years now. Currently, I attend his seminar in Neoclassicism, a course with a class size of two. Needless to say, it is a treat to be taught in such an intimate environment.
Q: What will Devon Lynch be doing five years from now?
A: It seems likely that I will be residing in a Northeastern metropolis, possibly working with fine arts or antiques. If that has not worked out within a half-decade, I plan on relocating to somewhere in the Deep South to get in touch with nature.