Conversation with Greg Kreitzer '11
---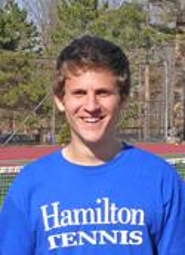 This is the 20th installment in a series of interviews with Hamilton College student-athletes. Greg Kreitzer '11 is a two-year letter winner and captain for the men's tennis team. He entered this weekend with 15 career singles wins and is playing fourth flight singles this season. Greg and doubles partner Coby Berman '12 have won six out of eight matches in 2010. Greg leads the program into a busy weekend at home. Rensselaer visits Hamilton on Friday, April 9, and Colby College and Tufts University travel to Clinton for NESCAC matches on Saturday and Sunday, respectively.

Q: Tell us a little bit about where you grew up.
A: I was born in North Syracuse, N.Y., and lived there until the end of the third grade. I remember loving North Syracuse as a kid, and writing up a list of reasons we shouldn't make the 25-minute move to Fayetteville when I was little. Despite my greatest efforts, our family moved to Fayetteville, where we have lived happily for the past 11 years.

Q: Did you participate in any other sports before you came to Hamilton?
A: When I was little I dreamed of playing in the NBA. My dad was a track star in high school and didn't know anything about basketball, so he decided to buy a bunch of books on basketball to teach me how to play. I remember when I was little I dribbled around in the house to the dismay of my mother. I would stay outside and shoot hoops until my hands were dark with dirt from the pavement. Unfortunately, my dream of playing in the NBA ended when I was cut from the modified basketball team in seventh grade!

Q: How did you get interested in tennis?
A: After we moved to Fayetteville, my sister Anna started taking tennis lessons at Gold's Gym. One day after an intense fourth-grade class involving show and tell, my mom asked if I wanted to come along to the gym and play some tennis. I remember being jealous that my sister got to play, so I decided to go. I ended up picking up the racquet that day and I never looked back.
Q: What attracted you to Hamilton?
A: I remember going to a high school tennis recruitment camp with college coaches during my senior year. I met our assistant coach Jamie King (Kinger) there and he sparked my interest in Hamilton. I ended up coming up to the Hill for an overnight visit, and after that I just knew I wanted to come here. Everyone I met was friendly and the classes I sat in on were interesting. I left after my overnight and applied early decision to Hamilton. Ultimately, it was the people and the community that sold me on the school. Tennis was always very important to me, but I knew this was the school for me, because I could be happy at Hamilton without playing tennis.
Q: Since the team has no seniors on the roster, you were thrust into the role of team captain as a junior. What has that experience been like?
A: It was a bit nerve-racking but it has always been something I wanted to do. I had the good fortune of playing on the tennis team last year when Henry Ciocca was the captain. Watching Henry on and off the court taught me a lot about what it means to be an effective leader. No matter what the circumstances, you could always count on Henry to show up and give 100 percent. I have tried to follow in Henry's footsteps by leading by example. Generally, I just try to contribute to the team in any way possible, whether it's on or off the court.
Playing college tennis is interesting because tennis is such an individual sport. You are out on the court and you are all alone. That is what is great about college tennis though -- you have people who are behind you and are pulling for you to succeed. I just try to do the best I can while supporting my teammates to do the same.
Also, it should certainly be noted that this has not been something I have had to do alone. I was lucky enough to come in as a freshman with three other great friends and tennis players. Dan Gross, Mike Moreno, and Peter Erwin have been incredible on- and off-court leaders for this team. The three of them have made incredible contributions and sacrifices for the Hamilton College men's tennis team, and have helped me to become a better player and person.
Q: While in Florida in March, the team pulled off its first win against a NESCAC opponent since 2006 with a 9-0 victory against Conn. College. Take us through that match, and did you and the team understand the significance of the moment?
A: This year the team has really tried to change the culture of the program. We started the season by writing down our goals for this season so that we could be held accountable for those goals. The first goal on the list was to win a NESCAC match. Before going into the details of the match, it should be noted that when the Class of 2011 were freshmen, we were coming into a program that had gone 0-11 the previous year. We knew this year that we had come a long way from 0-11, and that we had the opportunity to actually compete in the NESCAC.
We had lost to Conn. College 6-3 the year before, so we came out hungry in Florida. Coach McKee let us know how big the match was before the outset. We knew we were ready to play with them in the heat, especially because of all the conditioning (assistant coach Mark) Oakes had us do in practice in the weeks leading up to the match. In retrospect we all knew we could win, but we didn't think we would win 9-0. That was a big moment for this program, because it signified that the team was starting to turn itself around. The biggest thing is we have started to believe that we can compete with the tougher teams in our conference.
Q: You and your doubles partner Coby Berman '12 have a 6-2 record this season. How were you paired up and what's the key to your success?
A: We have a lot of good doubles players this year, so it was tough to make decisions about pairings. To some degree, doubles is about the compatibility of the players. Still, at the end of the day, both players need to be able to play good tennis. Coby is a good tennis player and has a lot of qualities that make him tough to play against in doubles. He has a great serve and return, which are the most important shots in doubles. Most importantly, he plays well under pressure. We have won a lot of close doubles matches this year because we have played the bigger points better than our opponents, which is due in large part to my partner's composure.
Q: Which do you like more, singles or doubles?
A: If you had asked me this question two years ago, I would have said singles without hesitating. I played singles for five years in high school and loved it. However, now I would probably have to say that I am indifferent. Doubles is a really exciting game because it is fast-paced and you have a partner to lean on for support. In singles, if you are struggling you do not have a partner to turn to.
Q: Colby and Tufts are visiting Central New York for NESCAC matches this weekend. What are the goals for the team on Saturday and Sunday?
A: We know that both Colby and Tufts are good teams that are going to come ready to play this weekend. Nevertheless, we have been working hard all season to prepare ourselves for these NESCAC matches. We are expecting to not only compete hard with both of these teams, but ultimately we are expecting to win. We could use some support, too!!
Q: Do you watch much professional tennis on TV or in person and, if so, which Grand Slam event is your favorite?
A: I try and watch tennis on TV when the four grand slams are on. I have been fortunate enough to attend the U.S. Open twice. When I was in London studying abroad this fall, I took a trip to see what Wimbledon looks like (green, as it turns out). My favorite venue for a grand slam would have to be the clay at the French Open. The points are longer and more exciting because it is harder to finish rallies. Also, the crowd has been known to get pretty rowdy at the French Open.
Q: Is there a particular class or professor you have enjoyed here at Hamilton?
A: This is a really tough question because there have been many different professors and classes that have been interesting. If I had to choose just one, I would pick Microeconomic Theory with professor Wu, because his energy and enthusiasm made the class both interesting and enjoyable.
Q: What are your plans for this summer after your last final is finished in May?
A: I'm going to relax and catch up with friends for awhile at home after finals end. I start working at a sleep away summer camp on Seneca Lake in Geneva, N.Y., in mid-June.