Conversation with Jared Mereness '10
---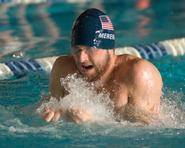 This is the 15th installment in a series of interviews with Hamilton College student-athletes. Jared Mereness '10 is a two-time team captain and four-year letter winner for the men's swimming and diving program. He holds the school record in the 50-yard breaststroke, and earned a spot on the 2007-08 New England Small College Athletic Conference all-conference team for his performance in the 100 breast at the 2008 NESCAC championships. Jared leads Hamilton into the 2010 NESCAC men's swimming and diving championships at Williams College this weekend. The three-day meet starts Friday, Feb. 26, at 10 a.m.

Q: Tell us a little bit about where you grew up.
A: I grew up in Victor, New York, which is a small, quiet town just south of Rochester. Athletics of all types are pretty strong in the area, especially among the larger high schools nearby.

Q: Did you participate in any other sports before you came to Hamilton?
A: I ran track and cross country early on and did a lot of biking. Running was definitely not a strong suit of mine, so I focused on swimming and cycling in high school.

Q: How did you become interested in swimming?
A: My parents put me in swim lessons when I was pretty young and I always enjoyed it. My parents saw a lot of potential and encouraged me to try the swim club, but I was always terrified of wearing a speedo. When I was 11 years old I finally gave in, went to a two-week trial and immediately fell in love with the competitive side of swimming.

Q: What were some of the factors in your decision to attend Hamilton?
A: First, I wanted to be relatively close to home, and Hamilton is the perfect distance. The campus is beautiful, the academics are obviously outstanding, and I got along well with head coach T.J. Davis and the team right away. Everything just seemed to fit perfectly. So I applied early decision, which got rid of a lot of senior year stress.

Q: Not many athletes get a second chance at being a team captain, but this is your second season in the honorary position. What have been the differences in your experience as a team captain between last season and this season?
A: Last year there were three of us, and my fellow captains were actually my hosts from my recruiting trip to Hamilton, so they were people that I really looked up to. They were a bit more experienced with the team than me, so I was just honored to be considered their equal, and it was very much a learning experience. This season there are two of us, and Chris Crowell and I play very effective and dynamic roles as leaders. It definitely helps that the team gets along as well as it does.

Q: The NESCAC men's championships are this weekend at Williams College. Describe what it's like to compete in this meet.
A: The NESCAC championship meet is the most grueling, fun, intense and potentially rewarding meet I've been able to participate in. The mornings are fairly relaxed, and the night sessions are insane. At night there is standing-room only, the noise is deafening and people are hopped up on adrenaline and swim incredibly fast. It's a great weekend.

Q: Due to his success at the Olympic level, what kind of impact has Michael Phelps had on your sport?
A: It has been both a positive and negative one. He has brought swimming into the public eye as an interesting and exciting sport with some incredible feats in the pool. He has also given swimmers somewhat of a bad name with a few of his actions outside the pool.

Q: Not that I expect you to say Phelps, but is there anyone in your sport you try to emulate?
A: There are a lot of them, but of the more well-known swimmers I'd say Ian Crocker and Ryan Lochte. They both always seem to be relaxed and having fun with what they're doing, and still compete with a great deal of intensity. Most of the others are teammates and coaches, both past and current. It's difficult to emulate someone in the pool because strokes are so individual, but there are certainly people that I admire for their work ethic and the way they carry themselves.

Q: What are your favorite Hamilton swimming and diving team memories from your first three-plus seasons?
A: There have been countless great memories, many of them coming from random practices and bus rides. Coming back early during winter break and all the NESCAC meets have been my favorite times. Also, practicing, racing and making men's team swimsuit calendars with the team have been awesome.

Q: What is your favorite class and/or instructor at Hamilton and why?
A: There have been a lot of great classes and instructors, but I think my favorite was Vertebrate Physiology with Professor (David) Gapp. It covered a wide range of really interesting topics and the labs were awesome.

Q: What will Jared Mereness be doing five years from now?
A: Oh, boy. I'm not exactly sure. I'll most likely be working and taking Ph.D. courses in biochemistry. I'll definitely still be swimming in some capacity.