Conversation with Kelly Whipple '10
---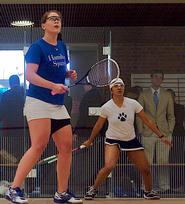 This is the 11th installment in a series of interviews with Hamilton College student-athletes. Kelly Whipple '10 is a co-captain and three-year letter winner on the women's squash team. As of Jan. 29, Kelly had won 36 matches at Hamilton. She has been the team's No. 1 player all four seasons. Kelly is a two-time New England Small College Athletic Conference all-conference selection, and made the Liberty League all-league team as a first-year in 2007. The team's record is 46-29 during her career, including 10-3 this season. Kelly leads Hamilton into a home match against Middlebury College at the Little Squash Center on Monday, Feb. 1, at 5 p.m.

Q: Tell us a little bit about where you grew up.
A: I was born in Greenwich, Conn., and grew up in Rye, N.Y., which is a small town outside New York City. I've lived there my whole life with my parents and two older sisters. I graduated high school from Convent of the Sacred Heart in Greenwich. I have loved growing up in Rye. Much of my extended family also lives in Rye and it is a very close-knit community.
Q: Did you participate in any other sports before you came to Hamilton?
A: Yes, I did. I have been playing multiple sports my whole life. Throughout middle and high school, I played field hockey, squash and lacrosse very competitively. I was debating which sport I wanted to continue to pursue in college because I loved all three of them equally, but squash at Hamilton seemed to be a perfect fit. When I came to visit, I loved the girls on the team, the coach and the school as a whole.
Q: How did you get interested in squash?
A: My dad has been playing squash for a while, so he was probably the first person to get me interested in it. My two older sisters also played squash at Williams College. We played a little bit when we were younger, just at our club during summer camp, but nothing too serious until later when we were in middle school. Our club in Rye, Apawamis, has a fantastic junior squash program, so practicing with the coaches and other players definitely made me more invested in squash.
Q: What role did the Little Squash Center play in your decision to attend Hamilton? Was it important? Not important?
A: The Little Squash Center played a huge role in my decision to come to Hamilton. The squash season is very long, lasting from November to March, so it is really nice to have your own courts and a few home matches. With a brand new squash facility, more players become interested in the school, so I knew the Hamilton team was going to skyrocket. It is really great to see the Hamilton community become more interested in squash. At the end of practice almost every day, I see other Hamilton students out on the courts, hitting around and having fun. It is very different from my freshman year when some people had never even heard of squash. I'm glad that squash is continuing to grow.
Q: You have been the team's top player since your first season. Did you expect to have that type of impact right away?
A: I knew that the Hamilton squash team was getting three other freshmen in addition to myself that same year, so I wasn't sure how each of us were going to impact the team. I also knew that the new courts and facility were going to draw a ton of exceptional players to Hamilton, which they have, so I never really expected to stay at my position for four years. However, with a sport like squash, it does not really matter what seeded number you are on the team. All nine matches count equally and contribute to the overall team outcome. Everyone on the team has made a huge impact in different ways.
Q: Of course, being the No. 1 player means you have to face some great competition. You have already won more matches this season (8) than your entire first season (6). What lessons have you learned these past four years?
A: Wow, I didn't realize how few matches I won my freshman year... I'm glad I have improved! My game has gotten a lot better from the pure experience of playing other No. 1 players and adopting their styles. I've learned a lot about what contributes to the team outcome and how it is important to balance the focus on yourself to the focus on the entire team. I've learned how to help my teammates, and how to be a better coach as well as player. I've learned about tactics and strategies to use on court, but I have also learned about how to present myself and represent my school/team on and off the court. Some players do not represent their schools very well and have poor sportsmanship, so it makes me grateful that everyone on the team prides themselves on their outstanding sportsmanship.
Q: At 10-3, it seems likely the team is going to finish with a winning record for the fourth straight season. Is this the best Hamilton team you have been a part of?
A: This is definitely the best team I have been on at Hamilton. It is really incredible how many more squash players are interested in Hamilton each year. This season we have five new freshmen, making up almost half our team. Not only is our record the best it has been, but the team unity and the support is the strongest it has ever been. Much of that is largely due to coach Jamie King's dedication and leadership. He's the best coach I have ever had, and the team wouldn't be where it is without him. I'm so grateful that my last season here is this incredible. I know the team is going to keep getting better and better in the years to come.
Q: Since squash is not sponsored by the NCAA and has no divisions, you have played against schools such as Northeastern, Stanford, George Washington and members of the Ivy League, that most Hamilton athletes don't have the opportunity to play. Is that significant to you or any of your teammates?
A: The squash team is really lucky that there are no set divisions in the CSA (College Squash Association). It is really good experience competing against players who are much stronger than you, and it is also really good practice competing against players who are not as strong as you. There is a perfect balance on the squash circuit and plenty of opportunities to improve. We are also lucky that we are in the NESCAC for squash, because the majority of those teams are very close, which makes for great competition.

Q: What adjustments did you have to make moving from suburban New York City to spending a good portion of your last four years in Upstate New York?
A: It doesn't feel like I had to make too many adjustments when I moved up here to Clinton. I guess one of the biggest, and probably most trivial sounding, was doing my own laundry and taking care of myself. When you are living at home, you take for granted the care that your parents provide for you. I'm lucky that I am not that far from home -- about a 4-hour drive -- so my parents come to almost all my matches and I get to see them a lot.

Q: When you aren't playing squash, what other activities do you participate in around campus?
A: I am a member of Alpha Theta Chi society, I have played on the women's club golf team, I am on the senior gift committee, I help plan some of the social tradition events and I actually worked as a bartender at Don's Rok during the fall semester. However, when I am in squash season, I like to focus the majority of my time on squash. I'm really lucky that my team is such an amazing group of girls. We spend a lot of time together outside of squash and the courts, which contributes to our overall team dynamic and success.
Q: What is your favorite class and/or instructor at Hamilton and why?
A: I have had many great classes and instructors at Hamilton, so it is difficult to pick just one. The beauty of such a small school is that you can experience so many different fields and departments in your four years. I obviously love the communication and sociology departments, since I am a communication major and a sociology minor, but I've had great experiences with other departments as well.
Q: What will Kelly Whipple be doing five years from now?
A: I wish I knew the answer to that question. If anyone wants to tell me what Kelly Whipple will be doing five years from now, suggestions are more than welcome. I have no set plans right now. I just hope to be doing something that I love and am happy with.