Conversation with Kendra Wulczyn '10
---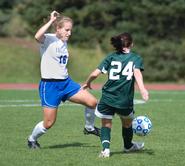 This is the third installment in a series of interviews with Hamilton College student-athletes. Kendra Wulczyn '10 has anchored the Hamilton women's soccer team's defense from her center back position since late in her first year. Wulczyn has started all 60 games in her collegiate career, and the Continentals' record is 39-15-6 during that time. She is a three-time member of the Liberty League women's soccer all-academic team. This year the team is 6-5-0 overall and 3-2 in league play, and is aiming to return to the league tournament in November.

Q. Tell us a little bit about where you grew up.
A. I grew up in Central Pennsylvania, which is generally a pretty rural area. There were cows next to my high school soccer field. The area that I live in is pretty typical for American suburbia. My high school was really large, with over 2,000 kids, but I really liked going to a school that had so many opportunities both academically and outside of school.

Q. Did you play any other sports before you came to Hamilton?
A. During elementary and middle school, I was really into both softball and basketball, in addition to soccer. However, in central PA they play soccer in the spring, and so when I got to high school I had to make a choice between softball and soccer. Obviously I chose soccer. In ninth grade, though, I was really missing playing other sports and so I went out for the field hockey team, thinking that I would just be able to pick it up quickly. It turns out it's not as easy as it looks, and I ended up playing goalie for my team because it was a position where you got to kick the ball. Needless to say, my career didn't last very long.
Q. How did you get interested in soccer?
A. I don't have any specific memories of my first soccer game or why I even started playing the sport. I think it was probably just my parents wanting to let me try everything as a kid.
Q. You have been fortunate enough to compete in women's soccer as its popularity has exploded during the last 10 years. Is there anyone in the sport you have tried to emulate as you got older?
A. Probably every female soccer player that grew up when I did remembers the 1999 Women's World Cup final when the U.S. beat China in penalty kicks and Brandi Chastain ripped off her shirt in celebration. That team was crucial to putting women's soccer in the spotlight, and I definitely wanted to grow up to play soccer just like those girls. As I've gotten older, and realized that I might not have a shot at the national team, I just try to play every day with enthusiasm and intensity.
Q. What convinced you to come from southern Pennsylvania to Hamilton and Upstate New York?
A. My college search was probably different than that of a lot of student-athletes because I wasn't particularly interested in playing soccer in college. In fact, Hamilton was the only school that I spoke with about playing soccer at all. My interest in Hamilton was actually a combination of one of my good friends telling me to check it out and Coach Gilligan asking me if I'd like to come for a visit. In the end, it came down to a financial decision between a couple of schools, but now that I'm here I couldn't imagine not playing soccer while at college.
Q. You have started every game since you stepped on the field as a first-year. Is that a goal you set for yourself before you came here? Did you think it was even possible?
A. I didn't really know what to expect in terms of the level of play. When I got here and was starting every game, it was really just a pleasant surprise. Now that I have this streak going, though, I'm rather proud of it. It's really the only stat I have going for me. Since I'm a center back I don't score many goals, so it's something that I've grown very fond of.
Q. The fact you have been listed on the roster as a forward your whole career here, even though I'm pretty sure you haven't played the position a single game, has been a running joke for awhile now. Was that your position in high school?
A. Wow, it's funny that you mention that because I hadn't realized that anyone else was aware of that outside of the team. It certainly has grown into a running joke on the sidelines. I have no idea why I'm listed as a forward on the roster. Perhaps Coach Gilligan thought that's where I would end up playing. I never really played forward in high school, I was more of a center mid. But my position on the field now couldn't be farther from a forward.
Q. Your real position doesn't allow a player to get into scoring situations often. What are your thoughts about the position?
A. I have mixed feelings about playing center back, but generally I really enjoy my position. Like I said, in high school I played primarily center mid, and that's where I played for most of my first year at Hamilton. With a couple games left in the regular season, Coach Gilligan said she'd like to switch me to center back, which I had never played before. I've grown to respect the position, but it's a tough spot to be in since you end up feeling a lot of the blame in losses, most of which is self-generated. However, I like the challenge of trying to shut down the other team's offense.
Q. What Hamilton women's soccer memory are you going to look back on 20 years from now?
A. That is such a tough question. I would say that I'll look back on a collection of memories. In 20 years I'm sure I'll have forgotten all the inside jokes and the stats and all of that, but I know I'll have no trouble remembering the friendships I've made and the fun that I had while being with my teammates both on and off the field. And I'll probably still remember beating Williams.
Q. That win against Williams in 2007 is a game some people at Hamilton consider one of the best wins in school history for three reasons: Who it was (an undefeated Williams team), where it was played (at Williams) and the stage it was on (NCAA tournament). What do you remember most from that game?
A. That win against Williams was one of the greatest memories. Since I'm a defender, for most games I end up remembering the goals that were scored against us, so I couldn't even tell you how we scored. I just remember what a great effort our defense put up against their forwards, who were so good. The sense of accomplishment at the end of the game was overwhelming. I remember one of our seniors was crying after the game, and she just kept saying, "This is so amazing. This is so great." At that point I realized how big of a victory we had just pulled off.
Q. How do you excel at academics and athletics?
A. Balancing academics and athletics has fortunately been something that has always come easily to me. The added time constraint of being in-season actually helps to keep me more focused on school work.
Q. What led you to major in neuroscience?
A. Since freshman year I've had intentions of going to med school after Hamilton, so I always assumed I'd major in one of the sciences. It turned out that I most enjoyed my neuroscience classes. Learning about how our brains work and how we think is fascinating. It's a subject that's really rather a new topic in science, which means there's still a lot we don't know, but it's so relevant to our everyday lives.
Q. What will Kendra Wulczyn be doing five years from now?
A. Hopefully, in five years I will just be graduating from medical school and starting my residency at some super-awesome hospital, on my way to becoming a famous doctor. I guess in reality I could leave out the famous part, but I do hope to become a doctor some day.