Conversation with Laura Brantley '10
---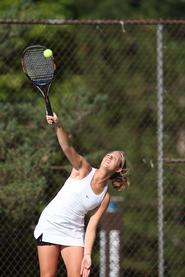 This is the 21st installment in a series of interviews with Hamilton College student-athletes. Laura Brantley '10 is a three-year letter winner and captain for the women's tennis team. Laura has been one of the program's top players since her first year on campus, and has played more than 70 singles matches. She has won four matches at second flight singles in 2009-10, and pairs with Vrinda Khanna '13 to form the top doubles team. Laura's final home match is scheduled for April 20 against St. Lawrence University.

Q: Tell us a little bit about where you grew up.
A: There isn't a terribly short answer to this question. I was born in Lake Charles, Louisiana. But basically, I grew up both overseas and in Tennessee. Before settling down in Tennessee for the past eight or so years, I lived in Bolivia, Luxembourg and England. Chattanooga, Tenn., is where I now consider home.
Q: Did you participate in any other sports before you came to Hamilton?
A: My family has always loved basketball, so up until 10th grade, basketball and tennis were my main sports. That year was about the time most kids in my school began focusing on one specific sport which, in my case, was tennis. I then transitioned to only tennis and got to play both school tennis and USTA tournaments year-round, which was great.
Q: How did you get interested in tennis?
A: I guess the first experience I had with tennis was just summer camp. Throughout elementary school, my town had this great camp that was all the rave -- I think a lot of us went mostly for the entertainment. So starting in about the first grade, I developed a little interest. But in sixth grade when we lived in England, my dad and I would hit in town just about every day. I started to get a little competitive and began loving tennis. We moved back to the U.S. my seventh-grade year, and from there on I got really involved in USTA tournaments and school tennis.
Q: Did you first learn about Hamilton while attending Hotchkiss School (Connecticut)?
A: I did. Both of my parents went to school in the South, so I was definitely more familiar with schools closer to home. I transferred to Hotchkiss my junior year of high school and was faced with a completely new environment. There were kids from all over that certainly knew so much more about this neck of the woods than I did. This got me looking at schools in the Northeast that I had maybe heard a little about and schools that I knew absolutely nothing about. I loved Hamilton from the second I stepped foot on campus and knew it was a place I'd enjoy playing tennis.
Q: Your next singles match will be your 70th at Hamilton. When you were in your first year, did you think you would be in the lineup as consistently as you have been through the years?
A: Coming into Hamilton, I was not entirely sure where I'd stand on the team. I was kind of thrown right in at the top of the lineup that first spring, with our top two juniors abroad. I wouldn't say I ever thought that would be my default position from then on, but I knew my spot would reflect my performance in practice and in matches.
Q: What are the goals for the team this season?
A: I think a lot of the team goals right now are more long term. We have an incredibly young team (five freshmen and four upperclassmen). We really do have a lot of depth, so in the long run I think this group could make a great name for the tennis program here. That being said, I think one of the goals is to enter each match with that mindset. Especially in the NESCAC, we face some really great opponents, and the only way to take that next step is to maintain a certain level of confidence and excitement on the court.
Q: What have been your favorite Hamilton women's tennis memories?
A: Well, it's always a fun moment when Alex (Arenson) misses a shot and pouts for a few good minutes. But I guess a favorite would be our match against William Smith my sophomore year. A few of my friends and my roommate were at William Smith playing them in a soccer tournament game and (after beating them) got to come watch our last few matches as we took the close 5-4 win.
Q: Which do you like more, singles or doubles?
A: That's a tough call. They are so different but I do love both. Having that connection with your partner and that extra boost of energy is so fun. Not to mention, the quick pace of doubles can be really exciting. Singles can be a bit more difficult. It's absolutely an individual sport. Aside from a few comments from your coach, you're 100 percent in charge. For that reason, singles can also be fun and rewarding.
Q: You are from Tennessee, so how have you adapted to winters in Central New York?
A: I don't know that I have yet. Any person that knows me would say I complain the same amount now as I did four years ago. But really at Hamilton there's not enough time to dwell on the weather. You're always in class, in the library, with your friends, or keeping yourself busy in some other way.
Q: Do you watch much professional tennis on TV or in person and, if so, which Grand Slam event is your favorite?
A: Watching pro tennis is so much fun. I've never been to a Grand Slam event, but I've been lucky enough to go to a lot of tournaments leading up to them. I guess of the ones I watch on TV, my favorite Grand Slam would be Wimbledon. It gets more exciting each year.
Q: Is there a particular class or professor you have enjoyed here at Hamilton?
A: Maybe I'm already a little nostalgic as a second-semester senior, but I have to say, I've loved many of my classes AND professors here. Right now I'm taking a class that I really love. It's a seminar in teaching English to non-native speakers. We go to Utica to teach once a week, so that takes a lot of preparation, but we all have a lot of fun doing it.
Q: What will Laura Brantley be doing five years from now?
A: There's no telling. If I follow my parents' footsteps, the actual place could change at a moment's notice. As of now, I am taking after them somewhat. I'll be teaching and coaching at a prep school next year. I'm really looking forward to the coming year, and who knows, maybe that will be my true calling.