Conversation with Liz Rave '10
---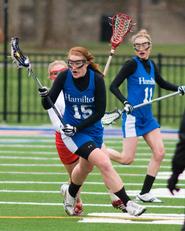 This is the 25th installment in a series of interviews with Hamilton College student-athletes. Women's lacrosse player Liz Rave '10 is a 2009 All-American and a three-time member of the Liberty League all-academic team. Liz is in sixth place on the team's career goals list with 126 as Hamilton prepares to host the 2010 Liberty League women's lacrosse championship at Steuben Field this weekend. She has made two all-region teams, four all-league teams and was named the most valuable player of the 2009 league championship. This year she is tied for the team lead with 32 goals. Liz will help lead the nationally ranked No. 1 and undefeated Continentals in a league championship semifinal against Rensselaer on Friday, May 7. The tournament final is scheduled for Saturday, May 8.
Q: Tell us a little bit about where you grew up.
A: I grew up in Huntington, which is a town on the North Shore of Long Island. I attended Huntington High School, where there was always a strong emphasis on being a student-athlete. Sports, especially lacrosse, are huge in my town.
Q: Did you participate in any other sports before you came to Hamilton?
A: I love to play all types of sports recreationally. However, as a freshman in high school I participated in varsity soccer, basketball and lacrosse. After freshman year, I started running track as a way to get in better shape for lacrosse season, which forced me to quit basketball (which I was never very good at). Therefore, in my last three years of high school I participated in soccer, track and lacrosse.
Q: How did you get interested in lacrosse?
A: Long Island is known for starting its kids on lacrosse early. I was placed on my first club lacrosse team in first grade. From there I played lacrosse throughout middle school and high school, and later joined the Long Island Yellow Jackets. I also have two older brothers, and enjoyed copying their every action, which required me to play soccer and lacrosse.
Q: What were the factors in your decision to attend Hamilton?
A: This is actually a funny question because I promised myself that I would not attend Hamilton. As I mentioned in the previous question, I loved to copy whatever my older brothers had done. Well, my brother Travis graduated from Hamilton in 2004, and I swore never to go to the same school that he did. However, my parents convinced me to go on a recruiting trip here and I fell in love with the team, the coach and the atmosphere. I later learned that Hamilton's small size promotes close relationships between professors and students. Lastly, the Division III experience allows for a perfect balance between competitive sports, a great education and a normal college experience.
Q: Hamilton hosts the 2010 Liberty League women's lacrosse championship this Friday and Saturday. Could you let the readers know what to expect this weekend?
A: We have played all three of these teams in the regular season. However, in post season all bets are off. RPI (the team we play Friday) is in the Liberty League tournament for the first time in program history. Thus, we are expecting them to come out excited and ready to compete. For those of you who attended our game against Union this weekend, it is clear that would be another fight to the finish in Saturday's final if both teams win on Friday. Union has always been our biggest rival and that is why it is so fun to compete with them. Their only chance to make it into the NCAA tournament is to win this weekend, so I predict another nail-biter. We are really looking forward to having the support of our campus, especially on Class and Charter Day!
Q: On May 1, the team clinched its third league regular season title in your four years here. Is any one title more satisfying than the others?
A: Honestly, they have all been different and thus all wonderful and hard to compare. I believe that my freshman year was the first year that the team had won the title, so as the old saying goes, "the first time is the sweetest." Everything about 2008 was a Cinderella story. Last year's victory in the tournament final was extra special because we were able to come back after a hard loss to Union the week before and take the title back on their home turf.
Q: You are in sixth place on the team's career list with 126 goals. Is there such a thing as a "goal-scorer's mentality" and if so, what is it and do you have that mentality?
A: I don't know if there is such thing as a goal-scorer's mentality. I was actually a defender freshman year, so for me it has been a gradual process. Essentially, when I see an opportunity to score, I take it. However, these opportunities would not appear if my teammates were not there to clear space or pass me the ball. Everything that we do on attack is a team effort; often the most important moves do not appear on the stat line.
Q: The 2010 team is the only one in program history to go through a regular season without a loss. So, is this team better than the 2008 squad that won a national title?
A: It is nearly impossible to compare the two teams. Every year the team dynamic shifts. This year we had 10 freshmen join us. So, combined with the eight sophomores, more than half the team did not experience 2008. These girls are great and we are having a lot of fun on and off the field. In this way, the team reminds me of the 2008 squad, and I certainly believe that we possess the mind set it takes to win. That, coupled with our skill set and depth, gives us a great opportunity to reach the Final Four again.
Q: What does the 34-game home win streak mean to you?
A: I honestly love it. It is a reflection of the support we receive on campus. There is a level of comfort playing on The Hill. We know that our friends, classmates and families are there to love and support our team.
Q: What are some of your favorite Hamilton lacrosse memories from the past four years?
A: I think the obvious answer would be winning the National Championship in 2008. So, I will go a different way. My sophomore year we were playing Middlebury in the regional final, and there were a record number of people there. Everyone was dressed up and cheering for us. However, the icing on the cake was when the streaking team ran across the turf during halftime.
Q: How do you deal with being a member of a team that is ranked No. 1 in Division III like this one has been the past three weeks?
A: As a team, we try not to consider the ranking as a deciding factor. When the whistle blows, one team's rank no longer matters. The team that wins is the team that performs the best on that given day. Therefore, we still come out every day to both practices and games, working hard and having fun.
Q: You are an All-American and a three-time member of the league's all-academic team. How do you excel at both athletics and academics?
A: One of the best things about Hamilton is its recognition of being a student-athlete. Head coach Patty Kloidt is great about letting us miss practice for academic conflicts, and is well aware of our high workload, especially in weeks during mid-terms and finals. Therefore, I am easily able to do both work and play lacrosse. You simply recognize that practice is at 4:30 and you have to get your work done either before or after it. Playing a sport has the ability to organize one's life. As I said before, Division III is the perfect balance.
Q: Do you have a favorite class and/or instructor at Hamilton?
A: I really appreciate those professors who understand the difficulties in being a student-athlete. Professor Mark Oakes grasps this to the fullest. Not only was he accommodating when I had to miss class for games, he has also attended many of our games in my four years. Also, I have taken three classes with Tina Hall, and she is a wonderful English professor. She really takes an interest in her students' lives outside the classroom.
Q: What will Liz Rave be doing five years from now?
A: It's hard to say, because at the moment I am unemployed. I interned last summer in NBC's Marketing Division and have been interviewing at advertising agencies in New York City. So, if all goes well, I hope to be working in the advertising industry and living in New York.