Conversation with Liz Wahl '10
---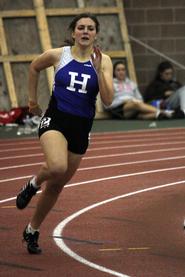 This is the 16th installment in a series of interviews with Hamilton College student-athletes. Liz Wahl '10 competes in the sprint events for the women's track and field teams. She holds indoor team records in the 300-meter dash and two relays, and outdoor program records in the 200-meter dash and the 400-meter relay. During the 2009-10 indoor season alone, she has earned New York State Collegiate Track Conference all-conference honors in the 200 meters, and Liberty League all-league honors in the 55-meter dash, the 200 meters, and the 800-meter relay. She competes in the Eastern College Athletic Conference Division III indoor championships in the 200 meters and 800-meter relay at Smith College on Friday and Saturday, March 5 and 6.

Q: Tell us a little bit about where you grew up.
A: I grew up in Pocatello, Idaho, which is one of the larger cities in Idaho. It was a nice place to grow up because it was very safe and it was very family oriented. Also, the opportunities for outdoor activities are numerous. There is a ski hill 30 minutes from my house and hiking, biking and running trails are even closer. Idaho State University is in Pocatello, so there is a college atmosphere around town, which is something I like.

Q: Did you participate in any other sports before you came to Hamilton?
A: I was an avid soccer player from the age of about 4 until I came to Hamilton. I only began seriously running track in high school. The two were always very different for me because of the team dynamics. Track was more individual in high school compared to soccer.

Q: How did you become interested in track, specifically the sprint events?
A: In elementary school I was always the fastest person in my grade and I really liked being faster than both the boys and the girls. Unfortunately, when the boys grew up, they inevitably became faster. However, I continued to be the fastest on my soccer teams, and then eventually on my middle school track team. I always ran sprint events because that was where I excelled. The distance events intimidated me, and they still do!

Q: How does someone from Idaho find out about and become interested in Hamilton? Did you visit campus before you arrived for your first year?
A: My parents are both from the East Coast and they are college professors, so they are "in the know" about schools, particularly those on the East Coast. Also, one of our family friends is an alum. I did come to campus before my first year. I came on the first day of February, and it was snowing so hard that I couldn't walk with my head up on the tour, so I knew what I was getting into!

Q: With the indoor season winding down and one more outdoor season coming up quickly, are there any goals still out there that you haven't met?
A: I would like to get a couple more records on the record board, either individual or in relays! But overall, I have done everything that I have wanted to on my team. I guess a goal of mine for this final outdoor season would be to enjoy all of it, because I won't be able to compete like this again.

Q: You will be competing in two events at the ECAC Division III championships on Friday and Saturday at Smith College. What do you hope to achieve this weekend?
A: This weekend I hope to improve my 200-meter dash time from the previous week, and I want to give us a good start for the 4X200 relay. The two events that I am running are not national events, so I won't have the opportunity to qualify for the NCAA championships. Most of all, I want to enjoy my time with my teammates and appreciate the stellar competition that will be at Smith.

Q: I know you still have a little time left here, but what have been your favorite Hamilton track and field memories thus far?
A: My favorite moments have been meeting such a diverse group of people on my team. Track and field allows for an eclectic group of people because of the diverse events. I have enjoyed watching my senior teammates grow as people and as athletes over the past four years.

Q: Are there any older track and field athletes you have looked up to these past few years?
A: Each year I have always had a great group of upperclassmen to look up to during practice and meets. As a freshman, there was a group of four girls that really made me want to be a part of the team. They reached out to everyone and they always competed hard. I hope that my group of seniors will have the same affect they did.

Q: Did you watch any of the Winter Olympics? If so, what is your favorite event?
A: I definitely watched the Winter Olympics! Out of loyalty to my home state, the downhill skiing is my favorite event. But I also really enjoyed watching bobsled and luge.

Q: Which professional sports teams to Idahoans support?
A: That is an interesting question because we do not have any professional teams. We are big Utah Jazz supporters for basketball and Denver Bronco fans for football. Other than that, I think people choose whatever team has players they can associate with.

Q: Do people on campus ask you if the movie Napoleon Dynamite is an accurate depiction of life in Idaho?
A: Ha-ha, I have been asked about Napoleon Dynamite. Actually, the school that Napoleon Dynamite went to, Preston High School, was in my athletic district so we played them in all of our sports. The scenery that is represented in the movie is accurate, but the personal interactions are not!

Q: What is your favorite class and/or instructor at Hamilton, and why?
A: My favorite instructor at Hamilton would have to be Professor Knop, who was my Linear Algebra teacher freshman year, and is the reason I am a math major. I really like his teaching style and his ability to encourage students without scaring them! I also admire his patience and his dedication to teaching.

Q: What will Elizabeth Wahl be doing five years from now?
A: Hopefully, I'll be well into medical school and keeping busy with my work. As long as I'm doing something that I enjoy, I will be happy. And of course I will be running!!