Conversation with Lizzie Collins '10
---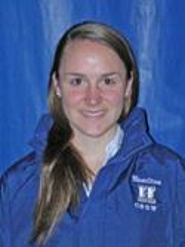 This is the 19th installment in a series of interviews with Hamilton College student-athletes. Lizzie Collins '10 is one of eight seniors for the women's crew program this spring. Lizzie has occupied the bow seat in Hamilton's varsity eight during the Tampa Mayor's Cup in Florida in March, and at the 2009 Head of the Charles Regatta in Boston. She aims to help Hamilton defeat Union College for the Gilman Plate on the Erie Canal in Rome, N.Y., on Saturday, April 3. Racing gets underway at 11 a.m.
Q: Tell us a little bit about where you grew up.
A: I was born in Burlington, Vermont, and I grew up mostly in New Canaan, Connecticut, where they had pretty competitive athletics. Since then my family has bounced around from Connecticut, back to Vermont, to Pennsylvania and then to California because of my dad's work.

Q: Did you participate in any other sports before you came to Hamilton?
A: I played soccer and ice hockey in addition to rowing. I also snowboard and water-ski during the offseason.

Q: How did you get interested in rowing?
A: My dad rowed in high school and college, so I have always been familiar with rowing. I started by learning to scull at Craftsbury Sculling Center in Vermont. When I started at Kent School, the rowing team had a pretty big reputation on campus, so I joined. Kent has a really strong tradition in rowing, so it was a lot of fun, and sometimes pretty intimidating, to learn to row for a program like that.

Q: How long did you attend Kent School in Connecticut? Is that where you were when you found out about Hamilton?
A: I attended Kent for all four years, and a lot of Kent grads went on to study at Hamilton, so I checked it out. The emphasis on writing really attracted me to Hamilton, as well as the Junior Year in France program that the French department offers. When I applied, I wasn't sure if I wanted to play soccer or row in college, and I liked that I wasn't pressured to choose right away.

Q: You are part of a fairly large senior class (eight) on this team. Is it a close-knit group?
A: Yeah, we've all been friends and teammates since the very beginning, and it's fun to have so many people to share the memories with.

Q: Union comes to the Erie Canal in Rome on Saturday to compete for the Gilman Plate and Gilman Goblet on the women's side. Is this an important weekend for the program?
A: Yes. We want to carry the success and positive attitude we had over spring break into the regular racing season, and the Union race is our first opportunity to set a high standard for the rest of the season. Plus, this is our only home race. We're excited to show what we can do to our friends and family members that are coming.

Q: Hamilton has defeated Union for the hardware in each of the last four years. What has been the reason or reasons for that recent dominance?
A: We always go into this race with a positive and confident attitude, and that really translates into success on the water. And we are always eager and ready to prove what we can do early in the season. That, and the trophies don't hurt. Hardware always makes races more exciting!

Q: Out of anywhere you have been so far, where's your favorite place to row?
A: The Thames River in Henley-on-Thames, England is definitely my favorite. I've rowed there on two occasions, once with Kent and once with Hamilton, while competing in the Henley Women's Regatta. The water is excellent and the scenery is gorgeous. The place is just imbued with a sense of tradition and history since the town revolves around rowing.

Q: What are some of your favorite Hamilton crew memories?
A: Going to Henley with the team in 2008 was a great experience. Being able to compete internationally at a regatta that prestigious is always an honor. Also, there were a lot of seniors graduating at the time, and it was wonderful to be able to spend a couple more weeks rowing and traveling with them.

Q: In 2008 you earned a national scholar-athlete award from the Collegiate Rowing Coaches Association. What are the keys to excelling in academics and athletics?
A: Time management and staying organized are two big ones, and rowing certainly helps with that. Any free time you have during the season is precious, so you have to plan accordingly. It's also important to enjoy your sport and your studies!

Q: Is there a particular class or professor you have enjoyed here at Hamilton?
A: I've had a lot of favorites! I guess this year's has been War in 20th Century France with Professor Guyot-Bender. The books we read were fascinating, and she really made French history and literature from the 20th century relevant and vital today.
Q: What will Lizzie Collins be doing five years from now?
A: A hot topic of conversation these days. I would love to be writing for a travel magazine, or working to facilitate bilingual education in America, or even leading bike trips in Europe. In any case, I hope to be able to keep up my French skills and travel to places I've never been.