Conversation with Mario Magana '10
---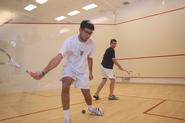 This is the 13th installment in a series of interviews with Hamilton College student-athletes. Mario Magana '10 is a team captain and soon-to-be four-year letter winner on the men's squash team. Mario has won 28 matches in his Hamilton career. He has been one of the top four players in the Continentals' lineup since he stepped on campus in 2006. This season, he has played the majority of his 21 matches at the second position. The men's squash team hosts Colgate University on Saturday, Feb. 13, at 3 p.m., and Northwestern University on Sunday, Feb. 14, at 11 a.m. in the Little Squash Center. Mario will help lead Hamilton into the College Squash Association men's team championships at Yale University the following weekend.

Q: Tell us a little bit about where you grew up.
A: I grew up in El Salvador. It's a small country on the Pacific coast of Central America. The country is gorgeous; beautiful beaches, mountains and lakes. All of it is within a one-hour drive from the capital city of San Salvador, which is where I grew up. I had a great childhood there and have a lot of fun every time I go back.
Q: Did you participate in any other sports before you came to Hamilton?
A: I played soccer and basketball for several years before I started playing squash.

Q: How did you get interested in squash? Is it a popular sport where you are from?
A: My dad is responsible for my interest in squash. He's a great squash player, so when I was a kid he taught me the basics of the game, and constantly took me to the courts to practice and play a couple of games. Squash isn't a popular sport in El Salvador, but I think it's more popular there than it is in the U.S.

Q: How did you end up going from El Salvador to Hamilton?
A: I knew that I wanted to come to the U.S. to go to college. After looking at rankings I applied to several schools, mainly in the Northeast. Hamilton was the one that appealed to me the most. It was a good school and it had a great squash program.

Q: What role did the Little Squash Center play in your decision to attend Hamilton? Was it important? Not important?
A: It was certainly nice to know that Hamilton was getting such an impressive squash facility, probably one of the nicest in college squash. More important than the facility, however, was coach Jamie King. Coach King is a great person, setting an example for the team and always willing to help his players in any way he can. I knew that I wanted to play for a coach that I liked and respected, so having coach King here was very important.

Q: The team had a tough off-season as two seniors, who were regulars in the lineup, suffered injuries. One of them just recently returned and the other is still out. As a captain, how have you, and how has the team dealt with those losses?
A: Unfortunately, both Jono Peters and Brett Morell were injured last semester. Luckily, Brett was able to recover and is playing again. The team dealt with this by working harder and in different ways than we had in the past. The coaching staff was instrumental in this aspect. Coach King motivated us to work harder, and emphasized that he wanted us to be a team that helped each other improve, and not a team that had each person just care about his own game. Assistant coach Mark Oakes, who is a psychology professor at Hamilton, worked on strengthening the mental aspect of our game. Assistant coach Dan Jonas helped us improve our game.

Q: You were one of the top four players on the team as a freshman and you have been No. 2 most of this season. Did you expect to have this kind of impact before you arrived at Hamilton?
A: All players are equally important to the team, regardless of what number they play on the roster. I've had as much impact on the team as any other senior member.


Q: You studied abroad during the fall semester as a junior. Where did you go and what did you do?
A: I participated in the Washington, D.C., program. While I was there, I interned at a libertarian think tank called The Cato Institute. I had a great time in DC. It was very exciting to be there during the final stretch of the campaign and during the presidential election. Although I missed Hamilton, being in DC was a nice change from Upstate New York.

Q: Your last home matches as a Hamilton men's squash player are this weekend. What thoughts have been and will be going through your mind as we approach those days?
A: It's tough to think that this weekend will be my last home match. I've been thinking about the exciting matches I had here in the past four years. This week I've been training harder in order to make my last home match a memorable one, in a good way.


Q: At the NESCAC championships on Feb. 6, Hamilton played Trinity College in the quarterfinals. Trinity has won the last 11 national championships and 220 straight matches. What was it like to play against them?
A: It was certainly interesting to play Trinity. I've got to admit that at first we were a bit intimidated about playing them, but we quickly realized that we didn't have anything to lose. Although we lost 8-1, we played well, getting a victory at the No. 9 spot from Tim Gray.


Q: Do you enjoy the Central New York winter season?
A: I'm not a fan of Upstate New York winters. Before coming to Hamilton I had seen snow only a couple of times and had never been in weather this cold. My freshman year, winter caught me totally off guard. This is my fourth winter and I'm still not used to it. Fortunately, I get to go home for spring break and escape the cold weather.


Q: What is your favorite class and/or instructor at Hamilton and why?
A: I've enjoyed most classes and almost all professors I've had at Hamilton, although I have to admit my favorite professors are Alfred Kelly and James Bradfield. They have a great sense of humor, which makes their lectures very entertaining. In addition to having entertaining lectures, they make their students work very hard, so you learn a lot in their courses.
Q: What will Mario Magana be doing five years from now?
A: To be completely honest, I'm not even sure what I'll be doing five months from now.