Conversation with Max Foster '10
---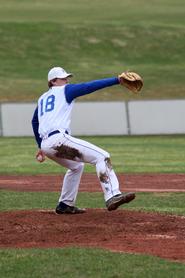 This is the 23rd installment in a series of interviews with Hamilton College student-athletes. Max Foster '10 is a starting pitcher and a captain on the baseball team. Max holds the program record for strikeouts in a career, and in 2009 tied the team record for strikeouts in one season. He is second on Hamilton's all-time list in wins and innings pitched. In 2009, Max received the baseball team's first NESCAC all-conference honor in 10 years as he was voted to the first team. In the fall he played wide receiver on the football team, and finished his Hamilton career with 104 catches for 1,309 yards. Max will pitch for the final time on campus this weekend, when the Continentals host Middlebury College for NESCAC West Division games on Friday, April 23, and Saturday, April 24.

Q: Tell us a little bit about where you grew up.
A: I grew up in Sherborn, Mass., a small town outside of Boston. Sherborn lacked a lot of the traditional youth sports leagues, so I had to play travel hockey in a nearby town. They also don't have a Pop Warner team. It was a big baseball town for its size though, so I grew up playing a lot in the spring and summer against some good competition.
Q: Did you participate in any other sports before you came to Hamilton?
A: I actually grew up playing hockey, and played through high school at Groton. I also played a lot of golf in the summer and skied as well.
Q: How did you get interested in baseball?
A: My dad was a big influence on my baseball career. I grew up playing catch with him in the yard, and going into town to take batting practice on the local baseball field. He also coached a few of my teams. From the moment I started playing I loved it, and made a lot of good friends as a kid by playing both in the spring and summer.
Q: What factored into your decision to attend Hamilton?
A: I was looking at a bunch of NESCAC schools, and from the moment I arrived on campus, I knew I could see myself at Hamilton. The people were friendly, and the lack of a core curriculum was definitely a drawing point. It enables students to take classes they like, and I thought that was valuable.
Q: On the baseball team's all-time record books, you are first in career strikeouts, and second in wins and innings pitched. Did you anticipate having that kind of impact before you joined the team?
A: I really didn't anticipate it at all. I wanted to contribute, and I wanted to help get the program moving in the right direction. At this point, the program is on the brink of being successful, and I'm glad I've been a part of it.
Q: In 2009 you were the baseball team's first NESCAC all-conference selection in 10 years. What does that honor mean to you?
A: It was a tremendous honor. Last year we could have had several guys get all-NESCAC honors. I was really happy to be honored, but more importantly it is a testament to how much our program has improved, and that other teams are finally respecting what we are doing here at Hamilton.
Q: This year you have struggled with injuries and haven't been 100 percent physically all season. How have you dealt with that?
A: From the start of the season I knew I wouldn't be able to repeat what I did last year, but I didn't think that would impact how successful we could be. I have been able to make a start every NESCAC series, which was really the first priority for me. While I haven't been particularly pleased with how I've performed this season, I have tried to give us a chance to win every weekend and be content with that. Hopefully we can win our last NESCAC series this weekend against Middlebury.
Q: I'm glad you brought that up because Middlebury visits campus this weekend. What does it take to compete in the NESCAC?
A: The NESCAC is a very good conference. The hitters are no exception. Every team is strong, and as a pitcher you have to be careful with every hitter, regardless of the number they are in the lineup.
Q: The 2009 team set a program record for wins in one season. What was it like to be a part of that team?
A: It was a great experience. We had good senior leadership and a bunch of talented underclassmen, and we finished fourth in the NESCAC West Division. It was a big mark for us, as we had been last in the division for a number of years prior to that.
Q: Do you have any favorite memories you can share from (almost) four years of Hamilton baseball?
A: The highlight of my career at Hamilton was winning two out of three games against Amherst in 2009. They were vying for a playoff spot and came back to campus for a third game in May, because we couldn't get all three games in against them earlier in the season due to bad weather. We exploded in the first few innings and put the game out of question early. It was our first NESCAC series win in a number of years, and they didn't get a playoff spot. We all felt great and it was a good way to close out the season.
Q: You were also a starting wide receiver on the football team. How do you deal with the pressures of being a two-sport varsity athlete?
A: The keys for me are using my time wisely, especially during the fall when football practice takes up the entire afternoon, you have to try and stay ahead of your work. Sports have been a big part of my life and it has been a great way to continue that passion. I have made some great friendships with both teammates and coaches.
Q: You live in Massachusetts. Should I assume you are a Red Sox and Patriots fan?
A: Yes, I am a huge Sox fan and Patriots fan. I have been blessed to see a number of Boston-area championships, but the one thing I have realized is that Boston fans are never satisfied with one championship. Every year, Red Sox fans get just as excited as they did during the 86-year drought before 2004.
Q: Do you have a favorite class and/or instructor at Hamilton?
A: I do not have a favorite class, but my favorite instructor is Professor Decker from the computer science department. I minored in computer science, and had a number of classes with him. He always shows up to class with enthusiasm and is truly interested in everything he taught us.
Q: What will Max Foster be doing five years from now?
A: Five years is a long way away, but this summer I am moving to Houston to work for a consulting firm focused in the energy industry. I do foresee myself working there for at least a few years, but by no means does it guarantee I will stay there forever. I am just excited to see a different part of the country, and I will be doing something I am very interested in.