Conversation with Meredith FitzPatrick '11
---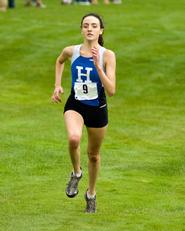 Meredith FitzPatrick '11 competes in cross country and track and field for Hamilton. So far, cross country has been her most successful sport as she has earned all-region honors twice, and raced in the 2007 NCAA Division III championships. She is the sixth-fastest Hamilton women's runner on the team's home 5-kilometer course since 1999. Later this fall, she will receive NESCAC fall all-academic team honors. FitzPatrick goes for her third all-region team in three tries this weekend when Hamilton competes in the NCAA Atlantic regional championships at Letchworth State Park in Geneseo, N.Y., on Saturday, Nov. 14.

Q: Tell us a little bit about where you grew up.
A: I grew up in Greenwich, Connecticut. I have lived in the same house since I was six weeks old, and went to Greenwich Academy from preschool to 12th grade where both my mom and sister now work. What I love about Greenwich is its location. It takes only about 45 minutes to get into New York City by train and about 10 minutes to get to the Long Island Sound by car.

Q: Did you participate in any other sports before you came to Hamilton?
A: Yes. I played field hockey, basketball and lacrosse at my high school and ski-raced at Okemo Mountain in Vermont on the weekends in the winter. I really enjoyed playing three sports and miss getting the chance to "switch it up" a bit from season to season. Freshman year of college I thought about trying to "walk on" to the lacrosse team. Then the team won the Division III national championship, and I accepted the fact that the Hamilton women's lacrosse team was not one I would be able to casually "walk on" to.

Q: How did you get interested in competing in cross country/track and field?
A: My whole family loves to run. My sister was the captain of the Greenwich Academy cross country team and actually founded the track program at the school. She then went on to run cross country and track at Colby College. My Dad has run 19 marathons and my mom trains for and runs in road races in her free time. I never thought I would run. I played field hockey my freshman and sophomore years of high school in the fall and did not see the appeal in "just" running … not after a ball or towards a goal. I realized that I really did love to run during my sophomore year field hockey season. Once a year we had what most of my team members considered to be the dreaded timed mile. This was my favorite practice of the year because it was the one time in field hockey that I really stood out and I actually won the time trial as a freshman and a sophomore. I finally gave in my junior year and followed in the family footsteps by going out for the cross country team and never looked back.

Q: How does someone from Connecticut, like yourself, find out about and finally attend Hamilton?
A: Four of my Dad's closest friends graduated from Hamilton and could never say enough good things about the school. I had also known a few boys from Brunswick (the all-boys school that partners with Greenwich Academy) who were very happy at Hamilton, so I decided to check it out for myself. My friend Charlotte and I visited Colgate and Hamilton the summer before our senior year, fell in love with the latter and now we are both here and very happy with our decisions!

Q: You made a big splash in college right away in your first cross country season. Did you expect that kind of success that early?
A: Definitely not. I remember the night before the time trial my freshman year and I was really nervous that I would not even make the team. Freshman year was great. I had no expectations to meet, did not know any of the courses I was going to be racing on and did not know the competition. I had nothing to lose. The team was (and still is) great! Being on a team as a freshman in the fall was a great way to be integrated into the college community. I remember feeling really cool being greeted by upperclassmen (from the men's and women's cross country teams) on Martin's Way, and knowing that I would be able to find someone to sit with when I walked into Commons.

Q: What was it like competing at the 2007 NCAA cross country championships?
A: It was really exciting, really scary and really cold! It was awesome getting the chance to fly out to Minnesota to race against so many amazing runners. Not to mention the fact that I was traveling with Peter Kosgei, who went on to win numerous national championships in both cross country and track. I remember we watched the movie "Titanic" the night before the race in the hotel. It wasn't exactly the ideal pump-up movie but it worked for him as he went on to get second in the race! The race itself was pretty intimidating. The majority of the girls out there were running with about six of their teammates and I was the only runner from Hamilton. It was a great experience running among such incredible competition, but to tell you the truth, my favorite races are the ones I get to run knowing that my teammates and closest friends are out there with me.

Q: How do you peak at the right time and save your best performances for the end of the season for the championship events?
A: Coach (Ellen) Hull always tells us to "read our bodies" and make sure that we know when we can really push ourselves and when we need to let our bodies rest a bit. I do my best to build my mileage in the summers so that I am ready to go when pre-season rolls around in late August. Each week we do a combination of speed workouts, long runs and short runs to build our strength, while doing our best to keep our legs feeling fresh. Towards the end of the season we "taper" and cut back on our serious workouts and mileage so that we are ready to go come championships. Coach Hull and Coach Cait (Bradley) have done a great job planning out our practices so that we are all in great shape near the end of the season.

Q: What is the key to balancing your athletic schedule with your academics and actually performing well at both?
A: The great thing about cross country is that "you can only run for so long". Unlike other sports, there is very little standing around time for going over drills or plays. We get out there, do our workout, stretch and we are done. I think of it as a great break in the day to get away from school and stress. It gives me the chance to get some fresh air and exercise and the opportunity to catch up with my best friends. There are certainly weeks that are busier than others and despite the relatively short practice times, the time spent stretching/heating/icing, strength training and traveling does add up. I like the challenge, love the sport and love the team, so in the end it's worth the commitment.

Q: What will Meredith FitzPatrick be doing five years from now?
A: Last summer I worked as an intern at a global media agency in New York City. I really enjoyed my experience there. It was incredibly hands-on, exciting and forward thinking. I have started to apply for a 2010 summer internship at numerous non-profit organizations. One of the organizations raises money to put an end to debt, AIDS and unfair trade in Africa. Others work to secure the long-term sustainability of important community level initiatives in health, education, clean water, micro-financing, community development and skills training. Right now I could not tell you what I will be doing in five years, but the intern experience that I have and will have gained will help guide me to find a career where I can apply what I have learned at Hamilton to make a positive impact on people's lives.