Conversation with Rachel Rapoza '10
---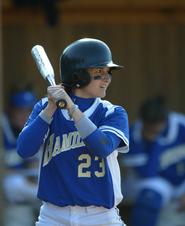 This is the 22nd installment in a series of interviews with Hamilton College student-athletes. Rachel Rapoza '10 is a three-year letter winner and a starting center fielder on the softball team. Rachel just wrapped up a four-year career with the ice hockey program, and was one of the team's assistant captains as a senior. Through 20 softball games this year, she is tied for second on the team in batting average, and tied for first in hits, runs batted in and triples. She leads Hamilton into a three-game NESCAC West Division series against Amherst College this weekend. The first game is at 4 p.m. on Saturday, April 17. A doubleheader is scheduled to start at 10 a.m. on Sunday, April 18.


Q: Tell us a little bit about where you grew up.
A: I have lived in Rhode Island for my entire life; the first 12 years in East Providence, and the last nine years in Barrington. It is a great state, and most of my extended family lives within 30 minutes of each other. I grew up playing a number of sports with my cousins, which was so much fun and quite competitive.
Q: Did you participate in any other sports before you came to Hamilton?
A: I played soccer in addition to ice hockey and softball in high school.
Q: How did you get interested in softball?
A: When I was younger, I always had an interest in playing softball, but my local league's schedule conflicted with the other sports I played. However, once I started at Pomfret, I was able to start playing softball in the spring season. I quickly found that I loved playing softball and wanted to pursue the opportunity to play in college.
Q; You have a number of great college choices closer to where you are from in southern New England. What attracted you to Hamilton?
A: My high school advisor suggested that I look at Hamilton because of its excellent academic reputation and the opportunity to play two sports. What separated Hamilton from other schools was its open curriculum, gorgeous campus and small class sizes. Also, when I visited campus I was impressed with the students I met and the classes I attended. I applied early decision the day after my visit.
Q: You also played ice hockey all four years here. Is the transition from hockey to softball a smooth one, or can it be difficult?
A: The transition can be a little rocky. In the beginning weeks of softball, I tend to bat like I'm taking a slap shot in hockey, which is a bit problematic. Also, softball is not as intuitive to me as hockey, so playing softball is more of a mental challenge. However, my softball coaches have been quite understanding and take extra time to help me out and go over plays.
Q: What's it been like playing for coach Coffman this year?
A: It has been a lot of fun so far. Coach Coffman and coach Spicer have years of coaching experience and know so much about softball. Aside from their knowledge, they are both very intense and passionate about the sport, and their excitement is definitely contagious. They also expect a lot from the team, but they always support us and provide us with the tools necessary to improve. I know all of us have been learning a lot and improving this season.
Q: You and Liz Farrington '10 are the only seniors on the roster. Have you assumed a leadership role on the team because of that fact?
A: We do have a young team this year, so Liz and I knew that we had to become vocal leaders and set the standard of work ethic on and off the field. We are both very committed to the team, and our dedication garnishes a lot of respect from our teammates, which makes it easier to step into a leadership role.
Q: A couple of years ago at Williams, you made a diving catch in center field that the Williams assistant SID declared was one of the best softball/baseball plays he had ever seen in person. Do you remember that play and if so, can you take us through that moment?
A: I do remember that play, probably because I was just as shocked as everyone else when I caught the ball. The girl at bat hit a hard line drive in my direction, so I started running towards the fence. As I got closer to the fence I saw that the ball was not going to go over, so I went for the dive. When I hit the ground, I had this enormous sense of relief when I realized that I caught the ball and didn't break my neck in the process. Also, if you ask my dad, he will tell you that he deserves some of the credit because I use his old glove (which I think is older than both of my coaches) when I play.
Q: The team swept SUNY Cobleskill earlier this week. What will it take to be successful the last half of this season?
A: To be successful, we need to stick to the fundamentals and come to the field ready to play every game. We are not the most talented team, so we have to play our best in every inning and "scratch and claw" for every run.
Q: Do you have any favorite ice hockey or softball team moments from your Hamilton career?
A: My favorite hockey moment was beating Middlebury at home this past season. It was my last home game and our alumni weekend, so we had a huge crowd filled with parents, friends and alumni. The atmosphere was awesome, and our team played so well together. It is a moment that I will remember for a long time. My favorite softball moment was winning our series against Amherst my sophomore year. We were definitely the underdog going into the series, but we worked together and fought hard for the upset.
Q: Is there a particular class or professor you have enjoyed here at Hamilton?
A: I really enjoyed the Rhetorical Act course taught by Professor Bob DelBuono. I took the class on a whim because I heard the class would improve my public speaking skills. For almost every class we had to give a speech without notes, which was petrifying at times, but professor DelBuono was always helpful and always had something positive to say about your speech. The course really increased my confidence and composure for public speaking, and helped me to develop skills applicable to the "real world".
Q: What will Rachel Rapoza be doing five years from now?
A: Ideally, I will have a job in the fundraising/development field at a non-profit organization or a college. But whatever I end up doing, I want to stay involved in sports by coaching a youth team or helping out with a college team.