Conversation with Reisa Asimovic '11
---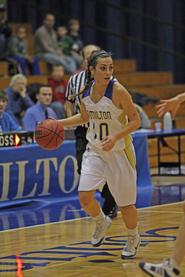 This is the eighth installment in a series of interviews with Hamilton College student-athletes. Reisa Asimovic '11 is a captain and two-year letter winner on the women's basketball team. As of Jan. 7, Reisa led the Liberty League in field goal percentage, assists and free throw percentage, and was ranked second in assist-to-turnover ratio. The 5-foot-6 point guard leads 6-2 Hamilton into the league opener against William Smith College at home on Saturday, Jan. 9. The Continentals then host nationally ranked No. 4 Bowdoin College in a non-league game on Tuesday, Jan. 12.

Q: Please tell us a little bit about where you grew up.
A: The most accurate answer to this question would be: I grew up in the Balkans. I was born in Kosovo, Serbia, and after the '99 war I moved to Sarajevo, Bosnia and Herzegovina. I had everything I wanted and have wonderful memories of me as a kid, although the definition of a normal childhood in the Balkans probably becomes an ambiguous idea compared to what my American friends lived through. I was lucky to not experience any of the horrors that many of my Bosnian friends did. Good and happy times mostly.

Q: Did you participate in any other sports before you came to Hamilton?
A: Ever since I was a kid, I was crazy about sports. Whether it was playing soccer, shooting hoops with my dad or participating in intense mini-golf tournaments improvised in our hallway with my sister. Where there was any action/competition involved, I was there. On a more serious level, I played volleyball for a year, practiced aikido for a year as well, and then dedicated myself to playing basketball and running track.

Q: How did you get interested in basketball?
A: I was coming back from school one day and saw this flyer about a new basketball club that was having tryouts in my school's gym. My friends made fun of me saying I should pick any other sport but basketball. I am barely 5 feet 6 inches tall now, you can imagine how tiny I was eight years ago. I went home to my parents and my 6-foot sister (I guess that was when I started envying her inches), and stubborn as I am, I made up my mind. Two days later, I made the team.

Q: Had you been to the U.S. before you started attending school here? (I believe you had an older sister that went to Hamilton. How did the two of you find out about Hamilton)?
A: One positive outcome from being forced to leave your life behind -- like we did -- and move to a different country for any reason, is the realization of how easy it is to adjust, adapt and start over when you have to, or when you approach things with the right attitude. My sister was the first one to understand that and always had this desire to explore opportunities elsewhere, always somewhere new. She kind of became the traveler of our family, and after studying in France for a semester, she spent her junior year of high school in North Carolina's Asheville School. She then decided she wanted to apply for college here in the States. Hamilton was her first choice, she applied, and before I knew it, she was gone again. After four years of listening to her Hamilton adventures, going through millions of her lovely pictures, and suffering through finals weeks with her, I knew I had no choice. I wanted to try and have my version of that experience as well. Hamilton was the only school I applied to (I am the "if it is meant to be" type), and here I am. It is all her fault.

Q: What are the differences between living here and living at home?
A: Although I was inclined to say mom's kitchen at first, there is no simple answer to this question. I have this internal joke that when my plane lands in Sarajevo, it is Bosnian mode-ON, and New York-OFF, and vice versa. The fact is that home and here are two separate, different worlds that somehow manage to coexist in "The Reisa World."
It was difficult in the beginning, but after I had my first dream in English, it became clear to me that I no longer had control over anything. Strangely enough, that was also liberating, so I decided to just go with the flow. Soon after, I started thinking in English, made my first funny joke (which is probably the hardest thing to do in a language other than your own), and knew I was going to be alright.

Q: Men's basketball is more competitive than ever on an international level, while the women's game seems to be dominated by the U.S. and Australia. How popular is the women's game where you are from?
A: Though I live in a capital of a half-million people, Sarajevo is still a relatively small city and people's mentality is such that they live for their teams. Women's basketball is not the most popular sport (dare to say football, or rather soccer, is not your favorite sport when you are from Europe), but I recall the gym always being packed nonetheless. Bosnia is a poor country, torn up by war and going through a process of economic transition. People face serious problems, but sports remain the main source of leisure.

Q: What is it like to be a captain of the women's basketball team?
A: Captainship entails a lot of responsibility, trust and respect. To me personally, being the only junior captain is a great honor. It is a constant reminder that my coach and teammates have confidence in me to lead the team in the right direction. Although that can occasionally become a sort of pressure, it is in those stressful situations that one builds character and learns how to be a leader. I have truly enjoyed the experience, and continually seek inspiration to be a better captain from both my teammates and the coaching staff. Since we all have a common goal, the road has been pretty smooth so far.

Q: At 6-2, the team is off to one of its best starts in recent memory. Has anything surprised you so far, or is this what you expected when pre-season started on November 1?
A: Considering the fact that we have seven freshmen this year, I admit I was slightly skeptical before the season started. Not because of a lack of confidence in them, but simply because I know how it felt to have to adapt to a new setting and new everything as a freshman. However, after our first pick-up game, I realized there was nothing to worry about and knew we were going to be great. As for our record, when you work as hard as we have been, the current situation does not come as a surprise to me. It is a well-deserved reward, which of course we always happily embrace.

Q: What are you looking forward to most this weekend when you play at home for your first Liberty League game this season?
A: Our pre-season is really long, so I am anxious for the League to finally start! It is great that we are playing on our home court and hopefully people will come and support us. I expect us to show what we have been working so hard for, and just do what we love doing best, which is play the game of basketball.

Q: This is your second season as the starting point guard. Has there been any difference between the Reisa Asimovic of 2008-09 and this season?
A: Yes. I am a year older, hopefully a year smarter and definitely a year more mature. I know the game a lot better and consequently my decision-making, which is crucial for a point-guard, improved. Coach Mackin has been really patient with me since freshman year and helped me develop both as a player and as a person. I would not be where I am today without him and I thank him for that. Finally, you know what they say, "the older, the better." So, watch out for Reisa in 2010-11, I guess!

Q: You made the Liberty League women's basketball all-academic team as a sophomore. How do you balance academics and the long basketball season?
A: My secret is that I simply love what I do! Figuring out math problems while listening to music is a nice relaxation time after practice (and I can just imagine my teammates' faces when they read this). I can always enjoy an interesting economics book on the bus ride to our away game. "Where there is a will, there is a way." I would never sacrifice my academics for sports. I appreciate every minute of every hour of my day, and work hard to excel in both.

Q: What is your favorite class and/or instructor at Hamilton, and why?
A: I am in love with the entire math department, so this is an easy question for me. My favorite class is Probability 352 -- poker and math -- always a winning combination. As for my favorite instructors, I would have to mention three names. Richard Bedient, for knowing I wanted to major in math before I even knew it. Tim Kelly, my advisor, for introducing me to probability and providing delicious snacks for his office hours (I must admit, excellent strategy to lure students into your office). Finally, I have to mention Elizabeth Jensen for her amazing, approachable and interesting teaching ways that reminded me why I fell in love with economics in the first place.

Q: What will Reisa Asimovic be doing five years from now?
A: If you asked me the same question five years ago, I probably would have come up with some sort of a clever answer, with a detailed and thoughtful plan for my future. However, no part of that answer would have me living an ocean away from home and studying at a small, liberal arts school in Upstate New York. I have learned that plans have an interesting way of working themselves out, which is why my answer today is: Who knows?!