Conversation with Whitney Rosenbaum '10
---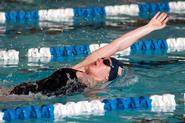 This is the 14th installment in a series of interviews with Hamilton College student-athletes. Whitney Rosenbaum '10 is a team captain and holds three records for the women's swimming and diving program. Last season, she set records in the 50- and 100-yard butterfly, and was part of a team-record 800 freestyle relay. She capped her junior year with an appearance in the 2009 NCAA Division III championships, which were held in Minneapolis. She competed in the 100 and 200 fly, and earned honorable mention All-America status in the 200. Whitney leads Hamilton into the 2010 New England Small College Athletic Conference women's swimming and diving championships at Middlebury College this weekend. The three-day meet starts Friday, Feb. 19, at 10 a.m.


Q: Tell us a little bit about where you grew up.
A: I'm from Alford, Massachusetts, which is a TINY town in the western part of the state. I'm fortunate that there was a strong swimming culture in the area, even though you might not expect it. It was also a very healthy environment, which was important to me, especially because I got such a late start in the sport.

Q: Did you participate in any other sports before you came to Hamilton?
A: Before Hamilton I ran track and cross country. Swimming wasn't a varsity program at my high school, so I had to find other ways to get that real team experience. My best friends were on my club team, but that kind of swimming is incredibly individual. Being a part of the running teams made me pursue swimming in college.

Q: How did you become interested in swimming?
A: My mother forced me to take swimming lessons when I was younger and it was a fight every week. I really didn't learn how to swim until I was almost 11, when a lot of kids have already been swimming competitively for four years. As it turned out, I wasn't half bad. I joined a local rec team and the rest is history.

Q: What were some factors in your decision to attend Hamilton?
A: I didn't want to go to school in the Northeast. I don't like cold weather or snow, so I looked primarily at schools in the South. Admittedly, I only looked at Hamilton to humor my father, who graduated in the 1970s. But I liked (head coach) T.J. (Davis) and the girls on the team, and of course the campus is beautiful, so I applied. Looking back, I see that those may not have been the best reasons for choosing a school, but it is one of the best decisions I have made. I have received a great education, made lifelong friends, had a wonderful swimming experience and I am close enough to home that my family has been able to come to almost every meet.

Q: You competed in the NCAA Division III championships (held in Minneapolis) in 2009. What was that experience like?
A: I waited a long time to find out I was officially invited to the meet, which made the weeks before NCAAs emotionally draining. It is also physically taxing to make your body hold on to a taper for that long. The meet itself was so much fun! The swimming was jaw-dropping fast and totally inspiring. I'm glad Bowie Sievers '11 was there too, as it would have been overwhelming alone. I have high hopes for the meet this year. It would be incredible to qualify a relay and be able to go with a team.

Q: You qualified for the 2009 NCAA championships through a "last-chance" meet. Could you explain what that is?
A: A last-chance meet is an officially sanctioned opportunity to make cuts for NCAAs. There are a number of them across the country on the last weekend before entries are due to the national meet. The way the schedule worked out last year, along with enormous thanks to coach (David) Thompson, I was able to attend a last-chance meet in Philadelphia. He took me and Kylie Fraser '11 down and we swam much faster than we did the previous weekend at NESCACs. It was probably the most insignificant meet I have ever been to in terms of atmosphere and number of swimmers, but it made all the difference in the world.

Q: The team competes in the NESCAC championships, which some people describe as the fastest meet in Division III besides the NCAA championships, this weekend at Middlebury. Would you agree with that observation?
A: Of course, no doubt about it. Kenyon and Denison from the North Coast Athletic Conference and Emory are the best teams in the country, but in terms of conferences, nothing compares to the NESCAC. So many national champions come from this conference. It almost made NCAAs feel like a bigger NESCACs, especially in the butterfly events. Last year, something like six of the top 16 girls in the 200-yard fly came from the NESCAC. No conference has the depth that we have and it gets faster every year. Seniors say they don't think they could get into Hamilton if they applied now, and it's the same with the conference meet. I don't know how much longer I would be able to keep up.

Q: What are some responsibilities that go along with being one of the two team captains?
A: Being a captain is a tough job. There are a lot of little things each week that, in the past, I had the luxury of taking for granted. (Co-captain) Carolyn Meyer '10 has been great to work with and we have had fun. We make a good team because we have different strengths. For me, the biggest responsibility is maintaining a level head. It has been challenging this season to balance my jaded senior self with remembering what it was like to be a freshman, and anticipating what they will ask and need to know. The ultimate goal is for everyone to have fun.

Q: What are your favorite Hamilton swimming and diving team memories from your first three-plus seasons?
A: Hands down, the best Hamilton swimming moment is breaking the team's 800 freestyle relay record with Megan Gibbons '12, Kylie Fraser '11 and Liz Bucceri '11. I could not have asked to be part of a better group of girls. To be honest, I can only remember the last two minutes of the race, when Liz was in the water. We knew we had the record before she even dove in because we knew what she was capable of going. But watching her touch the wall six seconds under the record is a vision I will never forget.

Q: Having come from western Massachusetts, are you a Red Sox or Yankees fan, or are you indifferent?
A: I picked the Red Sox over the Yankees to antagonize my father, but really I'm only a fair-weather fan. I do remember listening to the ALCS Game 7 on the radio while driving home from a cross country race when Johnny Damon hit the grand slam in 2004. I had to pull over on the side of the road I was so excited.

Q: Is there anyone in your sport you try to emulate?
A: There really isn't anyone in particular. A number of teammates -- both older and younger -- and coaches have inspired me. I am grateful to have had the opportunity to do for others what they have done for me. Mostly though, I just try to work as hard as I can every day.

Q: What is your favorite class and/or instructor at Hamilton and why?
A: I have enjoyed all the classes I have taken for my art history major, and I have a lot of respect for all the professors in the department. I have made a conscious effort to take advantage of the open curriculum. Literature and Ethics with Peter Rabinowitz in the comp lit department was one of my first classes at Hamilton, and probably my favorite. It really made me say to myself, "So, this is college!"

Q: What will Whitney Rosenbaum be doing five years from now?
A: I'm not even sure what I will be doing next week. I hope it's something I love and I'm close to friends and family. I know for sure I will still be swimming.