Conversation with Will Reid '10
---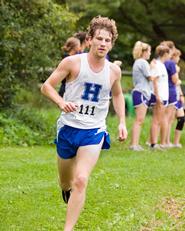 This is the seventh installment in a series of interviews with Hamilton College student-athletes. Will Reid '10 is a men's cross country team captain and has earned multiple varsity letters not only in cross country, but indoor and outdoor track and field as well. He owns the fifth-best time by a Hamilton runner on his home course during the past 10 years. In 2009, he has been one of the team's top two runners in each of the six races so far. Reid and Hamilton compete in the NCAA Division III Atlantic regional championships at Letchworth State Park in Geneseo, N.Y., on Saturday, Nov. 14.

Q: Tell us a little bit about where you grew up.
A: I grew up in Greenfield, a western Massachusetts town of less than 20,000 people. I lived in an old farm house with two older brothers and more animals than the average American family. Inside, we housed two cats, a cockatiel, a scorpion (for a while) and a collection of rodents during my younger years. Outside, we had chickens, a donkey and at different times a pony and a mule. Needless to say, my childhood at home was all about animals.

Q: Did you participate in any other sports before you came to Hamilton?
A: I played soccer, basketball and baseball while growing up. I dropped basketball in high school. Baseball was always my true love, and the only sport I played at a varsity level (before my senior year). I was exclusively a pitcher and still miss it. I even picked up the javelin in track so that I could get another taste of throwing.

Q: How did you get interested in competing in cross country/track and field?
A: I was a goalkeeper in soccer faced with the prospect of riding the bench my senior year. A classmate of mine -- also a goalkeeper -- was a gifted athlete with better skills and abilities, so I decided to try something new. I always knew I had an aptitude for running because my brother was quite a good runner and I always did well in endurance drills and races growing up. I wanted to excel at something as a senior, so I decided to pick up cross country, and what a great choice that was! Although I ran my first 5k in 20 minutes, 20 seconds, telling myself every second I was going to quit as soon as I crossed the line, I slowly improved. Since I had never run before and I started as the last man on varsity, I made improvements that no veteran runner could make in one season. By the end of the season, competitive running was a new love in my life. I was so sold that I went out for track, leaving behind the sport that was my lifeblood since I was 9 years old, baseball.

Q: How does someone from Massachusetts, like yourself, find out about and finally attend Hamilton?
A: My high school college counselor asked me several questions about the kind of college I wanted to attend and Hamilton was on the list that she created. I fell in love with the place as soon as I visited.

Q: You own the fifth-fastest time by a Hamilton runner on the team's home course. What do you like about Hamilton's cross country course?
A: Every runner has his strengths. Some respond well to warm conditions and a flat course, others perform relatively well when it is cold and rainy. Our course is hilly and often cold, wet and muddy. I perform best relative to others when it is cold, rainy, muddy and generally miserable. Our course suits me well.

Q: As one of the two cross country team captains, how has your role on the team changed from your first three seasons?
A: In my first three years on the team, I was not quite fully aware of how naturally the leadership structure on the team forms and how people usually understand their roles quite quickly. Being on the other side as a captain, it felt strange at first because suddenly I was very aware of the leadership structure on the team, but in a completely different way. Just like in seasons past, my teammates and I understand our roles and we play them well.

Q: As a senior, this is your final go-around as a collegiate athlete. Do you have any goals for the cross country or track and field seasons?
A: Ultimately, being a runner at Hamilton is all about camaraderie. We are not world-class athletes, we are not pampered, we are not the hottest thing on campus and we do not get a ton of recognition (especially as distance runners). But we still kill it every day on the trails, roads and the track together. Nobody on the team would put themselves through the kind of pain we do every day if we did not care about each other. We are not interested in glory or attention, only the unspoken solace of a struggle shared and won. Is this not true of any sport? The only difference about being a senior is that I have to make sure this ethic continues for years to come. If you know any of my teammates, you know my job is easy.

Q: You practice regularly with someone that may end up the most decorated Division III cross country/track and field athlete in NCAA history. What's it like to be a teammate of Peter Kosgei?
A: This is an interesting one. I first met Peter when he had only been in the states for a couple of weeks. His English was not strong, and he was a new man in an unfamiliar place. I knew he was bright, but I did not know he was going to be the fastest man in Division III. Peter has always been a student first, and a great student, but he also possesses a drive unlike anybody I have ever met. Peter's English improved quickly, and he ran faster and faster every weekend. Peter has accomplished everything that he has because of his undying flame for victory. If you want to get a sense of Peter's drive, look at his eyes during a race. Outside of racing, he is a just a normal guy; you would never know how fast he can move if you did not see it for yourself! Where else but at Hamilton can you be friends with Peter Kosgei?

Q: There is a great photo of you from a track meet last year helping an injured runner from another school off the track. What role does sportsmanship play in cross country/track and field in college?
A: Again, this comes back to a point I made earlier -- the camaraderie felt between runners. Less than 200 meters into the steeple chase, I saw the poor guy slip and plow into the water barrier, hitting the track almost instantly. A few of my teammates and I asked him if he was alright and if he wanted to continue the race, and after he rolled from side to side for a few seconds we knew he needed some help. Everybody has their moments when they fall down. Where would we be if nobody was there to help us up?

Q: If I remember correctly, you are a member of the all-male a capella singing group, the Buffers. What has that experience been like and do you have a funny story from your time with them?
A: Being a Buffer has been an absolute delight. I happen to have many funny stories, but I can only regale you with them in the proper forum. Perhaps another time?

Q: What is your favorite class and/or instructor at Hamilton, and why?
A: I am not one for favorites, but I have to mention three names. There aren't many music department professors at Hamilton, but what they lack in number they more than make up for in musicianship and intellect. Rob Kolb is a gifted instructor and conductor who peaks my interest and truly loves what he does. Rob Hopkins, my advisor, always asks for nothing less than my best. Sam Pellman is a composer and multi-media guru, as well as the perfect catalyst for my creativity. Again, where else but at Hamilton?

Q: What will Will Reid be doing five years from now?
A: The hardest question yet! I spent last summer teaching at Northfield Mount Hermon School in central Massachusetts and I loved it. I am happy as can be while making my senior project in music composition. I love being a leader on the team and I love singing. I will have to get back to you on that one in five years!