COOP Service Interns Build Long-term Relationships with Nonprofits
---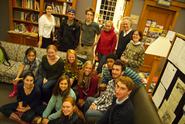 Hamilton students have the opportunity to establish meaningful relationships with local nonprofit organizations beginning in their first semester of college through a pilot program operated by the Hamilton Community Opportunity and Outreach Project (COOP).
The COOP Service Internship (CSI) Program, which was begun in fall 2009, places students with a paid internship in a nonprofit organization over their first four semesters. The idea is to recruit students from a first-year class and allow them to form relationships with mentors and clients at an agency, then continue through their sophomore year with the same agency.

CSI interns work with a local non-profit administrator who orients them to the agency and supervises their work, and also mentors them in non-profit administration and direct service. They're also assigned a campus mentor from the COOP to meet in one-on-one sessions to help guide their internship experience. Amy James, director of COOP and mentor for the class of '13 CSIs said, "Ideally there is some growth in the position so students get involved in specific projects then create projects of their own for the agency."

That's been exactly the case for CSI Galia Slayen'13. "Working at Johnson Park Center for a second year has allowed me to pursue a long term project that will have a direct impact on the organization," she said. "I'm creating a documentary to promote the incredible work of JPC and help them secure grants and volunteers. CSI has given us all an opportunity to work with organizations in the Utica community and learn about the importance of nonprofit and grassroots work," Slayen noted.

Beril Esen'13 added, "Working as a program assistant at the Utica organization Your Neighbors Inc. enabled me to acquire important skills that I could have never received elsewhere. I learned what's necessary to keep a non-profit functioning throughout my past year and a half as a CSI intern."

Other CSIs s from the class of 2013 and their agencies are Kevin Alexander, Hope House; Dan Brimberry, Resource Center for Independent Living; Hallie Brown, House of the Good Shepherd; Ada Horne, Rebuilding Together Mohawk Valley; Aislinn Shea, Upstate Cerebral Palsy; and Amy Soenksen, Family Services.
Working with Y Girls at the Utica YWCA has already proven educational for new CSI Sarah Andrews'14 . "My mentor and I have been working on getting a Y-Girls group started at another school (since the one at Proctor ended), and it has helped me to realize that much more goes into something like this than I ever thought." Andrews explained, "You have to worry about funding -- and, if you get funding, making sure you're doing what they want you to do -- and making connections within the school, and finding a regular group of members so that the program can continue to grow."
Jason Driscoll '14 said another valuable aspect of the CSI program "is that it allows Hamilton students to get involved in the community. I absolutely love going down to Clinton High School every week and organizing service and enrichment programs for the students."
The other class of 2014 CSIs and their organizations include David Beauboeuf, Rescue Mission; Jacob Hard, Habitat for Humanity; Hannah Kloeckner, Utica Public Library; Nicholas Solano, Catholic Charities; and Sean Sullivan, Kirkland Arts Center.
CSIs spend six hours a week in their placement and two hours in group meetings to discuss what they're doing, what meaning is emerging and to hear guest speakers. It's a chance to get a view of issues in non profit world, said Jeff McArn, college chaplain and mentor for the class of 2014 CSIs.
The evolving curriculum for the weekly meetings keeps students engaged in the program. They get encouragement and learn from their peers. Guest speakers have discussed how boards work, provided public speaking and professional development tips, and Professor Doug Ambrose has taken them on a tour of Utica. "It's an effort to make them feel more connected to the whole community, not just the Hill," McArn explained.
According to James, COOP starts looking for prospective CSI students at the Accepted Student Open House held each April. "We let those who are interested in service know about us," she said. "We look for students who were very active in community service in high school – those who started projects, took initiative and had leadership roles," James explained.
Interviews are conducted during the summer and the CSIs begin service at the start of the academic year.

McArn said he's anxious to see the first group "graduate" from CSI and continue at Hamilton. "We'll see how their leadership in service continues. Another area to watch is how this experience will guide their academic progress -- how this can be the ground work for a class project or influence a vocation."

James concluded that the CSI program goal "is sustaining relationships with the sites." As CSIs work with the various agencies there will be the opportunity to see these relationships change or expand. "As we work with them we'll be able to recognize their needs - like this would be a great site for a HAVOC trip or Hamilton Serves."
Bottom line, James observed, the CSI program is serving to create a wider circle of partners and creating a link between COOP, Hamilton College and the community.