Cotten, Baxter '11 and McGavin '12 Publish in Biophysical Journal
---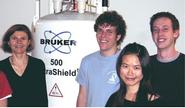 Associate Professor of Chemistry Myriam Cotten with students Matt Baxter '11 and Jason McGavin '12 published an article in the Sept. 7, vol. 105 issue of the Biophysical Journal. The paper titled "Amphipathic Antimicrobial Piscidin in Magnetically Aligned Lipid Bilayers" is also co-authored by Professor Stanley Opella, from the University of California San Diego (UCSD), and members of his research team.
In the summer of 2010, Baxter and McGavin spent 10 days working at Opella's laboratory, the Center for Nuclear Magnetic Resonance (NMR) Spectroscopy and Imaging of Proteins at UCSD. There they learned how to make bicelles ("bilayered micelles"), an innovative sample preparation method that can be used to mimic bacterial membranes. They were also involved in the collection of data on samples containing bicelles and piscidin, an antimicrobial peptide, a membrane-active antimicrobial peptide investigated in Cotten's group.
Baxter's senior thesis project featured the use of bicelles to determine the charge state of piscidin in the presence of bacterial membrane mimics. Professor Cotten's project on piscidin is supported by a five-year CAREER grant from the National Science Foundation.
The Cotten and Opella research groups have collaborated on the use of bicelles to investigate structure-function relationships in antimicrobial piscidin. Antimicrobial peptides have been the subject of extensive studies in the search for novel antibiotics with rapid broad-spectrum antimicrobial activity and reduced cytotoxicity.
To gain insight into the mode of action of these peptides, Cotten and her team have been engaged in determining their three-dimensional structures and studying their interactions with lipid bilayers that mimic bacterial cells. To overcome the experimental challenges of studying membrane proteins under physiologically relevant conditions, the Opella group has done pioneering work with NMR and bicelles.
Bicelles, which are made by mixing short- and long-chain phospholipids, present important advantages for the studies of membrane-bound proteins and peptides, with perhaps the most important feature being that the studies can be performed with the proteins and peptides in a functional state in fully hydrated lipid bilayers, similar to conditions found in a host organism. Notably too, the pH, salt concentrations, water content, ionic strength, and temperature can be measured and changed. In addition, peptide-containing magnetically aligned bilayer samples are readily prepared, stable for long periods of time, and highly reproducible.
The paper demonstrates for the first time that bicelles are well suited for structural studies of amphipathic peptides. The Cotten group has also been using them for studies as a function of important physiological parameters, such as bilayer composition, pH, and electrolytes. Future research will focus on comparing various members of the piscidin family, which differ in their antimicrobial potency and toxicity against mammalian cells. Overall, this research helps scientists in the field better understand peptide-lipid interactions related to the ability of antimicrobial peptides to disrupt bacterial membranes and induce cell death.
The long term goal of the Cotten group is to identify common principles that will facilitate the design of pharmaceuticals with enhanced antibacterial activity and low toxicity against mammalian cells.
The Biophysical Journal is published by the Biophysical Society, which organizes the largest meeting of biophysicists in the world.