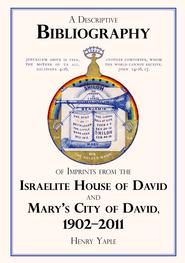 New titles from the Richard W. Couper Press present groundbreaking research on the Shakers, House of David, and Mary's City of David. Materials from these intentional religious communities form an integral part of the Special Collections at Burke Library.
Christian Goodwillie, director and curator of Special Collections and Archives, said, "Books by Professor Jane Crosthwaite of Mount Holyoke College and independent scholar Sandra A. Soule offer new insights into mysterious Shaker 'gift drawings.' These spiritually inspired works of art were created primarily by Shaker Sisters during the 1840s. Their meanings have been the subject of debate by art historians and Shaker scholars since their rediscovery beginning in the 1930s."
The books, "Offer full color facsimile reprints of striking drawings from a number of collections, as well as analysis by Crosthwaite and Soule," Goodwillie explained. A group of scholars led by James R. Innis, Jr. and Thomas Sakmyster, University of Cincinnati Emeritus, have compiled a series of essay on the Shaker community that lived at White Water, Ohio, from 1823-1916. "Individual essays analyze the history, architecture, music, agriculture, spiritual life and lives of children at the community," Goodwillie added, noting that this is the first full-length monograph on the White Water Village.
"Two titles on the House of David and Mary's City of David substantially expand our knowledge of these understudied communities. Formally known as Christian Israelites, the Israelites House of David are a celibate, vegetarian community that formed at Benton Harbor, Michigan in 1903," Goodwillie explained. Led by Benjamin and Mary Purnell, the Israelites believed that they were at the forefront of the ingathering of the 144,000 elect of God as spoken of in the Book of Revelation.
"They became famous for their bearded baseball teams (they did not cut their hair or shave their beards), traveling jazz bands, amusement park, and preserve industry," Goodwillie added.
Julieanna Frost of Siena Heights University has penned the first biography of Mary Purnell, the powerful spiritual leader of the community from 1903 until her death in 1953. Henry Yaple, formerly the librarian of Whitman College, has completed a 30-year long quest to record every imprint published by the House of David and Mary's City of David.
"Yaple's annotated Bibliography relies heavily on the collection here at Hamilton College and presents analysis of each imprint along with its publication information," said Goodwillie. "As scholars increasingly begin to study twentieth century American communalism these two works will serve as foundation stones for further research."