3rd Annual Cram & Scram Sale is Aug. 24 and 25
---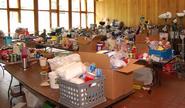 "We make Walmart and Target look expensive," said Terry Hawkridge, assistant director of physical plant who directs the Cram & Scram program scheduled for Tuesday, Aug. 24, and Wednesday, Aug. 25. "You can't beat our prices," Hawkridge added as he surveyed Sage Rink's floor covered with resale items for the third annual Cram & Scram.
Prices are impressively low, even below most garage sale prices, and all electronics have been tested. "We keep all items under $50 so that they are affordable, and so that we sell as many items as we can in the short time span we have for the sale," said Claire Sayler '12, leader of this year's program.

Hundreds of sofas, lamps, refrigerators, computers, printers, shelving, toasters, rugs, vacuum cleaners, irons and ironing boards, blenders, pots, pans and dozens of other items that could make any dorm room look more like home will go on sale from 9 a.m. to 5 p.m. on Aug. 24 and 9 a.m. to noon on Aug. 25.

Hawkridge estimates the sale is 25 percent bigger than last year's. The student crew unloaded, inspected and priced items that filled four tractor trailers.

Sayler said, "Having the sale in Sage Rink has simplified the preparation a lot because we have much more space and we do not have to be concerned about the weather. Last year physical plant employees were outside in the rain digging trenches around the tent to try to keep the electronics section from flooding."

"We'll be here at 7 a.m.," responded Men's Lacrosse Coach Scott Barnard when he heard that students start lining up at 8 a.m. Barnard, accompanied by Assistant Coach Andrew Kelleher, had already surveyed the rink and spotted a couch, refrigerator and lamp for their office.

"This is a remarkable group of kids who make this work, and they have a three-year history of great leaders," said Hawkridge. In addition to Claire Sayler '12, the Cram & Scram crew includes Max Yelbi '11, Adam Fix '13, Michelle Kahn '13, Dilyana Mihaylova '12, Hannah Stubley '12, McKayla Dunfey '12, Mellissa Mann '13, Caroline Davis '11 and Shalin Islam '13.

"Our whole goal is reduce the College's municipal solid waste," said Hawkridge. "It's important that we not waste a square foot of landfill so that we can delay having to build another one." The program has reduced Hamilton's solid waste by more than 100 tons.

At the end of the spring semester, 15 students worked many hours in the early days of summer break to collect more than 10,000 pounds of goods. Those that won't be for sale this week have been donated. Here are a few of the agencies that benefited from the effort and the donations they received:
5,094 pounds of goods to the Salvation Army, almost half of which was clothing
671 pounds of food to the Clark Mills Food pantry
1,858 pounds total of bedding to the Hope House, Rescue Me (K9 Rescue), and the Stevens-Swann Humane Society
98 pounds of toiletries and medications to the Emmaus House, a Women's and Family Shelter
2,234 pounds of books to Prevent Child Abuse New York
Two bicycles to the Underground Café

A delivery service for some of the larger items will be offered at $10. Students are asked to enter through the Sage Rink front door.