Cross country hosts 2010 NESCAC championships
---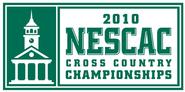 Hamilton College hosts the 2010 New England Small College Athletic Conference men's and women's cross country championships on the Hamilton campus on Saturday, Oct. 30.

The 28th edition of this annual conference meet starts at noon with the men's 8-kilometer race. The 6-kilometer women's race begins at 1 p.m. Eleven teams compete in each race. The Continentals last hosted this event in 1999.

Hamilton's Peter Kosgei '11 has captured the men's individual title each of the past three years. Kosgei -- the 2008 NCAA Division III champion and two-time cross country All-American -- aims to become the first male or female runner to win four NESCAC cross country individual crowns. The Continentals won the men's team championship in 1988.

Meredith FitzPatrick '11 leads the Hamilton women. FitzPatrick finished seventh of 102 runners at the 2010 New York State Collegiate Track Conference championships on Oct. 23. Her best 6K time this year was 23:32 at Lehigh University's Paul Short Run on Oct. 1. She finished 88th out of 387 runners in that race.