Cross country to compete in NESCAC championships
---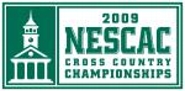 Hamilton College will compete in the 2009 New England Small College Athletic Conference men's and women's cross country championships at Wickham Park in Manchester, Conn., on Sunday, Nov. 1.
The 27th annual conference meet begins at noon with the women's 6-kilometer race. The men's 8-kilometer race starts at 1. Trinity College is hosting the event. Click on the link above for a championship preview. Three men's teams and four women's teams are ranked in the Division III Top 35 coaches poll.
Hamilton captured a men's team title in 1988. Peter Kosgei '10 earned most outstanding performer and first team all-conference honors after he easily won the men's individual title in 2007 and 2008.