Cross country, track & field programs add assistant coach
---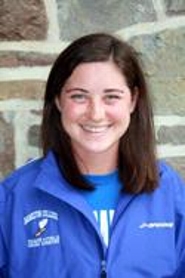 Hamilton College head men's and women's cross country and track & field coaches, Brett Hull and Ellen Hull, have selected former Dickinson College standout Caitlin Bradley to join their staff as an assistant coach for 2009-10.
Bradley was a seven-time All-American in cross country, indoor and outdoor track and field at Dickinson College in Carlisle, Pa. She is one of just 58 athletes to earn at least three All-America honors in NCAA Division III cross country championships history. She finished in the top 10 twice at the national meet, including second in 2006. Dickinson qualified for the NCAA championships all four years she was there, and finished sixth in 2005 and 2006. Bradley was a team captain in 2007 and was named Dickinson's most valuable runner three times. In 2006, Bradley was selected the Division III Mideast region female athlete of the year for cross country by the U.S. Track & Field and Cross Country Coaches Association (USTFCCCA).


Bradley's finest moment in track and field came in 2008, when she finished first in the 3,000-meter steeplechase with a time of 10:22.6 at the NCAA outdoor championships. She took third place in the steeplechase in 2007 and came in eighth place as a rookie in 2005. She earned another All-America honor in the mile as she finished seventh at the 2007 NCAA indoor championships. Bradley was a two-time captain of the track and field teams. She was voted the Centennial Conference athlete of the meet after the 2007 indoor and outdoor championships, and the 2008 outdoor championships. She was named the 2007 Division III Mideast region female outdoor track athlete of the year by the USTFCCCA.


Bradley was a member of the Student-Athlete Advisory Committee at Dickinson as a junior and a senior. She graduated from Dickinson in 2008 with a bachelor's degree in mathematics. She is from Fairfield, Conn.