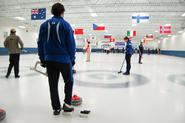 The Hamilton curling team made its first-ever appearance at the College Curling National Championships, held March 14-16 in Blaine, Minn. Hamilton was represented by captain Meghan Doherty '14, Tara Huggins '14, Josh Devinney '15 and Jake Davidson '15.
Doherty reported on the weekend: "We were in a very competitive pool and played against MIT, Tennessee and the University of Wisconsin, Stevens Point. On March 14 we had a great match against Tennessee but ultimately lost 9-3.
Doherty said that on Saturday, Hamilton played a very close game against MIT. Doherty noted that "MIT is one of the best teams in the Northeast," and the game was broadcasted on the live stream. Hamilton played very well but lost 8-5.
"I was really proud of my teammates for curling so well against such a strong team," Doherty observed. "MIT ultimately went on to win our pool and advance to the semi-finals." Hamilton also played the University of Wisconsin: Stevens Point, on Saturday and lost 7-1. In the finals, the University of Wisconsin, Green Bay, defeated Villanova for the championship.
"Even though we didn't win, the team was thrilled to even make it to nationals," Doherty remarked. "We played against some of the best curling teams in the country, and we were able to compete with schools we don't get to play very often. We had a great time in Minnesota and I hope the Hamilton team will continue to qualify and compete at such a high level," she concluded.