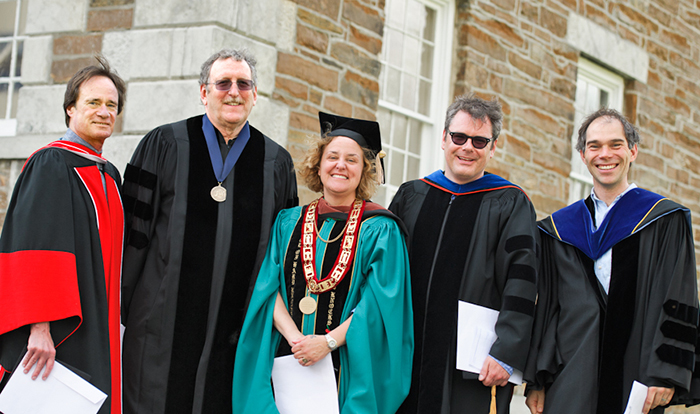 Dean's Scholarly Achievement Awards Presented to Six Faculty Members
Six members of the Hamilton faculty were recognized for their research and creative successes with the Dean's Scholarly Achievement Awards, presented by Dean of Faculty Patrick Reynolds at Class & Charter Day on Friday, May 4. The Awards recognize individual accomplishments, but reflect a richness and depth of scholarship and creative activity across the entire faculty. The awards were made in three categories: Career Achievement, Early Career Achievement and Notable Year Achievement.
Maurice Isserman, the Publius Virgilius Rogers Professor of American History, received the Career Achievement Award, which marks significant achievement over the course of a career. Associate Professor of Physics Seth Major was awarded the Early Career Achievement Award, which recognizes significant achievement at the advanced assistant or associate professor level.
Four faculty members received the Notable Year Achievement awards, which honor particular accomplishments in the past year: Katharine Kuharic, the Kevin Kennedy Professor of Art; Associate Professor of Anthropology Chaise LaDousa; John McEnroe, the John and Anne Fischer Professor in Fine Arts; and Associate Professor of Sociology Yvonne Zylan.
To commemorate Hamilton's bicentennial in 2012, Maurice Isserman authored On the Hill: A Bicentennial History of Hamilton College, which was published in the fall of 2011. It was the first official and full-scale history of the College to be published since 1962, the year of its sesquicentennial.
Isserman's previous books include Which Side Were You On? The American Communist Party During the Second World War (1982), If I Had a Hammer: The Death of the Old Left and the Birth of the New Left (1987), California Red: The Life of Dorothy Healey (co-authored with Healey, 1990), The Other American: The Life of Michael Harrington (2000), America Divided: The Civil War of the 1960s (co-authored with Michael Kazin, 2000), and now in its fourth edition.
In 2008, with Stewart Weaver he co-authored Fallen Giants: A History of Himalayan Mountaineering from the Age of the Empire to the Age of Extremes. The book was winner of the 2008 Banff Mountain Book Festival Prize for best mountaineering history and the 2008 National Outdoor Book Award for best history.
To observe the 50th anniversary of publication of Michael Harrington's The Other America this year, the publisher Scribner released a new edition which included a new introduction by Isserman. In March Isserman published an op-ed about Michael Harrington in The New York Times.
In addition to his scholarly and secondary school books, Isserman regularly publishes op-eds, essays, and book reviews in prominent national publications. During this past academic year he was interviewed for a Chronicle of Higher Education article about a national campaign of student debt refusal and in The New York Times about the Occupy Wall Street movement. He also contributed a book review to The New York Times and wrote pieces in The Nation and Dissent magazine.
Isserman's regular course offerings at Hamilton include surveys in U.S. history, courses on post-World War II and Sixties America, and an adventure writing course for first-year students that combines outdoor adventures in the Adirondacks with writing instruction. In the spring of 2011 he introduced a new course on the history of the American Civil War, and last fall a new research seminar on the history of Hamilton College.
Seth Major began as an assistant professor at Hamilton in 2000, and after publishing several articles throughout stints at research institutes in Vienna and Waterloo, he has published 18 articles, a third of which feature undergraduate co-authors.
His research is in quantum gravity, a field devoted to finding the structure of spacetime on the smallest possible scales. Recently, his research focused on possible observable consequences of quantum gravity and on constraining the theory using current astrophysical observations.
Prior to taking a position at Hamilton Major was a Lise Meitner Fellow at the Institute for Theoretical Physics of the University of Vienna and taught at Swarthmore College and Deep Springs College. He earned a Ph.D. in theoretical physics from Pennsylvania State University. Major has published articles in professional journals including American Journal of Physics, Classical and Quantum Gravity, the New Journal of Physics, and Physical Review D.
In his remarks, Reynolds noted "His stature in the field is reflected by the recent invitation to review quantum gravity phenomenology, the latest in a series of review invitations from prominent physics journals, and to serve as editor of the American Journal of Physics."
Katharine Kuharic has had 15 solo exhibitions, including seven at P.P.O.W. Gallery in New York, which represents her work. A highlight of the past year was her fall exhibition there, "Pound of Flesh," with full color catalogue and an essay by Terry Meyers.
Kuharic published an essay titled "On the Habits and Messages of Yellow" in the 06/Global Color issue of Hand/Eye magazine. Also this year, her painting "Priestess," was added to the Pennsylvania Academy of the Fine Arts (PAFA) permanent collection. Working in the Lou, a solo exhibition, is on display through May 5 at the Bruno David Gallery in St. Louis. Kuharic's work is included in a group show titled Cinematic Bodies at the Zolla/Lieberman Gallery in Chicago that opened on May 5 and closes on Aug. 25.
She was also interviewed in Artillery magazine, an L.A.-based, alternative contemporary art publication that covers "the international scene with contributors in New York, San Francisco, Dallas, Berlin, London and the biennials."
Kuharic has had museum exhibitions at the St. Louis Art Museum, The Delaware Center for Contemporary Art, the South Bend Regional Art Museum, the Contemporary Art Museum (St. Louis), Shore Institute and Portsmouth Museum of Art. She was the Sally and Milton Avery Fellow at the McDowell Colony, a Rockefeller Fellow at the Rockefeller Center, Bellagio, Lake Como, Italy, and the distinguished artist in residence at the Yale University, Yale Norfolk Program in Norfolk, Conn.
In 2011 Indiana University Press released Chaise LaDousa's book, House Signs and Collegiate Fun: Sex, Race, and Faith in a College Town. The book is based on three years of ethnographic and historical research in which students at Miami University of Ohio collaborated with LaDousa to explore the ways in which "house signs" such as Liquor Up Front, Poker in the Rear, Plantation, and Crib of the Rib became foci of college culture. In October the book was the subject of an article in Monday's issue of InsideHigherEd which included an interview with the author.
A nominator noted that the book earned advance praise from two past presidents of the American Anthropological Association among other notable readers, and three 5-star reviews on Amazon.
LaDousa attended the college of the University of Chicago and received his Ph.D. from Syracuse University. He has conducted field research in North India studying languages and the role they play in education and India's rapidly changing political economy. In 2011 LaDousa began working with Hamilton students on a new research project in nearby Utica on the ways in which state, capital, and self are implicated in citizenship in a de-industrialized society.
John McEnroe teaches courses in classical art, Renaissance art, medieval art and critical theory. His most recent book is Architecture of Minoan Crete: Constructing Identity in the Aegean Bronze Age (University of Texas Press, 2010).
Reynolds noted that the book was reviewed recently in the Journal of the Society of Architectural Historians where it is described as "a wonderful book…beautifully written…, very well illustrated…, succinct and even-handed….[It is] an indispensible volume for the specialist, the undergraduate, and anyone interested in the architecture of the ancient world….this book is a godsend, …This volume is a must-have for anyone interested in Greek culture and ancient architecture, as it synthesizes the vast literature on Crete from ca. 7000 to 1100 BC. It will serve for many years to come as a mainstay for the training of students of the Minoan past."
Yvonne Zylan earned a bachelor's degree in East Asian Studies from Yale University, a Ph.D. in sociology from New York University and a juris doctor from the University of San Diego School of Law. In 2011 Zylan authored a new book, States of Passion: Law, Identity, and Social Construction of Desire (Oxford University Press). According to the publisher's websit, in the book, "... Professor Yvonne Zylan explores the role of legal discourse in shaping sexual experience, sexual expression, and sexual identity. The book focuses on three topics: anti-gay hate crime laws, same-sex sexual harassment, and same-sex marriage, examining how sexuality is socially constructed through the institutionally-specific production of legal discourse.
The book is currently under consideration by the American Sociological Association's Sexualities Section Book Award and the Law and Society Association's Herbert Jacob Book Prize.
Zylan's areas of scholarship include law and society, sexuality, social theory, political sociology, and the state and social policy. Prior to joining the Hamilton faculty, Zylan practiced law for three years in the litigation department at Pillsbury Winthrop Shaw Pittman LLP.