Defensive coordinator hired for football team
---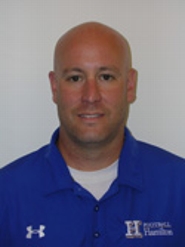 Joe Dougherty, who had been an assistant coach at Division I Lafayette College since 2006, is the new Hamilton College football team's defensive coordinator.

Dougherty had been Lafayette's defensive line coach since 2009. He was the Leopards' wide receivers coach in 2008 and their running backs coach his first two seasons in Easton, Pa.

Dougherty coached eight players to a total of nine Patriot League all-league team honors at Lafayette. The team won a league title and played in the first round of the 2006 NCAA Football Championship Series (FCS) playoffs in his first year with the Leopards. He helped lead the team to an FCS Top 25 national ranking every year from 2006 to 2009. Lafayette finished 8-3 in 2009.

Dougherty was an assistant coach at Fordham University in 2004 and 2005. He was the wide receivers coach both seasons and special teams coordinator in 2005. Dougherty coached three Fordham players to Patriot League all-league team honors.

Prior to Fordham, Dougherty spent 2003 at Lafayette as the Leopards' wide receivers coach. He was a graduate assistant coach at Rowan University the previous two seasons. Rowan captured the New Jersey Athletic Conference championship and played in the NCAA Division III championship in 2001 and 2002. Rowan advanced to the semifinals in Dougherty's first season with the squad.

Dougherty earned his bachelor's degree from Dickinson College in 1999 and went on to get his master's from Rowan in 2002.