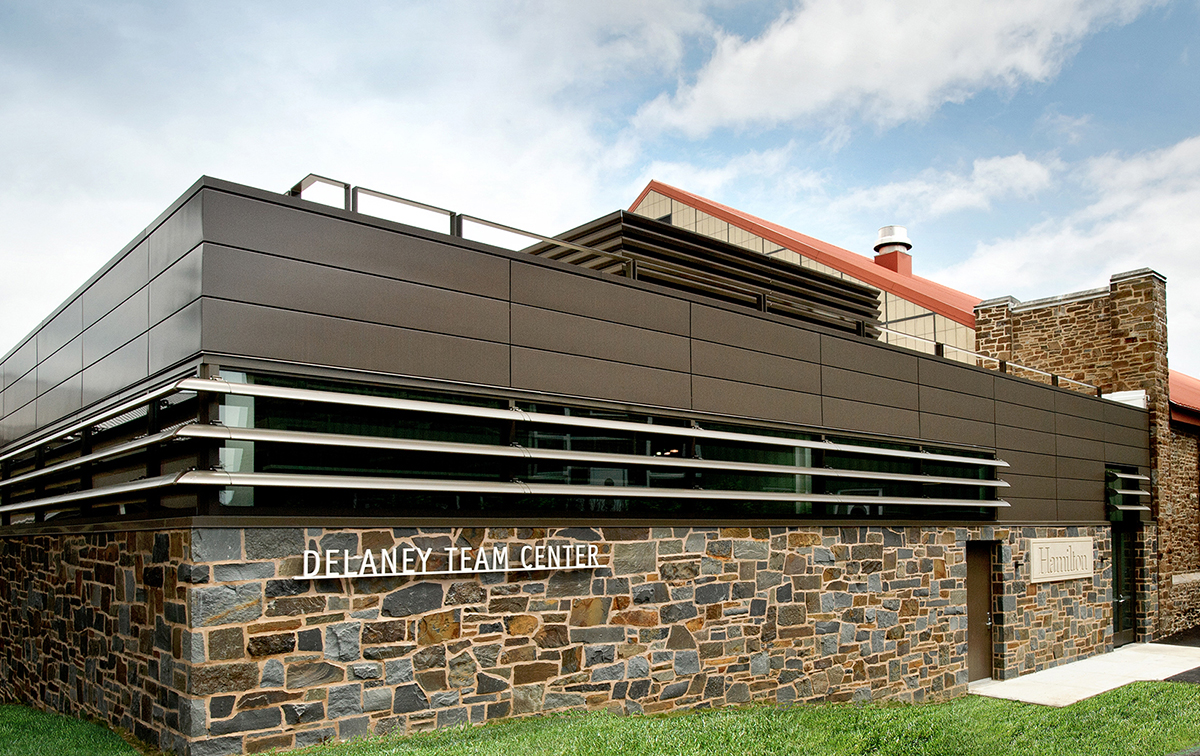 Hamilton has named its new intercollegiate athletics team center, a 5,100-square-foot addition to Sage Rink, for alumnus and charter trustee Robert V. Delaney '79 and his wife Pamela Craig. The couple provided the lead funding for the $3.2 million facility that includes four team rooms for fall, winter and spring sports teams; a satellite sports medicine room; laundry room; and an equipment enclosure. The Delaney Team Center was dedicated during Reunion Weekend on Saturday, June 6, with games, a reception and ribbon-cutting, and an open house with coaches and other members of the athletics department.
"I hold the strong view that intercollegiate programs are a vital part of college life," Delaney said, in speaking about the facility. "More than 30 percent of Hamilton students are involved in intercollegiate sports. In a recent student survey, 91 percent of Hamilton athletes felt that being a member of a team was very or extremely important to their life at college. This gift – in a small way – hopefully, will make a difference in the experience of Hamilton's athletes."
Delaney graduated summa cum laude from Hamilton in 1979 with a major in economics. Elected an alumni trustee in 1998, he has chaired several board committees, including Audit, and Budget and Finance as well as the Financial Resources and Facilities Subcommittee of the board's Task Force on Athletics. He frequently meets with current students considering careers in finance and was instrumental in securing the Harvard Business School's online digital education initiative agreement enabling Hamilton students to take Harvard's non-credit Credential of Readiness program.
"The Delaney Team Center is beautiful, functional and appropriate for a College that offers a splendid education and a fine varsity sports program," said President Joan Hinde Stewart. "We are profoundly appreciative of the loyal and generous support that Pam Craig and Bob Delaney have extended to Hamilton College and to our dedicated student-athletes."
Although Delaney did not participate in sports beyond high school, he and his wife appreciate the role athletics play in college life, in part as a result of their two sons' experiences. "My sons played high school and college basketball. As we toured different campuses while they were applying to college, I noticed how important locker rooms were as a reflection of an institution's commitment to its athletics program and a factor in recruiting … a reflection on how an institution thinks of athletics. Locker rooms are not particularly visible to most members of the community but when they are modern, clean and attractive, they make students feel good about the institution and its commitment to them," Delaney concluded.
"Pam Craig and Bob Delaney's generosity has had a tremendous impact on our overall intercollegiate program," said Athletics Director Jon Hind. "With the addition of the Delaney Team Center, our student-athletes now have access to state-of-the-art locker rooms at the start of their seasons. We are very thankful for their support and commitment to Hamilton and our athletics teams."
Patrick Sen, president the Student-Athlete Advisory Committee in 2014-15, confirmed Delaney's expectation for the new space. "The Delaney Team Center is one of the best facilities available to college student-athletes and will enhance how Hamilton teams compete and succeed on the field, on the ice, and in the water," Sen said.
The Delaneys' gift is an important first step toward helping Hamilton fulfill its athletics mission, which reads, in part, "Athletics have always played—and will continue to play—an important role in the life of the College. Sports teams provide a venue for a significant portion of the student body to participate in both intercollegiate and intramural activities and an opportunity to enhance the quality of student life and the culture of the college. It should be the College's intent that its intercollegiate athletic program be competitive in both facilities and infrastructure … Importantly, this excellence in athletics should reinforce the College's commitment to developing students who have a breadth of experience and further enhance the College's high standing among the nation's leading liberal arts institutions."
"Athletics at Hamilton are the way college sports are supposed to be," Delaney said. "The athletes receive no athletic scholarships; they receive no special treatment in or outside the classroom. The athletes are skilled at their sport and play because they love it. It is important that we support the coaches and athletes and provide the facilities they need to succeed."
Robert Simon, the recently retired Walcott-Bartlett Professor of Philosophy and an expert on the ethics of sport, said intercollegiate athletics as practiced at a liberal arts college, provide important lessons. "Although there is one winner and one loser in athletic contests (excluding ties)," Simon said, "both sides can gain by striving to play their best, learning from mistakes and by meeting the challenges of the sport. If two teams play well, even if only one wins, both gain from exhibiting excellence and learning how to do better next time.
"Moreover, we can learn through playing sports; for example, by learning how to profit from criticism, by being honest about our ability and those of opponents, by learning the value of meeting challenges for their own sake, and by developing commitment and dedication in the pursuit of excellence. With encouragement from coaches and teachers, these values can carry over to the classroom as well."